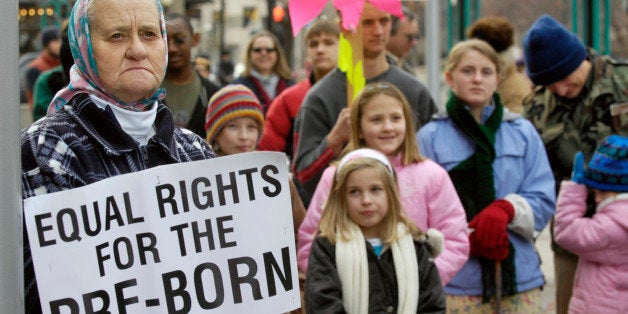 The 9th Circuit Court of Appeals ruled Friday that Idaho's ban on abortions after 20 weeks of pregnancy is "unconstitutional because it categorically bans some abortions before viability."
The panel of judges also struck down a provision of the same law that requires all second-trimester abortions to take place in hospitals. That provision, Circuit Judge Harry Pregerson wrote in the opinion, is "facially unconstitutional because it places an undue burden on a woman's ability to obtain an abortion."
The Supreme Court ruled in Roe v. Wade that states cannot limit abortion before the fetus would be viable outside the womb, around 22 to 24 weeks. But 10 states and the U.S. House of Representatives have passed legislation that bans abortion at 20 weeks based on the disputed theory that fetuses can feel pain at that point.
The plaintiff in the Idaho case is Jennie Linn McCormack, who was charged with a felony in 2011 after she ended her own pregnancy with abortion medication her sister had ordered on the internet. McCormack was reportedly in her second trimester when she ended the pregnancy, possibly as far along as 20 weeks.
Reproductive rights groups used McCormack's case to challenge Idaho's 20-week ban and law requiring second-trimester abortions to take place in hospitals. One of those groups, Legal Voice, celebrated the court's decision on Friday.
"When abortion is stigmatized, criminalized and regulated nearly out of existence, it becomes almost impossible to get, and women end up punished for seeking what is a basic type of health care," said Janet Chung, an attorney with Legal Voice. "We should instead be ensuring that all women, no matter where they live, can end a pregnancy safely and effectively."
Abortion opponents hope that the Supreme Court will eventually take up the 20-week ban and reverse its 1973 decision in Roe v. Wade. "Our belief is that this bill, in particular, would be upheld by the court," Marjorie Dannenfelser, president of the anti-abortion group Susan B. Anthony List, said in a press conference earlier this year.
Have a tip or story idea to share with us? Email us at scoops@huffingtonpost.com. We'll keep your identity private unless you tell us otherwise.

Calling all HuffPost superfans!
Sign up for membership to become a founding member and help shape HuffPost's next chapter
BEFORE YOU GO
PHOTO GALLERY
Abortion Protests Around The Nation