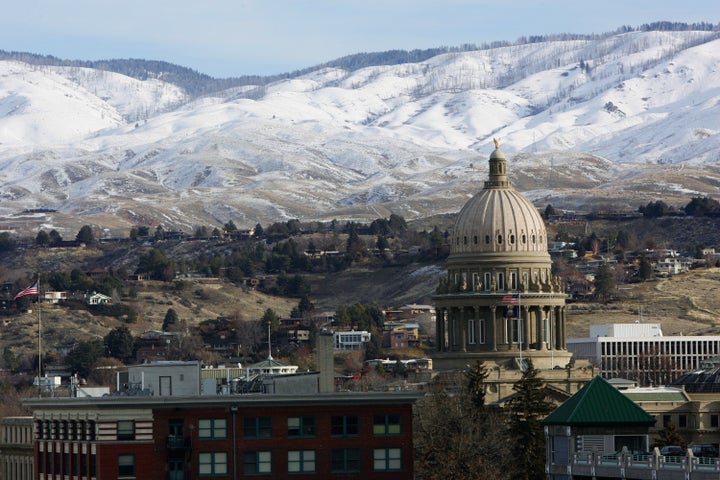 Republican members of an Idaho House panel voted Wednesday to exclude near-universally accepted science showing that human activity is driving global climate change from the state's newly revised education standards.
"Education is being censored due to political fears, and students are the ones that are suffering," Cassandra Kenyon, a senior at Timberline High School in Boise, told lawmakers at a public hearing last week, according to the Spokesman Review.
The standards establish a minimum of what local districts are required to teach, meaning schools can continue teaching about climate change if they choose.
The Senate Education Committee has not yet voted on the revised standards and could ultimately reverse the House vote, The Associated Press reports.
State Rep. Scott Syme, a Republican from Caldwell, led the effort to keep references to climate science out of the curriculum both this year and in 2017.
"When we have conclusions over standards, it stifles inquiry, and I don't think that is the intent of the (State Department of Education) to stifle inquiry," Syme said Wednesday, according to Idaho Education News.
Language removed from the science standards reportedly includes:
"Obtain and combine information to describe that energy and fuels are derived from natural resources and their uses affect the environment. Further explanation: Examples of renewable energy resources could include wind energy, water behind dams, and sunlight; non-renewable energy resources are fossil fuels and atomic energy. Examples of environmental effects could include negative biological impacts of wind turbines, erosion due to deforestation, loss of habitat due to dams, loss of habitat due to surface mining, and air pollution from burning of fossil fuels."

"Current scientific models indicate that human activities, such as the release of greenhouse gases from fossil fuel combustion, are the primary factors in the measured rise in Earth's mean surface temperature."
Wednesday's vote in Idaho comes as the Trump administration abandons the Obama administration's efforts to combat climate change and works feverishly to promote fossil fuel production in its quest for "energy dominance." President Donald Trump — who famously dismissed climate change as a Chinese hoax — has surrounded himself with like-minded climate change skeptics, including Environmental Protection Agency Administrator Scott Pruitt and Secretary of Energy Rick Perry.
Michael Mann, a climate scientist at Pennsylvania State University, blasted the Republican legislators in Idaho for their vote on Wednesday, saying they are "endangering us and our children."
"Rather than allowing school teachers to educate children about the greatest threat they face—the damaging impacts of climate change—they have instead chosen to promote the short term agenda of the polluters who fund them," Mann wrote in an email to HuffPost.
Popular in the Community