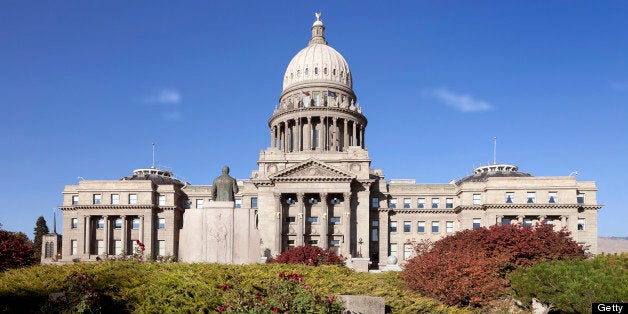 The Idaho GOP officially endorsed an effort this week to shoot down recently passed laws banning anti-gay discrimination, a move one Republican official said was necessary over concerns that a gay employee might "come into work in a tutu."
On Monday, the Idaho GOP's Resolutions Committee officially asked state lawmakers to support a resolution to nullify local city ordinances that have added sexual orientation to a list of protections against discrimination in housing, employment and public accommodations. Cornel Rasor, chairman of that Republican committee, later explained the move to the Idaho Spokesman Review.
"I'd hire a gay guy if I thought he was a good worker. But if he comes into work in a tutu … he's not producing what I want in my office," Rasor said. "If a guy has a particular predilection and keeps it to himself, that's fine ... But if he wants to use my business as a platform for his lifestyle, why should I have to subsidize that? And that's what these anti-discrimination laws do."
Sexual orientation is currently not protected under the Idaho Human Rights Act, meaning that gay Idahoans can now legally be terminated, evicted from their homes or denied service at a place of business solely due to their sexuality. Gay rights advocates have pressured lawmakers to fix this at a statewide level, but a bill has not yet been put before the Idaho legislature.
Idaho Gov. Butch Otter (R) weighed in on the GOP proposal -- which would invalidate protections currently enacted in six cities around the state -- on Tuesday, saying that he supported deferring to "local control" on the matter.
The push by Idaho Republicans comes in the midst of a broader debate over national anti-discrimination legislation. The Senate is currently wrangling support for ENDA, a bill that would bar workplace discrimination on the basis of sexual orientation or gender identity. All but four Democratic senators have announced support for the legislation, though the issue doesn't currently appear to be of interest to many Republicans.

REAL LIFE. REAL NEWS. REAL VOICES.
Help us tell more of the stories that matter from voices that too often remain unheard.
BEFORE YOU GO
PHOTO GALLERY
Anti-Gay Protesters Getting Owned