Idaho just became the first state to implement an interstate travel restriction on abortion care since the Supreme Court repealed federal protections last year.
Gov. Brad Little (R) signed a law on Wednesday evening that bans minors from traveling out of state for abortions without parental consent. The law creates a new felony crime called "abortion trafficking," which the legislation defines as an "adult who, with the intent to conceal an abortion from the parents or guardian of a pregnant, unemancipated minor, either procures an abortion … or obtains an abortion-inducing drug" for the minor.
"Recruiting, harboring, or transporting the pregnant minor within this state commits the crime of abortion trafficking," according to the legislation. The crime of abortion trafficking carries a felony offense punishable by two to five years in prison.
The law criminalizes anyone transporting a pregnant minor without parental consent within Idaho to get an abortion or abortion pills, which means it could apply to a grandmother driving a pregnant minor to the post office to pick up a package holding medication abortion or target an older brother driving a pregnant minor to a friend's house to self-manage an abortion at home.
Little clarified in a letter to Idaho's House speaker that the law will not limit interstate travel for abortion for any adult.
"The 'abortion trafficking' provision in the bill seeks only to prevent unemancipated minor girls from being taken across state lines for an abortion without the knowledge and consent of her parent or guardian," the governor wrote.
The law goes into effect 30 days after Little's signature.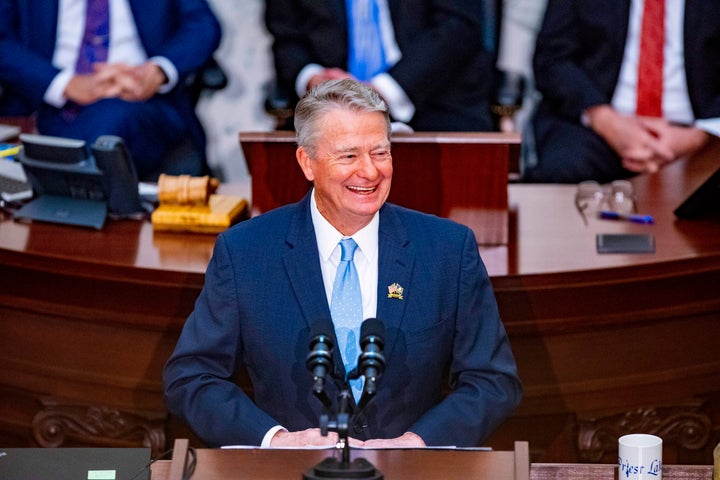 "Many minors do not have supportive or safe parents or guardians in their lives who they can ask to help them get an abortion," Northwest Abortion Access Fund, a regional abortion fund that serves Idaho, Oregon, Washington and Alaska, said in a statement.
"It's remarkable that lawmakers believe that young Idahoans don't have the capacity to make reproductive healthcare choices for themselves or deserve bodily autonomy, but believe that those same young people should have the capacity to raise and care for children on their own, without any major social or economic support," it continued.
Although the legislation does not specifically discuss crossing state lines, most pregnant people in Idaho are not traveling in the state to get an abortion. Most are traveling to get legal abortions in neighboring states like Washington or Oregon. This law criminalizes the act of anyone driving a minor without parental consent to the border of Idaho with the intent of crossing state lines to get an abortion outside the state.
"Technically, they're not criminalizing people driving in Washington state with a minor. The crime is the time that someone is driving the minor in Idaho," David Cohen, a law professor at Philadelphia's Drexel University whose work focuses on constitutional law and abortion policy, told HuffPost last month.
State Rep. Barbara Ehardt (R), one of the sponsors of the abortion trafficking law, told HuffPost last month that the intent of the legislation is to limit minors' ability to travel out of state without parental consent, despite the text of the bill only discussing intrastate travel.
"It's already illegal to get an abortion here in the state of Idaho," Ehardt said. "So, it would be taking that child across the border, and if that happens without the permission of the parent, that's where we'll be able to hold accountable those that would subvert a parent's right."
Alexis McGill Johnson, president and CEO of Planned Parenthood Federation of America, condemned the law in a Wednesday night statement.
"Young people seeking abortion deserve our compassion and support, not the extreme government overreach this law sanctions," she said. "Make no mistake: HB242 will have a chilling effect on those who would help minors access critical abortion care, putting young people in dangerous and isolating situations."
The only exceptions include affirmative defenses in cases of rape or incest, and only if the victims have a police report. The law also includes an exception to save the pregnant person's life, a statute that the Biden administration initially sued Idaho over because it wasn't accounted for in the state's six-week ban.
And the state's severe restrictions are having immediate effects: Many OB-GYNs are leaving the state for fear of civil and criminal punishments for doing their jobs, and two hospitals have been forced to close their labor and delivery wards because of a lack of physicians.
Many pro-choice groups worried that after Roe v. Wade fell, anti-abortion lawmakers would attempt to limit interstate travel. Supreme Court Justice Brett Kavanaugh clarified in his concurring opinion for Dobbs v. Jackson Women's Health Organization that the right to interstate travel is still constitutionally protected. But since Idaho's abortion trafficking bill is crafted in a way that only impacts travel inside of Idaho and pertains to minors, it seems lawmakers have found a loophole.
Idaho is also not the first state to restrict travel for abortion care. Missouri, a state known to push the boundaries of anti-abortion legislation, has had a similar law on the books since 2005. Though Missouri's statute has a civil penalty, Idaho's law goes farther with a felony punishment and creates an entirely new crime under the state's criminal code.
Support HuffPost
The Stakes Have Never Been Higher
Popular in the Community