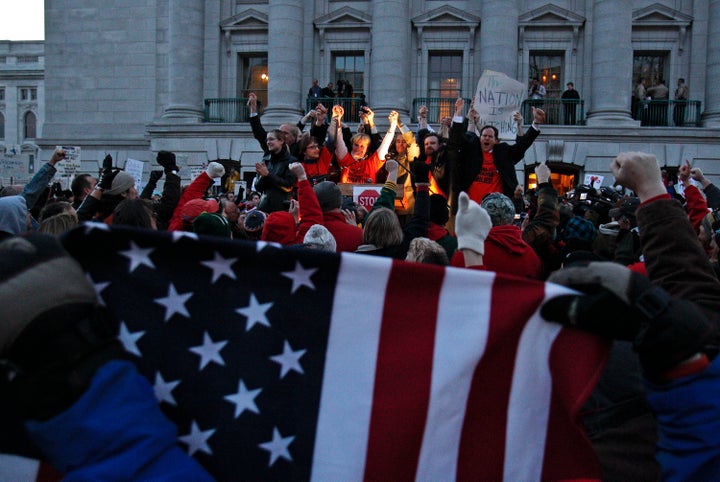 Even as Wisconsin remains stuck in a weeks-long deadlock over a proposed bill that would strip nearly all collective bargaining power from state workers, Idaho's lawmakers have approved a bill removing the majority of bargaining rights from public school teachers.
But the growing movement to curb union rights is not favored by most Americans, polls suggest.
Numerous polls from recent weeks have indicated that Americans oppose the attack on public unions, particularly, efforts to strip state workers of collective bargaining rights. A Bloomberg National Poll on Wednesday found that 64% of respondents -- both Democrats and Republicans -- say public employees should have the right to bargain collectively for their wages. Bloomberg reports:
"The poll shows that political challenges to government workers are failing to draw broad support from a public more concerned about unemployment than government deficits."
Two recent Pew surveys also show that the majority of respondents, when asked about collective bargaining, side with unions.
Idaho's bill, which has has been approved by the state House and Senate and is expected to be signed into law by Republican Governor Butch Otter, strips teachers' unions of the right to bargain over anything besides salary and benefits -- including course loads, class size and other working conditions.
The bill is part of a broader eduction reform being pushed by Gov. Otter, Politico reports. "For too long school boards have been shackled to agreements made 10, 20, or even 30 years ago," State Rep. Bob Nonini, the bill's House sponsor told the Spokesman-Review. "We don't bind future legislators and we shouldn't bind school board members."
Idaho is one of a number of states with GOP leadership to take aim at public unions in recent months. The protests in Madison, now in their third week, continue, with Wisconsin State Senators still camped out in Illinois to prevent passage of the legislation, even as Governor Scott Walker proposed a compromise over e-mail offering to keep certain collective bargaining rights intact. (State Democrats have said Walker's compromise is inadequate.)
Indiana, Ohio, Michigan, Iowa and Florida all have further protests planned. In Indiana, House Democrats staged a mock "funeral" mourning the death of the middle class.