REBECCA BOONE, Associated Press
BOISE, Idaho (AP) — A national civil liberties group has brought its fight to overhaul the criminal defense system for low-income defendants to Idaho with a lawsuit that says the state hasn't done enough to make sure poor people are being fairly represented.
The American Civil Liberties Union contends state officials have known for several years that overwhelming case loads, underfunded budgets and a patchwork system that varies county by county prevent defendants from receiving adequate legal representation guaranteed by the U.S. Constitution.
Idaho officials, including the governor and attorney general, declined to comment Monday on a case that continues a national push for the ACLU.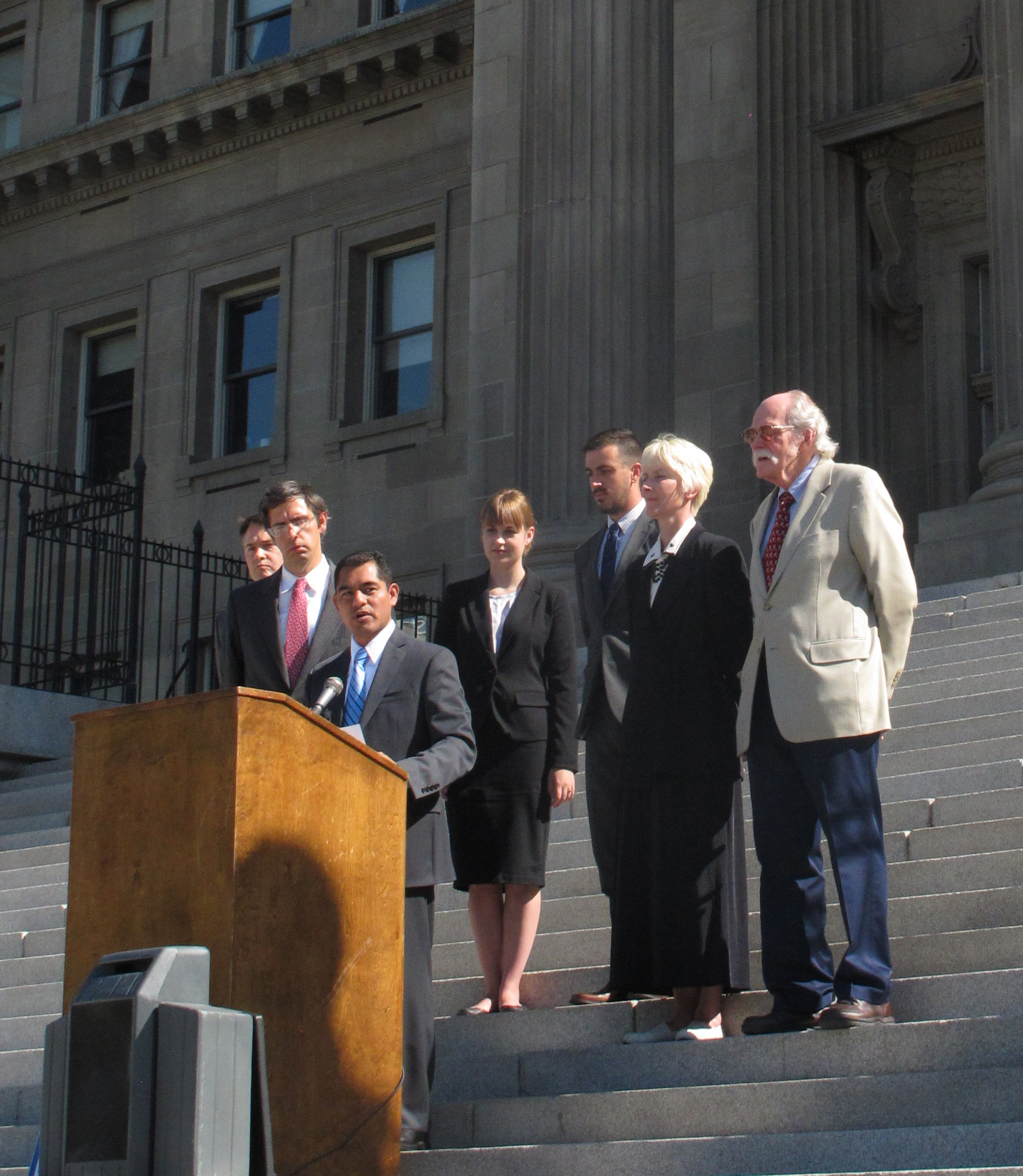 American Civil Liberties Union -Idaho spokesman Leo Morales, standing with ACLU attorneys at the Statehouse in Boise, announces a federal lawsuit over over Idaho's patchwork public defense system on Wednesday, June 17, 2015 in Boise. The civil rights group contends that state officials have known for at least five years that high case loads, low budgets and a system that changes from county to county means that low-income defendants aren't being fairly represented in court. (AP Photo/Kimberlee Kruesi)
The organization has brought similar lawsuits in several states recently, reaching settlements in New York and Washington after the U.S. Justice Department intervened on the ACLU's behalf and state officials agreed to sweeping reforms.
The case names four plaintiffs who say they've spent months in jail without speaking to their court-appointed attorneys, and the organization is seeking class-action status so the case will apply to all low-income defendants in the state. The filing asks a state judge to order Idaho officials to implement a better system.
Idaho's public defender system has been at focus recently, since a report from the National Legal Aid and Defender Association found in 2010 that indigent defendants facing criminal trials weren't getting adequate representation. The problems included a lack of communication between court-appointed lawyers and their clients, poor or nonexistent legal investigations, deficient funding and a lack of oversight.
Lawmakers and a special Criminal Justice Commission have examined the issue, but the ACLU says meaningful changes haven't been made.
For their part, legislators created the Idaho Public Defense Commission last year. Members have been asked to create standards, training programs and a data collection system and to keep lawmakers informed about any problems.
The ACLU says that's not enough. "Astoundingly, the State failed yet again in the recently concluded 2015 legislative session to fund or improve its public-defense system," ACLU-Idaho attorney Ritchie Eppink wrote in the lawsuit.
The organization says it wants the Idaho case to help send a larger message about criminal defense.
"It is extremely critical for not just Idaho but also for the nation," Leo Morales, acting ACLU-Idaho executive director, said Monday, "to ensure we have a criminal justice system that can bring about effective assistance of counsel to every person who is accused of a crime in this country."
This story has been corrected to show the lawsuit was filed in state court. An earlier version said it had been filed in federal court.
Calling all HuffPost superfans!
Sign up for membership to become a founding member and help shape HuffPost's next chapter