 * Hundreds of homes menaced by cluster of lightning-caused blazes
* Smoke and ash prompts health advisory for residents in two counties
SALMON, Idaho, Sept 4 (Reuters) - A cluster of lightning-sparked wildfires roaring through national forests in Idaho threatened hundreds of homes on Tuesday, prompting evacuations from several small towns and sending clouds of ash cascading over the region.
The so-called Mustang Complex blaze has devoured more than 240,000 acres since originating as several smaller fires that erupted from thunderstorms in late July in remote stretches of the Salmon-Challis National Forest, then merged during the ensuing weeks.
The fire crept closer on Tuesday to two small towns near the Montana border - North Fork and Gibbonsville - just north of the eastern Idaho city of Salmon, menacing about 250 homes, authorities said. Officials have advised some residents to flee, while others were placed on standby for possible evacuation.
Thick smoke and ash belched from the Mustang fire, and from a separate lightning-caused blaze that has scorched over 130,000 acres in the Salmon-Challis, enveloped the region, prompting state health officials to issue an air pollution alert.
In North Fork, firefighters scrambled trying to determine how best to protect a high-end resort, the 100 Acre Wood Lodge, from advancing flames.
"We thought we were in good shape. Now we're not so sure," said Jon Cummings, co-owner of the resort, after area property owners were warned to be ready to flee at a moment's notice.
Fire information officer Tom Hegele said fire crews were still in a defensive stance and were ready to fall back if flames appeared ready to overtake their positions.
"If this thing suddenly jumps and runs, we're not going to risk human life," he said.
Jeff Hill, the chief executive officer of Steele Memorial Hospital in Salmon, said his facility and a sister clinic were reporting a rise in the number of patients complaining of breathing difficulties due to the fire, especially among those with asthma.
About 65 miles to the west, a third fire dubbed the Mcguire Complex blaze was threatening more than 300 structures, mostly homes and cabins, in the towns of Orogrande and Dixie in the Nez Perce National Forest, prompting evacuations there since last Tuesday, authorities said.
The Mcguire fire has raged largely unchecked over 16,000 acres of rugged, densely forested terrain since unleashed on Aug. 27 by a lightning strike. The blaze was so fierce that only specially trained U.S. Forest Service "hotshot" teams have been assigned to the fire so far.
A force of nearly 1,000 firefighters was battling the sprawling Mustang Complex, by far the largest of five major wildfires being fought across Idaho on Tuesday, according to the National Interagency Fire Center in Boise.
One of those, the Trinity Ridge Fire, came close to swallowing the small resort village of Featherville in the Boise National Forest of south-central Idaho about two weeks ago. But a prolonged, intense effort by firefighters saved the town. That blaze, which charred more than 145,000 acres, has since been largely contained.
Earlier in August, a U.S. Forest Service firefighter was killed when a tree fell on top of her in north-central Idaho, bringing to 12 the number of wild-land firefighters who have lost their lives in the line of duty nationwide this year. (Writing by Steve Gorman; Editing by Cynthia Johnston and Stacey Joyce)

Before You Go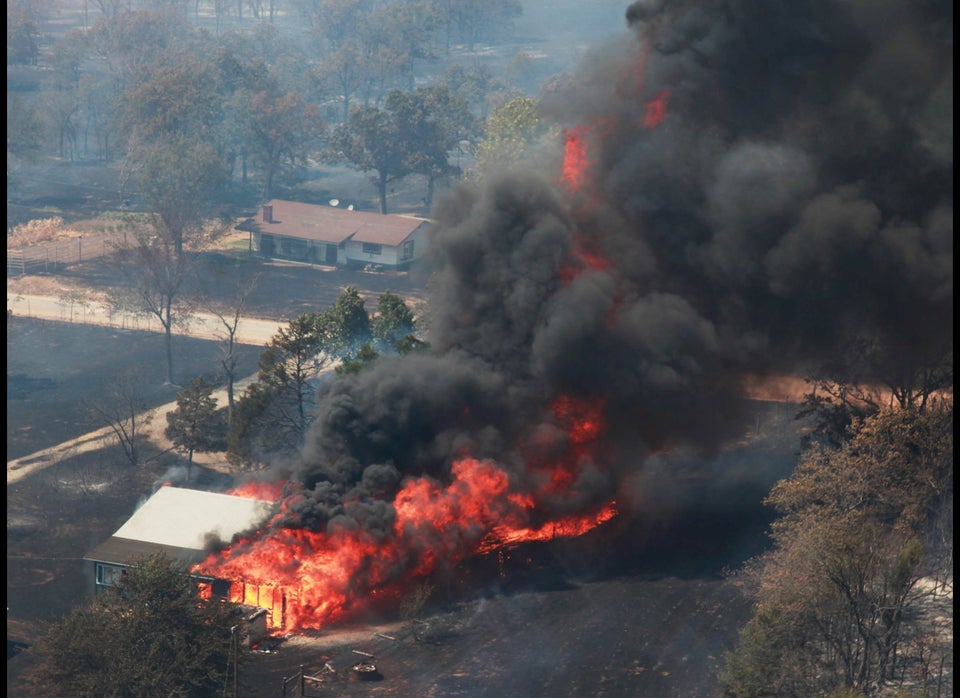 Oklahoma Wildfires
Popular in the Community