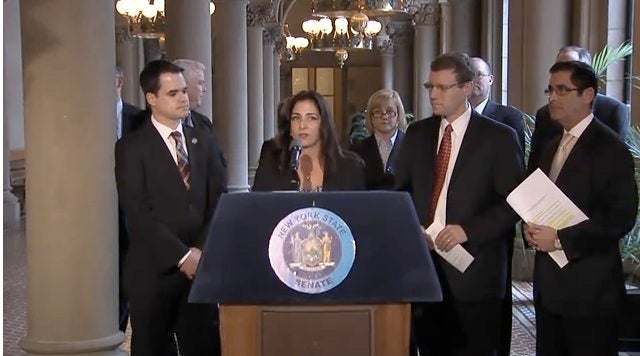 The State Senate's Independent Democratic Conference has released a report showing that marriage equality in New York state would generate $391 million in economic activity, revenue, and savings during the three years after it is made into law.
Using what the group deems as 'conservative estimates', their report, titled "For Love or Money?: The Economic Impact of Marriage Equality in New York", finds that 21,309 gay and lesbian couples living in New York would get married within the first three years of marriage equality. The report predicts 3,308 couples from surrounding states, that do not have marriage equality laws, would choose to be wed in New York, and that 41,907 other out-of-state gay and lesbian couples would travel to New York for a "destination wedding."
The IDC estimates this influx in marriages would earn the state $283,810,725 in wedding revenue and tourism, $3,792,400 in marriage license fees, $22,704,858 in sales taxes, and $259,669 in NYC hotel occupancy taxes for a total of $310,567,652 in new state revenue and economic activity.
Many same-sex couples, by virtue of getting married, would also become ineligible for state public assistance programs, creating an additional $80,848,457 in state budget savings.
Combined, the "positive impact of marriage equality" in New York is $391 million.
The IDC used methodology established in "Love Counts", a 2007 report from the New York City Comptroller's Office, and later The Williams Institute of the UCLA School of Law, which has released similar studies for 14 other states and the District of Columbia.
The report also cites an open letter to New York state legislators , released on April 29th, 2011, from a group of top executives, including the CEOs of Goldman Sachs, Con Edison and Thompson Reuters, among 23 others, stating that marriage equality in New York would "not only be fair, but also make good business sense."
The IDC is a breakaway Democratic caucus in the New York state senate comprised of senators Jeff Klein, Diane Savino, David Valesky and David Carlucci.
A marriage equality bill was defeated in the New York state senate in 2009.