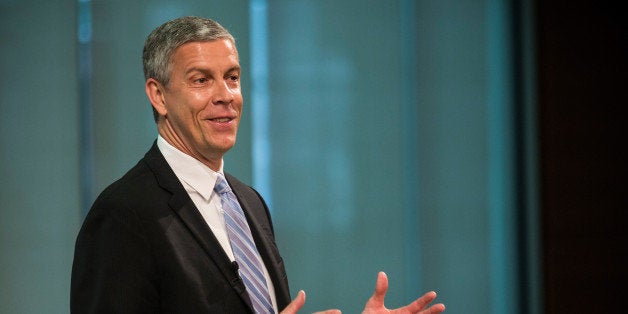 U.S. Education Secretary Arne Duncan on Tuesday focuses his quest to improve classroom performance on the 6.5 million students with disabilities, including many who perform poorly on standardized tests.
Duncan, who has spent his years in the Obama administration using accountability measures in existing laws to drive improvements in student performance, on Tuesday joins Michael Yudin, assistant secretary for the Office of Special Education and Rehabilitative Services, to announce a new framework for measuring states' compliance with the Individuals With Disabilities Education Act, the federal law that supports special education and services for children with disabilities. The law originally was known as the Education of Handicapped Children Act of 1975.
After years of holding states accountable under the law for such things as timely evaluations of students and due process hearings, the Education Department plans to look at results. For the first time, the government will define compliance with the law not just in terms of what states do for students with disabilities, but with how those students perform.
Focusing on inputs has worked on improving that type of compliance, according to information the Department released Tuesday. For example, in 2006, 84.8 percent of initial evaluations of students with disabilities were completed on time. By 2010, that number had increased to 96.9 percent. At the same time, national average math proficiency hardly budged from 33.2 percent in 2005-2006 to 35.2 percent in 2009-2010 -- representing a dip from 38.7 percent in the previous year.
"Basic compliance does not transform students' lives," Duncan said on a Tuesday call with reporters. "It's not enough for a state to be compliant if students can't read or do math" at sufficient levels by the time they graduate from high school, he added.
According to this new results-driven accountability framework, states will be responsible for students with disabilities' participation in state tests, gaps in proficiency between students with disabilities and their peers, and performance on the National Assessment of Education Progress, or NAEP, the only national standardized test. This marks the first time the NAEP, which is often described as a low-stakes test, has been used for school accountability.
The U.S. may deem states to be meeting requirements, needing assistance, needing intervention, or needing substantial intervention. Consequences range from extra help to financial penalties. If a state needs assistance two years in a row, the law mandates that the Education Department "take actions such as requiring the state to obtain technical assistance or identifying the state as a high-risk grant recipient," according to a government press release.
If a state needs intervention for three straight years, the Education Department may require "corrective action plans" and can withhold "a portion of the state's funding," the department said. States receive $11.5 billion in Individuals With Disabilities Education Act funding to improve the education of students with disabilities.
But withholding funds would be a last resort, Duncan said on a Tuesday call. "While we obviously have the option of withholding funds, that's clearly not our first priority," Duncan said. "This is not about playing gotcha."
Yudin said that withholding state administrative funds would be one way to hold states accountable without decreasing the resources that students get in school.
The new framework will mean most states are failing to comply with the law. Last year, 41 states and territories were deemed compliant. But under the standards that will be announced Tuesday that consider results, only 18 states will be in compliance.
Fewer than 10 percent of eighth graders with individualized educational programs required for students with disabilities are proficient in reading, Yudin said in a statement. "We can and must do better."
Texas; Delaware; Washington, D.C.,;California; the Virgin Islands; and the Bureau of Indian Education are ranked "needs intervention," the lowest category this year. States and territories in the "needs assistance" category include Alabama, Alaska, Arizona, Arkansas, Colorado, Connecticut, Hawaii, Idaho, Illinois, Iowa, Kentucky, Louisiana, Maine, Maryland, Michigan, Mississippi, Montana, Nevada, New Mexico, New York, North Carolina, North Dakota, Ohio, Oklahoma, Oregon, Rhode Island, South Carolina, South Dakota, Tennessee, Utah, Washington, West Virginia, American Samoa, Commonwealth of Northern Marianas, Guam and Puerto Rico.
Not all states are thrilled. "We're analyzing the data to determine what factors went into this rating," said Debbie Ratcliffe, a spokeswoman for the Texas education department. "We're disappointed but not surprised by it." She said she was dismayed at the ratings' heavy reliance on the NAEP. Texas has increased the number of special education students included in general exams, Ratcliffe said.
The debate over how to serve students with disabilities and measure their progress grew out of the decades-old fight over mainstreaming, the practice of educating students with disabilities in the same classrooms as their non-disabled peers. Over the last few decades, that question of inclusion has fallen under the mantle of civil rights, with many parents saying that excluding students with disabilities is illegal segregation.
Recently, that debate has spilled into broader conversations about standardized testing and learning goals, as most states implement controversial Common Core State Standards, the benchmarks that aim to prepare students to succeed in a global economy.
Some disability advocates, and the Education Department, argue that students with disabilities should be held to the same standards as their peers, with few exceptions. They say that holding these students to lower standards further handicaps their potential to become independent adults.
"Every child, regardless of income, race, background, or disability can succeed if provided the opportunity to learn," Duncan said in a statement. "We know that when students with disabilities are held to high expectations and have access to the general curriculum in the regular classroom, they excel."
But other advocates and some teachers claim that holding these students to higher standards sets them up for failure, preventing them from earning a diploma and condemning them to years of academic disappointment.
To that end, a Louisiana bill that would put graduation decisions for some students with disabilities into the hands of school-based teams, rather than state standards, awaits action by Gov. Bobby Jindal (R). New York state has asked the federal government to allow it to test up to 2 percent of students with disabilities as much as two grade levels below their actual age.
Tuesday's announcement comes one year after the Education Department said it would abolish the decade-old practice of allowing 2 percent of students with disabilities to take a test based on lower standards. Some states wound up testing half of all students with disabilities this way. Duncan said at the time that only 1 percent of students -- those with the most severe disabilities -- would be able to take the modified exams.
Yudin stressed that these efforts are a part of that movement toward integration.
"This shouldn't be separate from, this shouldn't be apart from" the general education system, he said. "We have to own these kids. We all have to own these kids."
This article has been updated to include additional remarks from Duncan and Yudin, as well as information about outcomes for students with disabilities.

Before You Go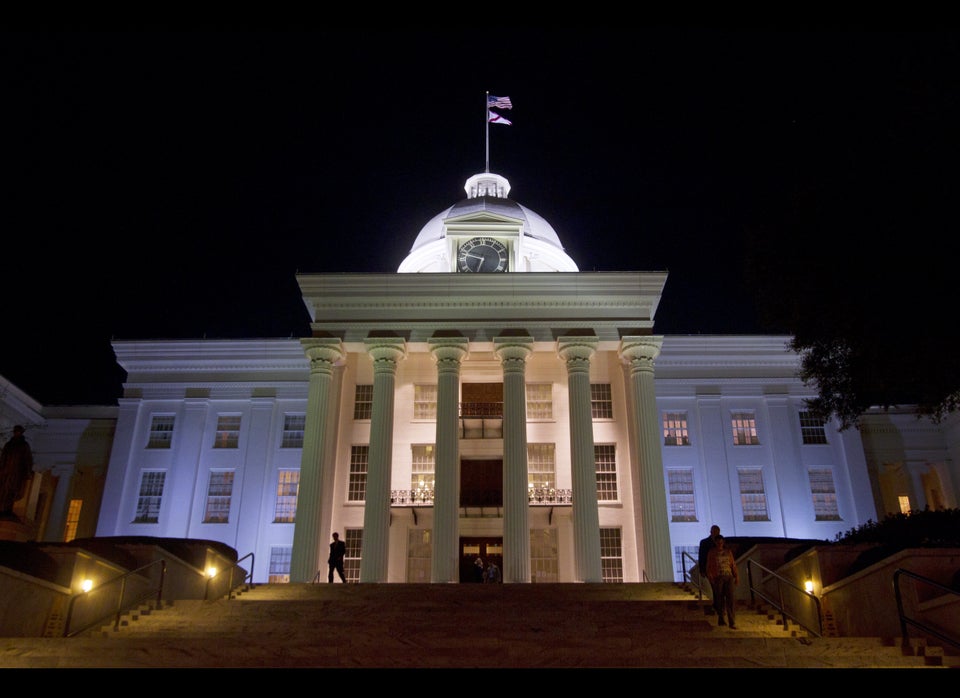 U.S. State Capitol Buildings
Popular in the Community