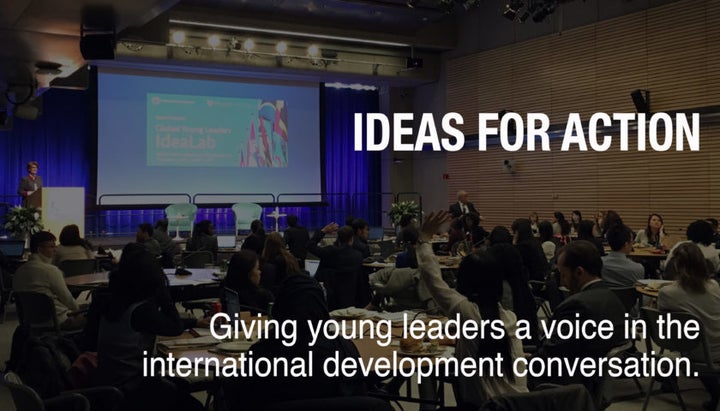 About 43 percent of the world's population -- 3 billion people -- are under the age of 25. Today's youth have the most at stake in achieving the 2030 Agenda for Sustainable Development and its associated Sustainable Development Goals (SDGs).
The SDGs are a set of 17 global goals that seek to end poverty, promote peace, and preserve the planet for future generations, all by 2030. These goals cover a broad range of interconnected issues, from ending hunger, promoting health, addressing inequality, creating jobs and sustainable economic growth to improving governance and addressing global challenges such as climate change.
Young people will have to implement this agenda, contributing their unique solutions and shaping their future -- and ours. That's why we organized the Ideas for Action (I4A) initiative, a youth competition on innovative ways to finance and implement development solutions to help reach the ambitious SDGs. I4A is jointly sponsored by the World Bank Group and the Zicklin Center for Business Ethics Research at the Wharton School of the University of Pennsylvania, and is now in its third year.
This year the I4A competition attracted over 700 proposals from 118 countries, with 38 percent of submissions from Sub-Saharan Africa, 15 percent from Latin American and the Caribbean, 13 percent from South Asia, 12 percent from East Asia and the Pacific, 12 percent from North America, 8 percent from Europe, and 2 percent from the Middle East and North Africa.
The winners were selected through a rigorous three-stage selection process evaluating the creativity, significance, feasibility, and clarity of the proposals. Reviewers included young World Bank Group staff and Wharton students, along with technical experts and senior executives from the World Bank Group, Wharton School, MasterCard, PepsiCo, Firmenich, and the G-24 Secretariat. Other competition partners included the World Bank Group Youth to Youth Community, the Young Americas Business Trust, and the Organization of American States.
The winning proposals will be presented at the World Bank Group-International Monetary Fund Annual Meetings on October 10, 2017 in Washington, D.C. and at other high-level international events. The Wharton School will offer the winners training and opportunities to exchange knowledge.
The emerging theme from this year's top six proposals appears to be an effort to help match the supply and demand for certain goods and services through innovative digital platforms and establish a link between inputs and outputs that may not have been established organically. These winning ideas, if implemented, can help address inefficiencies in the development finance landscape and move us closer to meeting the SDGs.
The 2017 Winning Proposal, Kitovu, from Nigeria, is an innovative platform and system that matches fertilizer type and quantity, improved quality seeds, and other inputs to the right soil. It envisions a web- and mobile-based decentralized fertilizer and seedling warehousing system that matches the right inputs to different farm locations owned by smallholder farmers in distant locations to lower the cost of cultivation while ensuring increased yields.
Second-place proposal, Gifted Hands, from Uganda, is a network that seeks to reduce breast cancer deaths and provide an employment opportunity for women who are visually impaired. The network is designed to facilitate training for women who are visually impaired to become certified medical tactile examiners to carry out early breast cancer detection and prevention using their heightened and well-trained sense of touch. These certified examiners will have an opportunity to create employment as well as to save the lives of women who might otherwise die from breast cancer without the early examinations.
Third-place proposal, Agratam, from India, works to convert low-lying, waterlogged wastelands into productive fish farming units in the state of Bihar. This program is aimed primarily at providing sustainable employment opportunities for the extremely poor fisher communities that do not have access to a consistent and stable source of income. By aggregating this unproductive land, Agratam also provides rental income to marginal and smallholder farmers who own small parcels of land from which they cannot extract value or generate economic returns.
Project Forward, from the United States, one of the three runners-up, proposed a social currency–backed ecosystem that allows nonprofits to indirectly incentivize volunteers. It facilitates the monetization of volunteer hours through a proprietary digital currency. SAVE, from the Philippines, another runner-up, focused on the provision of sanitation to the poorest segments of society in the Province of Laguna in the Philippines through a portable toilet solution, anchored on a utility business model and supported by a public-private partnership and the community. Eligible households will be given a portable toilet bundled with their water service connection. These toilets will have a collection system to ensure proper disposal and treatment in a wastewater treatment facility. Another runner-up, She-Is, from Colombia, proposes a socio-productive model for entrepreneurial education and the promotion of business activity for women who are victims of armed conflict. In the case of Colombia, the campaign seeks to champion women in post-conflict situations as successful entrepreneurs by harnessing their knowledge and generating a positive impact on the peace process.
Helping Cultivate the Next Generation of Leaders and Global Thinkers
Our hope is that I4A will combine the creative insights and thoughtful innovations of the next generation of leaders with the implementation potential of development organizations and practitioners. We want to foster among youth a sense of ownership while incubating some exciting ideas that can shape our shared future for the better.
I4A has convened several workshops, called IdeasLabs, as opportunities for interested young people to get information and exchange knowledge and ideas. Equally important was the creation of several I4A clubs, and among the most active are clubs at the Wharton School, as well as in partner universities in Belgrade and Hong Kong SAR. These targeted activities have engaged many young professionals who took part in the competition, as well as those interested in global development.
The 2015 and 2016 winning proposals were compiled in books which were used as teaching tools at undergraduate and graduate classes at Wharton as well as at several other schools throughout the world. One of the main goals of I4A continues to be engaging leading schools of finance and development and connecting them with practitioners around the world.
The Ideas for Action initiative is not just about winning. It is about the process which encourages engagement, inclusion, and information sharing. This endeavor can help redefine the global development conversation and assist the World Bank Group and other development organizations in leveraging their resources and convening power more effectively. By encouraging the next generation of global leaders to think beyond the existing approaches to development issues, we can help innovative solutions germinate and take root.
Related
Popular in the Community