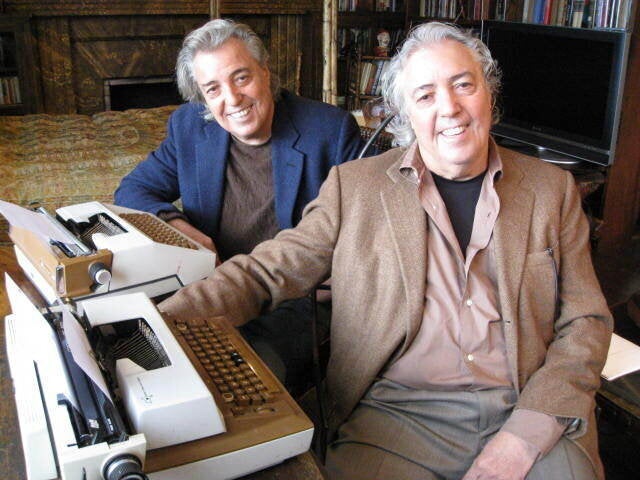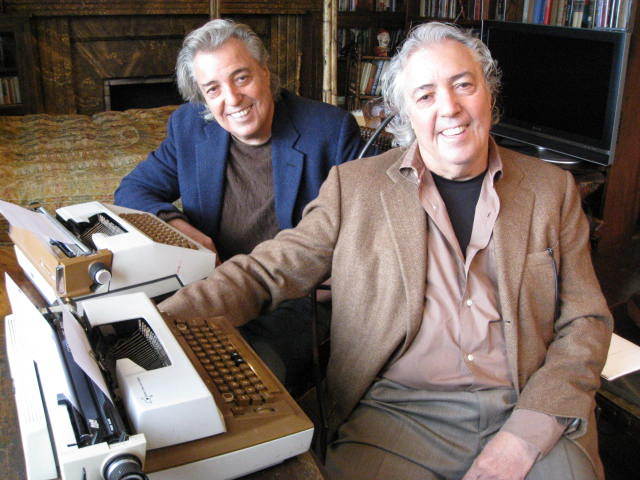 At cocktail parties, I would always say I'm Dom Dimaggio to Dick's Joe D. My identical has been nominated twice for a Pulitzer, he almost won the National Book Award, he's translated all over the world. Compared to Kafka, Dostoievski, Par Lagervist, Paul Auster, George Konrad, and a multiple of other writing icons. Me, I wrote one best-seller and several other, to-this-day forgotten, novels.
Of course, Ariel Warning is my best work by far, and is on its own one hell of a novel, but, still, Dick is Joe D. I am maybe an All-Star. Why? In addition to identical DNA, we have the same heritage, lived in the same kind of lives, had the same upbringings, schooling, environment, values, and our worlds are as close as our residences. Both of us live on Central Park South with the magnificent Central Park as our everyday companion. What's different?
Nature is one thing. Choices another. Courage and cowardice another. I chose, or was chosen and blessed by a full life. Besides spending eleven years on Ariel Warning, that's fourteen hour days, seven days a week, I also had several live in girlfriends, numerous real relationships, two legal wives, and have the best 11 year old boy in the world. I have a complete life: Don't take that for granted. Dick gave everything to his art. He is 100% the artist. He thinks, breathes, lives, and sacrifices everything in the name of his work.
He lives it like I went after blood money during my professional gambling years. He underlines Beckett, Kafka, David Markson, and every worthwhile book he reads. He digests and breathes his art. I breathed in life and everything that goes with it. I can write, it's the best of who I am. I can pound away and get the best out of me, but I also get what is fun, what is joy, what is wonderful about seeing my son grow up.
I can feel what is valuable about living with a woman I love, holding her hand, being there when she needs me, and sharing what we share. I have so much. Dick has his art. That's it. Of course he is angry. Of course he is a great novelist. Thank God some of his life is perfect. He deserves it.
What I deserve, I have. And as I said earlier, Ariel Warning is the best that's in me. I gave it as much as I can. I'm content. And, as for my identical, he's as perfect as I am imperfect. As a brother that is. And of course, because of our different natures, and different life choices, our novels reflect, hopefully with wisdom and pain, our mutual humanity.
Richard "Dick" Kalich, author of Penthouse F (Green Integer Books)
I have been asked to write a short essay on what it means, what its like, being a twin novelist. Well, to begin with I should say that both my brother and myself, from the very earliest pre-teen and teen years aspired to be Writers. Not straying too far off, we probably have our mother, a Barnard Phd,to thank for that categorical imperative.
Growing up in our upper West side home, Mom's chronic clarion call was: "I don't want businessmen for children. I want Writers and Scholars; Artists and Poets." I can only say in retrospect: Beware of what you wish for because you just might...
As to how being a twin, identical twin, informs my and my brother's fiction writing, likewise, I do not have to search far. The last novel I wrote, Penthouse F; and my twin's present novel, The Investigation of Ariel Warning, certainly serve as exemplars of our very separate and different approaches to writing fiction. It's kind of yin and yang. Opposite sides of the same coin. What one twin does, is, the other does not. Is not. It's as if there's only so much room inside us to realize completion and so, if my brother realizes one possiblty, then that suffices; allows or better, impels the other to persue its opposite.

In Bob's novel, The Investigation of Ariel Warning, the reader will experience a profound, lyrical, passionate and highly realistic accounting of a young woman entering the lives of a pair of twins and because of her own pathological reasons needing to consumate relations with both, thus catalyzing one twin's betrayal of the other.
The depth of insight and especialy feeling that my brother reaches in articulating the loss of unconditional trust and love between the twin characters could only have been written by a novelist, a twin novelist, who has the courage to confront life directly, in its full existential immediacy, and not abstract, ironicize, or provide metafictional games and tangents to the raw and naked human experience.
I, on the other hand, in my novel, Penthouse F, while depicting the twin relationship with nearly comparable insight, approach the subject very differently. Metaphor, abstraction, meta-fictional parries and experimental games I made use of to achieve my goal. And this in fiction (as well as life) is what it means to be a twin. Incomplete in ourselves, but complete, whole, a totality with if not in each other.
Or as the lyric says: One without the other is one too few.


Related
Popular in the Community