Hotels, etymologically speaking, are a French invention, sheltering structures whose function was to provide care and nurture--as in the famous and endangered Hotel Dieu in Paris beside the Seine. Next month, the 21c "art hotel" in downtown Cincinnati, celebrates its first anniversary, and the current exhibition show does anything but calm the agitated soul, no matter the exquisite comforts offered in its high design rooms and suites.
The exhibit, "Dissemblance: Projecting and Perceiving Identity," which has been up since the sweaty days of July, uses major contemporary painting, light installations, sculpture and video to provoke not always comfortable reflection on the race, class and gender of who we traveling creatures are--or could be. You confront the instability of your own identity when you check in with one of the two greeters standing behind MacBooks--just MacBooks--sitting on a glass table in the gallery lobby.
Look up from your purse or wallet and stare past the greeter and you will see your own image reflected, except that the image is unstable, shivering, off-center, unsure of its and your foundation (as you may be if you've just arrived on a non-stop from Paris or London). It's an installation by Denmark's Jeppe Hein called Mirror Wall; it shakes in response to a sensor embedded in the check-in table.
Behind the check in tables is what a first appears to be a giant wedding cake on a table set for two--except that an electronic, illuminated mouse has eaten its way into the base of the cake, raising all manner of questions about the nature of marriage ceremonies.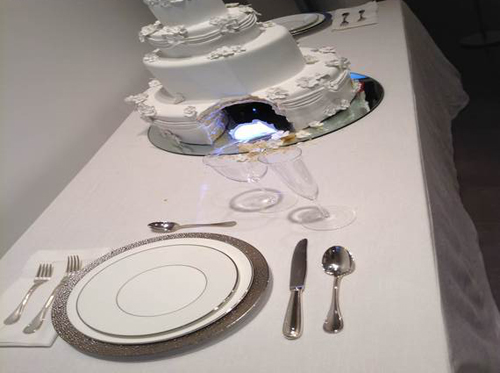 Rachel Lee Hovnanian (American) Dinner for Two
Turn and walk a few steps to the right and you find a wax sculpture of an apparently Asian lady with large eyes. In her hands she holds perhaps the most famous photograph of the Vietnam war: naked children running from their village under a US napalm attach.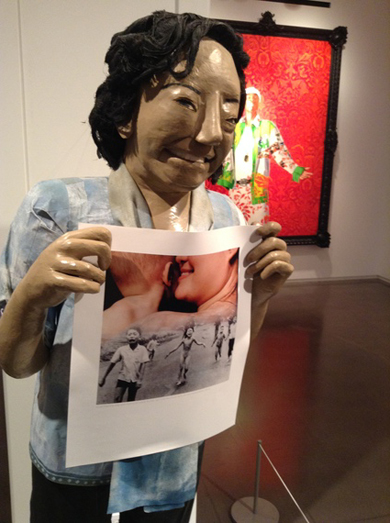 Yinka Shonibare, My Lai Mother
Against the wall beside her is another statue, apparently of an aristocratic French lady at a desk of the royalist, pre-revolutionary era--except that her head has been removed, and the elegance of her silk dress and ruffles is betrayed by the sorts of colors that would have never been seen in an aristocratic court but would have been tucked and hemmed for creole women in France's colonies. She is Madame de Chatelet, known as the Marquise de Chatelet, a mathematician and physicist and lover of Voltaire who said of her that she was a great man whose only fault was to be born a woman.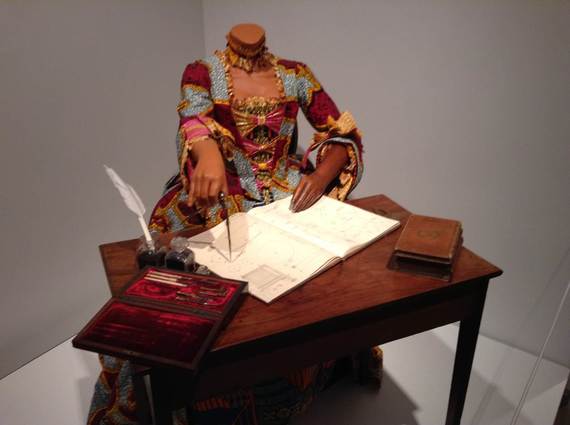 Yinka Shonibare MBE (British-Nigerian) The Age of Enlightenment

Next to her is a panorama of photographs in which the roles of power and race are turned upside down by both their stature and their dress.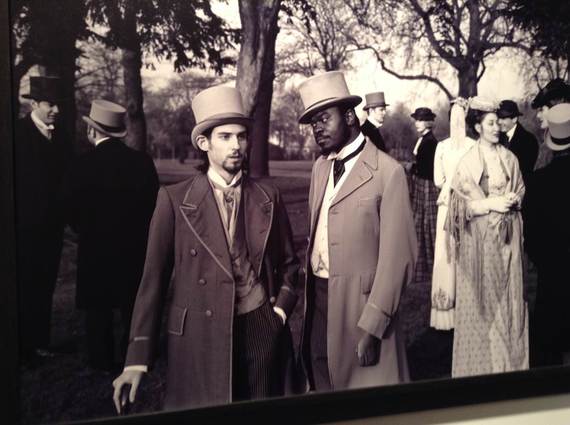 On the end wall an enormous photograph presents a young, black hipster reclining in a come-hither pose on a cotton chenille chaise-longue.
The effect of these and other images throughout the lobby is to ask us each, those of us well-heeled enough to pay the rent at an elegant center-city hotel just across the street from the Aranoff performing arts center, who we are, who our ancestors were, how they saw themselves and their servants and how they were seen by those who served them.
Like the original 21c hotel in Louisville, is to pull contemporary art out of the precious confines of proper museum and push it into the faces of the business ladies and gentlemen who are passing through in the pursuit of other interests. There are of course, as in all the 21c chain, the familiar red or yellow penguins that mark the hallways and give greetings inside the rooms and suites, not to mention, at least in Cincinnati, the aged mirrors that hang in the elevators and recall earlier faded elegance in the hotel when it was at the peak of its prominence in the 1920s before it fell into degradation as an SRO for the homeless.
Reassuringly over the bed in my own room, a circular rendering of a family of hippopotamuses stood guard in a jungle lake, should dark dreams or demons enter by dark of night.