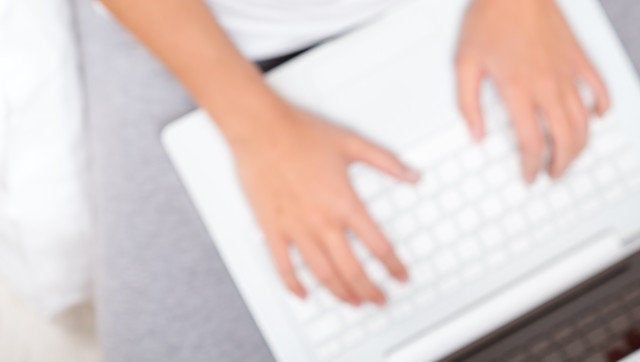 Facebook creepin' is on the rise. Seriously. While the obsession has been around for a while, it's intensity grew as singles sat gawking in front of their plasmas when MTV's "Catfish" aired and the relationship between a long-distance online love turned to ruin when it was revealed that "he" was in fact a "she." More reality came crashing in when the media broke the story of Notre Dame football star Manti Te'o, who was duped into a relationship by a faux Twitter account. And recently, the company Fake Internet Girlfriend opened their digital doors, offering lonely guys the chance to have an online-only GF. (The site will hook you up with the seemingly real Facebook account of a hottie who will post sweet nothings on your wall, text you how much she misses you, and, for a premium, even play World of Warcraft with your buddies.)
"So what gives -- is the Internet just becoming a bunch of fakers?!" singles ask. And who can blame them for freaking? Ultimately, it's all in the name of protecting their hearts.
While any early adopter will tell you that catfish creepers have been around since the advent of dial up and message boards, it's just recently that the spotlight has been shined on the fascinating relationships between digital posers and the unrequited partners who fell for it all, hook, line and sinker. But with one in five relationships beginning on an online dating site -- and many more via social networks, mobile apps and online games -- it's obvious that even though catfishing happens, connecting wire-to-wire does blossom into love for the majority of singles.
Online dating has finally become mainstream, so most singles are already logged-in. Membership is at such an all-time high that some singles actually prefer to connect on a site rather than a bar. And dating companies are making major strides to innovate tools for singles so the online to offline experience feels more natural. Though society has come a long way from the "you might meet a serial killer online" mentality to a more educated world about safety, catfishing scenarios remind us that we're not completely rid of the cyber creepers.
As someone who listens to singles' digital dating gripes daily, I have recently observed them turn to Google sooner, make assumptions based on the results they see, and obsessively social media stalk. Oftentimes, it's overcompensation to the point of paranoia. Even after online daters meet a match, they are sometimes still wary about a date's identity and look to search engines for answers. If a false positive appears -- someone who looks as though it's their match but is simply someone with the same or similar name -- they question everything, including their instincts. One of my clients was convinced that a guy she was dating was dishonest based on a property announcement she dug up. She called me frantically, yelling "He's married! I mean, I know he said he's divorced but the deed to his house that I found online still has a woman's name on it. So he must be separated. Or still married. Oh my God, he's married!"
But conclusions cannot be drawn from a simple Web listing and fear of situations you see on reality shows or the news shouldn't cripple your love life. Education on red flags, the development of online dating safety practices and emotional distance until you meet face-to-face can easily prevent getting caught by emotional scammers.
New tech tools are also emerging to help act as your digital bodyguard. Repp is one such company that launched private beta this year at SXSW. They are trying to solve the issue of an unsafe Internet and create identity transparency by allowing you to proactively run your own background check that you can give potential eDaters access to, taking our need for being proactive in protecting our hearts one step further. The site verifies your identity and checks your criminal background using the same databases that financial institutions, governmental agencies and healthcare companies use. Of course a faker could always attempt to sign up as you but it would be incredibly challenging - I wouldn't even be able to answer all of the bizarre verification questions for my own fiancé. Forever forward (or until you delete your details from their server) your Repp account can prove to your matches that you are who you say you are. If you're feeling especially brazen, you can connect your social media accounts and email address. Though they'll only show the information you make public on the social sites, it will confirm to your date that your Facebook profile is in fact the one with the Justin Bieber poster as the main pic.
Of course, catfishers are unlikely to sign up for Repp... or any other online verification platform, for that matter. If someone won't Skype with you, he or she is certainly not going to confirm their creeper status. But if you are in doubt about someone, you can offer a profile swap and see how your match responds. Without a camera required, it won't be easy for him or her to blame technology -- after all, you met via broadband and an Internet connection is all that is needed.
Sites like Repp could change the way we date online, but it isn't going to happen overnight. A significant amount of awareness and education needs to happen for standards to be created. For it to matter most, integration with dating sites needs to be developed, too. And, well, let's be honest -- sites like this are still emerging and developing. Whether or not we will soon live in a world where identity verification is required to meet remains unknown.
Laurie Davis is the author of Love @ First Click: The Ultimate Guide to Online Dating and founder of eFlirt Expert. She helps singles navigate flirting and relationships via technology by writing their online dating profiles, decoding their dates' text messages, and helping them transition to meaningful, offline relationships.
REAL LIFE. REAL NEWS. REAL VOICES.
Help us tell more of the stories that matter from voices that too often remain unheard.