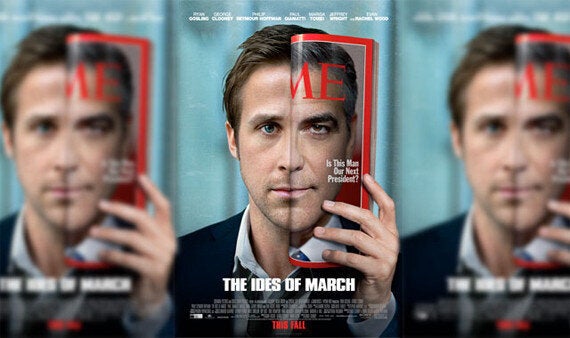 "The Ides of March" had its world premiere at the Venice Film Festival today, and the reviews started trickling out from Italy early this morning. The political thriller directed by George Clooney stars himself as a Democratic candidate for president and Ryan Gosling as the senior adviser to his campaign. It sounds like a dream team, until Gosling's naive optimism is challenged by the cynical Washington machine.
Now, one cynical machine meets another as the critics give their piece:
The Playlist's Oliver Lyttelton -- whose review was first to hit the web (apart from one that appeared before the review embargo was lifted and was quickly taken down) -- thinks the campaign world has "rarely been depicted better" than it is here. "The director has a real eye for the detail of the thing, although he doesn't give much help to those who aren't politics junkies… On the surface at least, it's a film very much of its time as well, with hot button issues lifted from the headlines, and talk of an adrift Republican party striking more than a few chords." However, he tempers this with some criticism: "it all feels a little convenient, at the expense of believability." Overall grade: B.
The Guardian's Xan Brooks calls it "tense and involving," and "a glossy mainstream thriller," but takes more issue with the fact that a commercial film was chosen to open the festival when "there were surely wilder, more interesting contenders that fell by the wayside." Overall grade: 3 out of 5 stars.
David Fritten at the Telegraph, has stronger words of praise for "The Ides of March," calling it "a smart, confident kick start to what looks like being a notably strong Venice film festival." Gritten sees its commercialism as an asset, noting that "it engages the brain within the context of a solid entertainment." Overall grade: 4 out of 5 stars
Derek Malcolm at the Evening Standard agrees with Fritten that "The Ides of March" "has it all": "Pure politics isn't very often an audience-drawing subject matter for the cinema. Political corruption does a bit better. But political corruption plus sex is the best bet." Overall grade: 4 out of 5 stars
Dave Calhoun at Time Out London begs to differ: "'The Ides of March' is solid enough as a minor moral tale about politics - but its teeth are not as sharp as its ponderous title." He allows that "it's captivating enough and well-performed by a strong cast." Overall grade: 3 out of 5 stars
Our sixth British critic, Guy Lodge at In Contention, finds the film's stance off-putting: "For a film that affects a jaded, it-was-ever-thus air about the reality of dirty politics (that title isn't exactly rich in ambiguity, either), the way it stares earnestly aghast at the characters' hypocrisies and double-crossings is itself naive at best, and downright disingenuous at worst." Overall score: 3 stars (out of 4?)
Now to the American critics. Deborah Young at The Hollywood Reporter holds that the film loses steam when Evan Rachel Wood, who plays the sultry young intern, enters the picture: "The film shifts away from the hot, rapid-fire political exchanges that set the stage, and into a film noir mode which is not unpleasant, but certainly less than could have been hoped for by the film's piquant and original first half. From here on in the story gets a lot more familiar." Still, she offers, the cast and technical work are what hold this ship together.
Justin Chang at Variety would agree with Guy Lodge over at In Contention, noting that it "wallows in its own superiority to the point where its cynical pose looks almost naive."
The consensus, if we're to find one, is that the film is a bit derivative and naive, but nonetheless an involving mainstream thriller held together by strong performances. Using our sophisticated review-compiling calculator, otherwise known as our instincts, we're giving "The Ides of March" a B-.
Decide for yourself when "The Ides of March" is released on Oct. 7 in the U.S.
Related
Popular in the Community