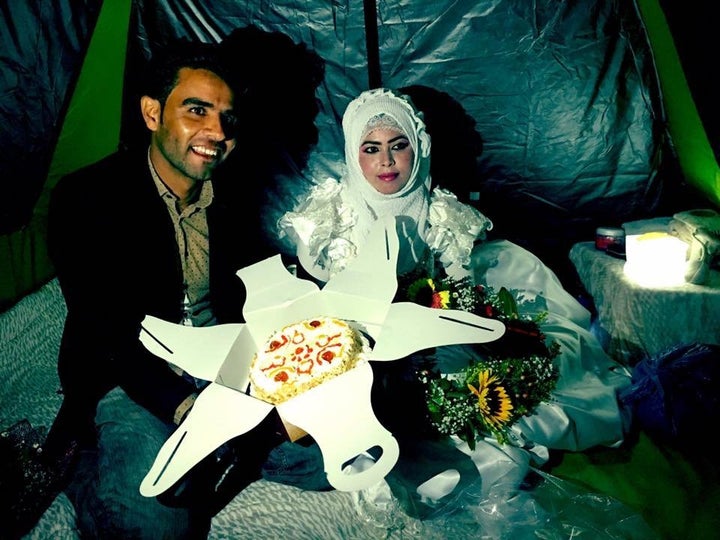 Amid the fear and desperation among migrants and refugees at Greece's Idomeni refugee transit camp, there was one cause for celebration last week, thanks to the efforts of some kind volunteers.
Saher, 27, and Ruqaiya, 20, celebrated their love in a makeshift wedding ceremony on May 3 at the camp, a tent city near the Greece-Macedonia border.
Volunteers brought flowers, Coca-Cola, Turkish delight and cake to help celebrate the occasion, said Chris Morrow, a freelance journalist who was at the wedding. Forty fold-up origami lamps -- named SolarPuff lights -- also helped bring light to the pitch black refugee camp.
The bride's wedding dress was also donated by Ioannis Avramopoulos, the deputy mayor of nearby municipality Paionia, the BBC reported.
The couple, whose last names have been omitted for their safety, fled the besieged city of Deir Ezzor, Syria, three-and-a-half months ago with 19 of their relatives, with the hope of ultimately reaching Germany. In 2014, the Syrian city came under the control of Islamic State militants, who punished residents who refused to pledge allegiance to the self-styled caliphate. Earlier this year, the terror group and Syrian government forces battled for control over the city in deadly clashes that killed dozens.
"They just didn't want to wait any longer. With the borders shut, with the possibility of [them] never opening again, and being sent back to Turkey, they just wanted to do it," Alison Thompson, the volunteer who organized the celebration, told The WorldPost.
The Idomeni refugee camp, where the ceremony took place, sits on a popular trail that would lead people to more prosperous countries in western Europe, but countries along that route had recently closed their borders to migrants and refugees.
Some 12,000 people are crammed into the makeshift tent city, which has inadequate shower facilities and overflowing toilets. In the days running up to the wedding, heavy rains had flooded the camp and its tents, Thompson noted. A photo taken on the morning of the wedding showed large puddles and trash sprawled across the site.
Last month, Greece also started deporting migrants and refugees back to Turkey under a controversial EU-Turkey deal, leaving many people hoping to reach Europe feeling scared and uncertain about their future.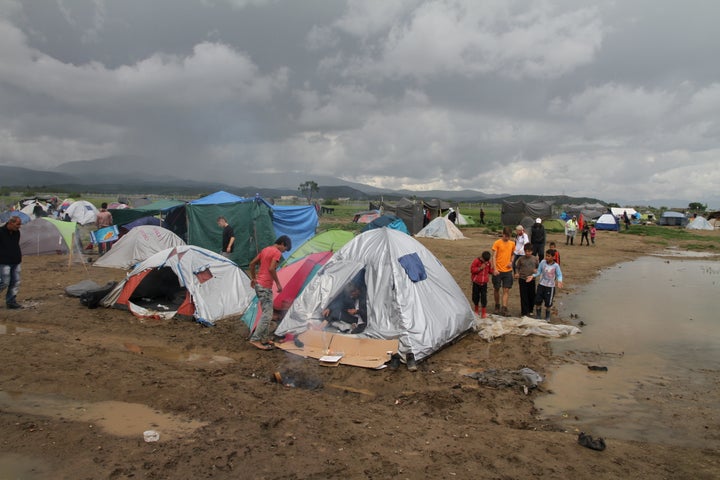 Thompson is the founder of Third Wave Volunteers, a group that responds to areas in need of disaster and humanitarian response. Since it was founded in 2001, after the 9/11 terrorist attacks, the organization has dispatched volunteers to disaster-stricken areas such as Haiti, Nepal and the Philippines.
Over the past nine months, Thompson has been handing out food, medicine and clothes to refugees in Greece. She has also been handing out the SolarPuff lamps to provide a source of light to the country's new arrivals at night -- many of them used only their cell phones to see each other, Thompson said.
The full-time volunteer has handed out 12,000 SolarPuff lamps to refugees in Lesbos and Idomeni so far, and plans to distribute them in 18 more refugee camps across Greece over the next three months.
"This disaster is very, very different, even for all the volunteers. There's no closure because there's no answers, there's no solutions, they're sitting in the mud and there are 53,000 refugees stuck in Greece in these horrible camps, and there's just no answer," Thompson remarked.
"Even the volunteers that have returned to America, they get antsy and they can't sit back into this life because they know there's so much suffering," she added.
Take a look at more footage and photos of the wedding below: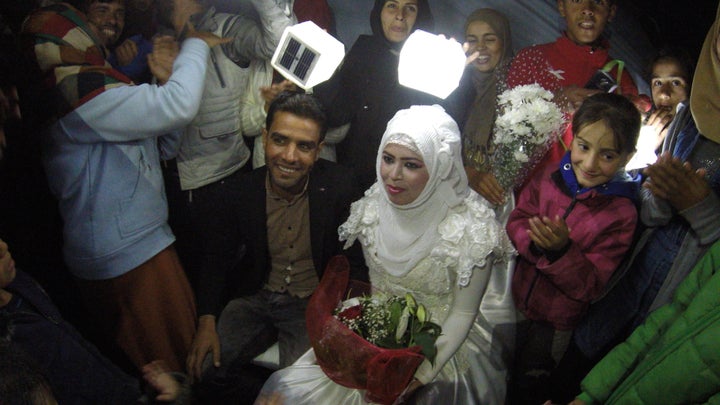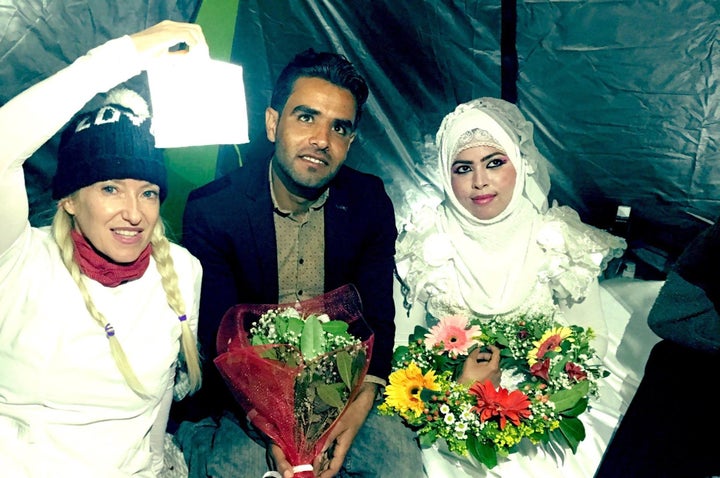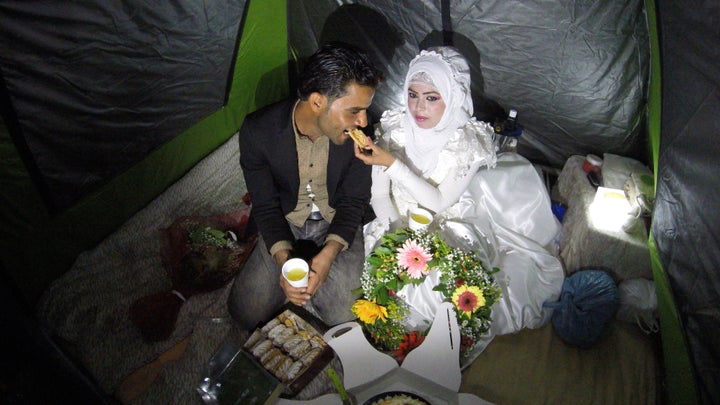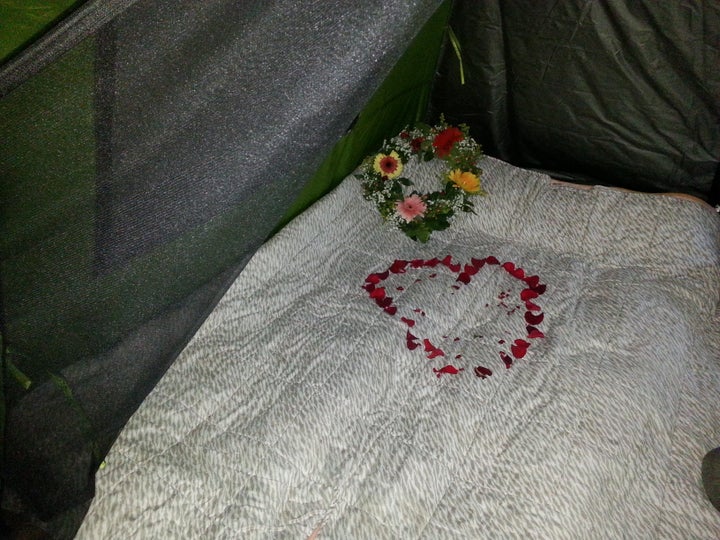 Read more:
Calling all HuffPost superfans!
Sign up for membership to become a founding member and help shape HuffPost's next chapter
BEFORE YOU GO
PHOTO GALLERY
Photos From Idomeni Refugee Camp