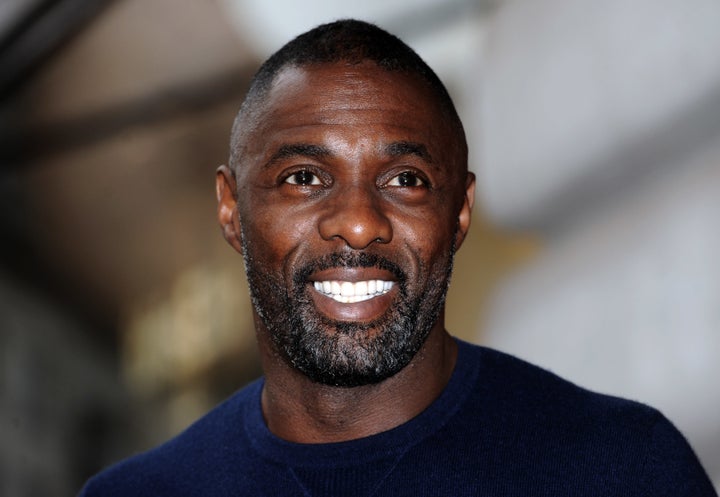 "Mandela: Long Walk to Freedom." "Thor." "Luther." "Prometheus." "Pacific Rim." These are just a few of the projects Idris Elba has starred in -- and his resume is only growing.
The 43-year-old British actor is getting Oscar buzz for his role as the Commandant in Netflix's first feature-length film, "Beasts of No Nation," written and directed by Cary Fukunaga of "True Detective" fame. Elba has already secured an Independent Spirit Award nomination for Best Supporting Male, which is a good sign that his name will pop up in more ballots this awards season.
"Playing this part was definitely tough," he told The Huffington Post of portraying the "despicable" character in an interview, featured in the video below. "Emotionally draining."
Elba has a diverse range of roles under his belt, including the one and only Stringer Bell from "The Wire," an on-screen character that helped launch his career. He takes pride in the fact that every single role he accepts showcases a different side of himself.
"I suspect I try to sort of take the view that I won't do anything twice," he told HuffPost. "I don't want to do another Stringer Bell or another Luther. For me, it makes it a more varied career when I look back and they're all very different. I think it's just more challenging for me to try and do roles that really stretch me."
You are a part of the groundbreaking "Beasts of No Nation," the first feature-length Netflix film. Tell me about how that process has been for you.
The subject matter is thought-provoking, important and something that is close to my heart, being from Sierra Leone and seeing a massive war where there was a lot of child soldiers involved. I definitely wanted to be a part of a project that brought that to light in a major way, and from the perspective of the child was really, really important to me. The film has been, for all sorts of reasons, really celebrated -- it's a great film, a very hard film to watch, very tough, and people come away from it shook. But also the way it's been brought into the world through the Netflix model has been successful in that maybe a lot of people wouldn't have seen this film in a normal sort of cinema. Netflix has put it into a lot of people's hands and therefore the subject matter is on the tips of people's awareness. Especially in this day and age, we can see what the world's coming to and there's a lot of bad shit happening and we got a film that sort of uses entertainment not just to entertain but to educate. I think this film is important in that sense.
What was it like to get into that mental state to play Commandant?
He's a despicable character in real life, but ultimately, he's a human being. I tried very hard to bring something to him that was maybe redeemable -- he's in the film a lot and people have to look at him for a long time so you can't hate someone for that long, something has to be endearing about him. And the truth is, this is a guy that actually did love his boy soldiers, although he got them to go out and do horrible things. It was really important for me to sort of bring that to life.
This is a role that has a lot of Oscar buzz for you, and I think it's very well-deserved. Tell me about going into award show season. Do you ever really think about it or is it something you sort of put aside and say, "Whatever happens, happens?"
If I'm honest, at the risk of sounding 'Uhhh, he don't really care,' I actually don't. We don't start off making films at all with the idea we might get an award. It's great that it might be celebrated, but it doesn't actually define me or the film. It's great that Oscars may be happening for us, but I haven't really sort of planned for it. Maybe it comes, maybe it doesn't.
You worked with Cary Fukunaga, of course, who helmed "True Detective" Season 1 -- one of the best things I've ever watched on television. Tell me about working with him and witnessing his process.
Cary Fukunaga is a tour de force. He's very, very smart, very compassionate, collaborative. He gave me a lot of sort of license to build my character, and he's one of the best directors in the world and a future star. He deserves an Oscar, no doubt. And I'd love to work with him again. We built a special bond over making this film and I hope we continue to make films for the rest of our lives.
Yeah, let's see a "True Detective" Season 3 with you and Cary back. That could be pretty cool.
"True Detective" Season 3 … I like the way you're thinking!
You also have "Luther" coming back in a two-part special, and it's apparently a pilot for this film version you're thinking of doing?
Some audiences will be like, "Whaaatt? Only two episodes?" But, like I said in the press, I really want to design "Luther" for a film and so this is sort of gearing the audience up for that. I love it though. I love the team, I love Neil Cross, the writer, and we've been very lucky to come back to the small screen and bring Luther back; it's been a very special process. And I hope people enjoy it as much as they've enjoyed the rest of them.
TV seems to be where it's at to find those roles you can really sink your teeth into. You were, of course, in "The Wire," as well. What do you think about the opportunities on television?
It's crazy, the real estate for television has just widened -- there's some really good stuff being done and the quality has gone through the roof. And I think, if I can be as bold to say, that "The Wire" is a part of a generation of television that blew everyone away and upped the ante. So for me, I'll always be attached to telly in one way or another, whether it's a character or producer or director, I just love the medium.
Let's chat about these animated roles you're taking on in "The Jungle Book" and "Finding Dory." What's it like being in the studio and recording voice-overs?
It's a really new way to work, different tool set. Cary told me a story that he went to see Pixar the other day and they were saying, "Oh, you work with Idris? We love working with Idris. He's so funny, when he works, all he has to do is speak into the mic, but he acts out all the parts and he opens doors that don't exist." [laughs] I just can't help doing that! But it's a lot of fun and also because I have young kids that love animation and it's nice to know their dad's voice is in whatever film it is. "Finding Dory" is really a lot of fun. And actually, talking about "The Wire," Dominic West and I play a couple of characters in that film.
That's cool! Did you get to work with Ellen [DeGeneres] at all?
No, but I heard her voice all the time. I love Ellen, man. [smiles] She was always there, in my head!
You've spread yourself across many different platforms, including doing the "Thor" franchise with Marvel and now getting into "Star Trek." Is it tough going back to the same role or do you find yourself wanting to get away from it a little bit?
No, it's not tough. You sign up for a few pictures, especially with Marvel, and you revisit your character as they need you. It's one of those things where you get back, you put the character on and you're there.
How do you unwind after a shoot? What do you do in your off-time?
You're a DJ, so what's your style?
Nobody likes a celebrity DJ for the sake of it, so I don't do that -- I try to be good at what I do. It's all about resetting, it's my escape. It is work, it's a job, but I just love doing it. I normally play house music when I'm in Ibiza in the season, and pay attention to what the crowd wants.
Tell me about your goals for next year?
I'm going to take some time off, that's what's next for me. Really taking some time off, taking the kids on holiday. And then next year, hopefully back to work -- I love working. I'm a workaholic and I'm really privileged for some of the jobs I get offered and so I just want to keep going.
"Beasts of No Nation" is currently streaming on Netflix.
This interview has been edited and condensed.