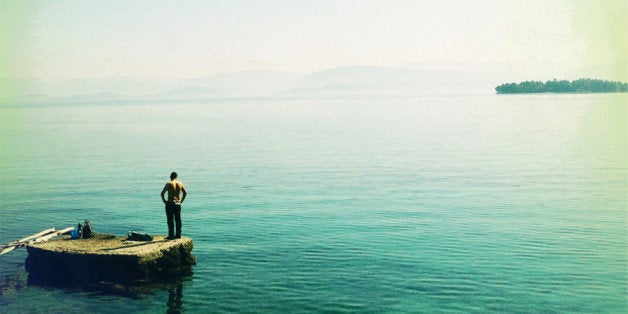 If Homer had his own iPhone, he might've snapped shots of Ulysses on all his adventures, documenting every step of the hero's long voyage. He might've taken pictures of the Proci, Penelope's suitors, the Argo and Penelope herself. But his epic poem would never have been shrouded in mystery, legend and the oneiric atmosphere that has been inspiring writers and artists for centuries.
One such artist is photographer Stefano De Luigi, who followed the twelve legs of the journey narrated in the Odyssey, crossing the Mediterranean. The voyage took two full years, from Troy to Ithaca, crossing through Turkey, Tunisia, Italy and Greece.
The award-winning photographer left all his heavy photographic equipment behind, leaving home with nothing more than two iPhones in his pockets. His contemporary odyssey is entitled iDyssey, a photographic and multimedia project (including 90 photographs, 10 videos and one short film) that brings distant eras closer together through the use of new technologies and that most contemporary technological medium: the smartphone.
The Odyssey has been told in a thousand different ways, but never before has someone used an iPhone and Hipstamatic app to retell Homer's words. As De Luigi explains, "It's the thinking, the story, your own view of reality that count. That's the power of photography." This is the spirit that gave rise to iDyssey, and it's in that same spirit that Officine Fotografiche defends the idea that with a smartphone in your pocket, anyone can be a narrator. The important thing is to ask oneself questions about the meaning of a voyage, both exterior and interior, exploring its hidden nuances and the implications it may have for our daily existence, our lives and the challenges inherent in them.
Therefore, in occasion of the iDyssey exhibition (on display in the Roman offices of Officine Fotografiche from February 6-22), a media partnership between Instagramers Roma and HuffPost Italia is sponsoring the "Who is Our Modern-Day Ulysses" challenge.
Participants are invited to take part by sending an image from daily life taken using a smartphone and send it in from January 19 to February 15. The images (along with name, last name, title and Instagram account name) have to be sent to contest@officinefotografiche.org and shared on an individual Instagram account, using the hashtags #UlisseOggi and #huffpostitagram. The best images will be selected by February 25, and shown during the closing ceremonies for the iDyssey exhibition.
As the great film director Andrei Tarkovsky once said, "There is only one possible voyage: the one we take into our interior world."
This post was originally published on HuffPost Italy and was translated into English.
Calling all HuffPost superfans!
Sign up for membership to become a founding member and help shape HuffPost's next chapter