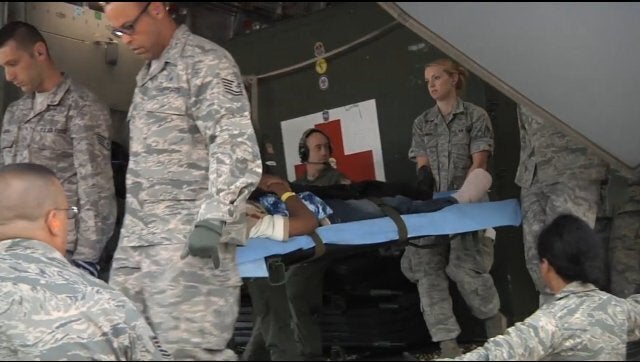 WASHINGTON -- Roadside bombs in Afghanistan are taking a growing toll on American troops this summer as blasts from improvised explosive devices tear off arms and legs of soldiers and Marines, including one who survived the traumatic amputation of both arms and both legs.
They are the latest of almost 50,000 Americans wounded during 11 years of war in Afghanistan and Iraq, including some 16,000 catastrophically wounded. IEDs and other blasts have shorn off 1,653 limbs during the two wars, according to Pentagon records. Among the wounded are five who lost all four limbs.
Even though the Obama administration is ramping down the U.S. combat role in Afghanistan and the unpopular war is seldom mentioned on the presidential campaign trail, the war is far from over for the 85,000 U.S. troops still in combat.
Overall American casualties have declined as thousands of U.S. troops have come home. But senior military officers said the downward trend of casualties has been interrupted this summer by a spike in blast-caused amputations and other casualties as the summer fighting season heats up.
According to the Pentagon's Joint Improvised Explosive Device Defeat Organization, the number of IED attacks this June was even higher than in June 2011, when U.S. forces were at their peak and fighting raged across the country. Tragically, the increase in amputations and other injuries has followed.
Three times a week, medical evacuation aircraft land at Andrews Air Force Base outside Washington, bearing the wounded on stretchers and swathed in bandages and tubes, toward the Walter Reed National Military Medical Center in Bethesda, Md., and other medical facilities.
On one flight last week was a soldier whose feet were smashed when his vehicle hit an IED; the blast killed his buddy in the same vehicle. With him came a warrior who stayed conscious when an IED blast tore off both legs (it hurt "like hell," he said later), a sergeant who took a bullet in his left thigh that snapped his femur, and a soldier with multiple fragmentation wounds and fractures who was the sole survivor in an IED strike that killed six U.S. troops, according to notes taken by a medical officer at Andrews.
It is difficult to get a precise accounting of amputations, as various military units collect data differently (a casualty transported by medevac with all limbs intact may have a badly shattered leg amputated minutes or hours later, for instance).
But according to an authoritative database maintained by the Extremity Trauma and Amputation Center of Excellence at Fort Sam Houston in San Antonio, major limb amputations among U.S. troops have almost tripled from earlier this year. There were 16 major limb amputations in the first three months of the year, and 47 in April, May and June, according to Col. James R. Ficke, a medical doctor and chairman of orthopedics and rehabilitation at Brooke Army Medical Center in San Antonio.
Between April and June, the U.S. command reported 4,566 IED "events,'' meaning roadside bombs that were detected and disarmed, or that detonated. That number was an 11 percent increase over the same period last year.
"Summer always brings the highest rate of injury," Ficke said. "We always sort of hold our breath as we go through June and see the trends in July and August.''
But overall, the amputation rate is on a downslope from its peak in 2011. Slightly different data, prepared for The Huffington Post by the Army surgeon general's office, shows that for all U.S. troops in Afghanistan, major limb amputations declined from 296 last year to 77 in the first six months of this year. This data does not account for the recent spike in amputations, senior U.S. military officials in Afghanistan told The Huffington Post.
But the unmistakable if gradual decline in amputations "is encouraging,'' said Ficke. "On the optimistic side, the survival rate [of U.S. battle casualties] is still better than 90 percent even with individuals devastatingly blasted" in IED detonations. In past wars, many of today's amputees would have died of their wounds.
Military officers in Kabul cited two reasons for the decline in amputations this year: reductions in U.S. forces in Afghanistan, and the increasing role in the fighting being taken by Afghan soldiers and police. Also, U.S. and Afghan forces are increasingly able to detect IEDs before they detonate, thanks to better training and better equipment. According to JIEDDO, the "found and cleared" rate has risen from 53 percent last year to 66 percent this year.
U.S. forces declined from a high of nearly 100,000 last year to 85,000 at present. The plan is to reduce that number to 68,000 by the end of September.
Significantly, the number of Marines fighting in Helmand Province, where many IED casualties have occurred, has dropped from 21,000 last year to 15,800 at present.
As troop numbers have declined, so have American battle deaths, which decreased by almost a third compared to last year: From January through July 2011, 206 Americans were killed in battle; during the same period this year, 141 died in battle.
As American forces have shifted from southern to eastern Afghanistan, Taliban fighters are increasingly targeting U.S. vehicles. Data provided to The Huffington Post by the Pentagon's JIEDDO shows that attacks against vehicles rose 22 percent this spring compared to April through June of last year. Attacks against dismounted "foot'' patrols decreased 28 percent.
However, casualties caused by IEDs are expected to continue, one official said, because the Taliban and other insurgents still prefer to use stand-off weapons such as IEDs rather than to engage American forces directly in battle. JIEDDO bluntly predicts a "difficult fighting season ahead."
Lt. Gen. Michael D. Barbero, director of JIEDDO, told The Huffington Post this spring that he expects the Afghan insurgents to continue to rely on the IED as "the weapon of choice."
Related
Popular in the Community