Far from global negotiating tables where the United Nations will approve its final Sustainable Development Goals (SDGs), Christophe, a water technician in the Central African Republic, removes a tree that has fallen across a rough dirt road. He is on his way to visit a water project that provides 300 rural people with clean water, and the downed tree is blocking his route.
They could go without clean water if Christophe is unable to provide maintenance.
Christophe, and others who install and maintain water projects around the world, will keep very busy if we are to meet ambitious Goal 6 of the new SDGs: ensure availability and sustainable management of water and sanitation for all.
"Sustainable" and "all" are the key words here. An enormous amount of new water and sanitation infrastructure must be built to serve everyone, but the long-term capacity to manage existing infrastructure must also be developed to ensure the sustainability of these services. To do both, the world must invest in local organizations like Christophe's.
While there have been significant advances in access to basic services in the last 20 years, there is still a long way to go to reach everyone that lacks clean water. Today, more than 663 million people -- more than twice the population of the U.S. -- collect and consume dirty drinking water. Eight in 10 people without access to clean water live in poor, rural areas.
Reaching everyone with sanitation will be an even larger task. A staggering 2.4 billion people today do not have access to sanitation facilities. The lack of toilets undermines achievements in clean water and healthcare by allowing fecal-borne diseases to thrive. Fewer than one-in-three people in Sub-Saharan Africa have access to improved sanitation facilities. India also stands out where more than 750 million people -- 60 percent of the country -- do not have access to a toilet.
To reach everyone by 2030 -- only 15 years from now -- as Goal 6 proposes, nearly 121,000 people must gain access to clean water each day between now and then; a staggering 438,350 per day must gain access to a toilet.
In order to achieve the sustainability component of Goal 6, just building the water and sanitation infrastructure will not be enough. Like all infrastructure, water and sanitation projects need maintenance and ongoing support in order to provide ongoing service. This too is a big task: an estimated 30-50 percent of water systems installed in Sub-Saharan Africa are not working. This is often linked to water-infrastructure projects that do not empower local people with the tools, training, or access to parts needed to keep them working; even with training, sometimes maintaining complex systems is too expensive for poor communities.
In the face of these big numbers and tough challenges, is Goal 6 of the SDGs achievable?
But, there must be increased funding, and it must support and empower local organizations, businesses, and governments in order to truly achieve sustainable access for all.
Local leaders are best suited to install and maintain water and sanitation projects. Over the last seven years, a local Ethiopian organization installed more than 3,500 water projects in northern Ethiopia, bringing clean water to more than 1.2 million people. They are committed to the people they serve, operating a maintenance program that works with communities to keep water flowing. They have the capacity to serve the five million people they expect in their region by 2030 with sustainable water services, but they will need to double their existing funding to achieve that goal.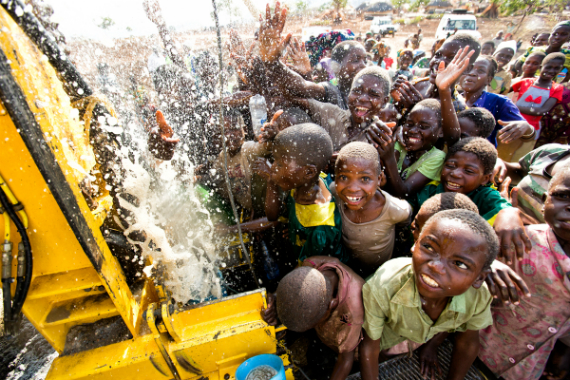 Malawi. Photo Credit: Esther Havens
In India, a local NGO has shown that, with the right cultural sensitivity, communities can work through complex caste and socioeconomic issues together in order to develop and maintain their own sanitation and water infrastructure in a cost effective and equitable way.
Unsurprisingly, for these local organizations to meet the expanded scope of universal access and sustainability in their respective regions of the world, they will need more funding for infrastructure, and more funding that supports the work after a project is installed.
charity: water is the New York-based organization that has provided clean water to more than five million people by partnering with local organizations in 24 countries. In 2014, charity: water launched Pipeline, a fund that maintains existing rural water projects. Through Pipeline, local organizations have significantly improved functionality and local capacity where they work. In order to achieve SDG 6, traditional-aid funding must continue this trend by combining infrastructure development with capacity building to keep projects functioning long-term.
We know that local organizations can provide clean-water solutions and management in the communities where they live and work. If we support them, in 15 years all people on earth will have access to clean water and a toilet. We would be crazy not to try.
This post is part of a series produced by The Huffington Post, "What's Working: Sustainable Development Goals," in conjunction with the United Nations' Sustainable Development Goals (SDGs). The proposed set of milestones will be the subject of discussion at the UN General Assembly meeting on Sept. 25-27, 2015 in New York. The goals, which will replace the UN's Millennium Development Goals (2000-2015), cover 17 key areas of development -- including poverty, hunger, health, education, and gender equality, among many others. As part of The Huffington Post's commitment to solutions-oriented journalism, this What's Working SDG blog series will focus on one goal every weekday in September. This post addresses Goal 6.
Calling all HuffPost superfans!
Sign up for membership to become a founding member and help shape HuffPost's next chapter