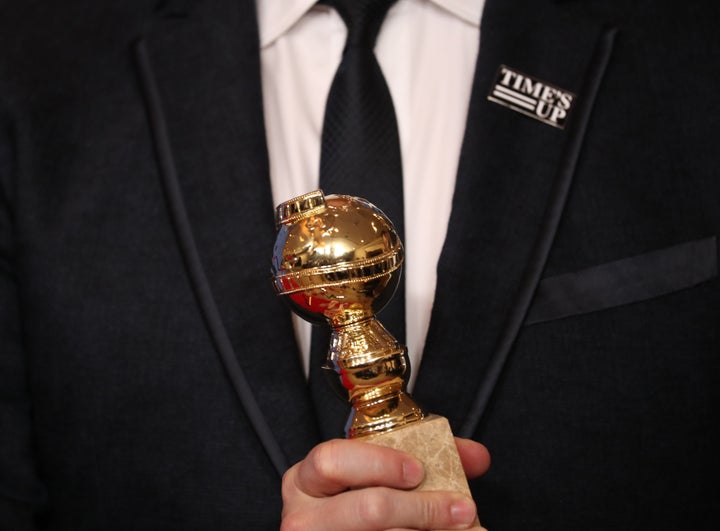 Sunday night's Golden Globes set the tone for this awards season. The show, hosted by Seth Meyers, was an entirely political affair, with actresses walking the red carpet in black gowns ― a subtle protest meant to express solidarity with the #MeToo movement and the new Time's Up initiative to fight sexual harassment and inequality. 
Several stars, including Michelle Williams and Emma Watson, brought feminist activists with them on the red carpet as their dates, too. And nearly every acceptance speech of the night was capped off with some inspiring acknowledgment of abuse, misogyny or the power of women. 
For many, the night was a beautiful beacon of change in Hollywood. For the more cynical-minded, it was a spectacle of performative "wokeness," a highly self-aware morality parade. In many ways, it was both of those things. But more importantly, it was a demonstration of the complexity and contradiction that we all must embrace if we're actually serious about changing the status quo. 
And yet, among the live tweeters gushing over the dignity and power of women on Sunday, there were also those who questioned what good, really, any of this was doing. How could any of the people in this room truly reckon with men like Harvey Weinstein, Kevin Spacey or Allen when so many have worked with and praised these men in the past? How much of the laughter of those wearing black gowns and black suits and Time's Up pins was nervous laughter? 
Time's Up, the legal fund created to aid victims of sexual violence and harassment in all industries, was the huge star of the night, but as ONTD pointed out in a post published Sunday, some of the biggest champions of the initiative are tainted.
The talent agency CAA, which co-founded the fund and donated $2 million to it, allegedly continued to arrange private meetings between Weinstein and actresses even after being alerted to his inappropriate behavior at the height of his power. The company also attempted to facilitate a meeting between Ronan Farrow (a former client) and Weinstein, when the executive caught wind of the journalist's impending New Yorker piece quoting Weinstein accusers.
Last night ― and this awards season as a whole ― drove forward an important point we must not lose sight of: Every fave is problematic. To acknowledge that isn't to absolve anyone of their sins, or dismiss their actions, however harmless or heinous. "Complicit" is a very easy word to throw around, but the complexities of complicity are much harder to pin down.
For women, the question of complicity is especially fraught ― calling out men who abuse their power has always been a risk for those operating in a system chiefly designed to protect these very men, but it is women who are most often scrutinized for their silence or complacency. And yet, for every Williams or Stone there's a Matt Damon or George Clooney, men with more clout and more security. 
Again, to recognize this is not to suggest that Williams and Stone and any other women who have knowingly worked with or supported unseemly men in Hollywood should get a pass just because they're speaking out now, or just because many of their male counterparts have faced less scrutiny in that respect. It remains to be seen, after all, how they choose to navigate their careers and admit their mistakes moving forward. It is valid, and vital, to acknowledge that many of the celebrities parading in black down the red carpet last night are the very celebrities who are complicit in the culture of sexual assault in Hollywood. 
But that's the point, isn't it? We are all complicit, in some way, and the harder it is to draw the lines between what makes one complicit or not, the more we must reckon with the repercussions of all of our actions, and the structures that allow powerful men to get away with so much for so long.
Hollywood and award shows already lend themselves beautifully to cynicism and apathy, because Hollywood is, largely, bullshit. Award shows perhaps more so. Couple the artifice and self-congratulation with the knowledge that so many trumpeting support for change are part of the very reason we need it, and it's easy to look at the whole thing as a farce, as a spectacle. 
It's tempting, yes. But we really can't afford to be skeptics at a time like this. Whether CAA, Emma Stone or any of the countless men who wore Time's Up pins did so genuinely or as a way to redeem their brands in light of their past (or future) transgressions is peripheral to what's actually at stake.
Every cringe-inducing joke Meyers made and every preening acceptance speech is necessary because it keeps the conversation (however shallow) at the top of the collective consciousness. And that is, however depressingly, something.  
REAL LIFE. REAL NEWS. REAL VOICES.
Help us tell more of the stories that matter from voices that too often remain unheard.
BEFORE YOU GO