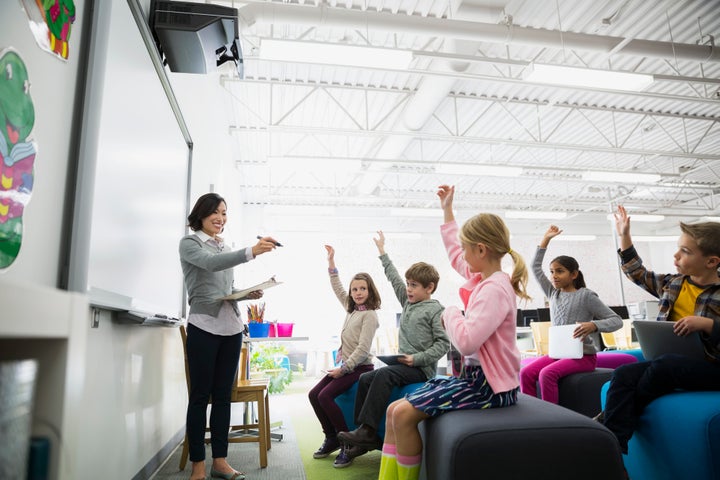 In a few weeks over 50 million young people will return to their public schools in the United States and around three million teachers are getting ready to greet them. Some of those 50 million students look like the kids you see in "back to school" ads; they are clean cut, smiling, and ready to hit the ground running. It is also important to note that a lot of those 50 million kids are showing up on the first day of school hungry, wearing clothes that don't fit, and living in poverty. Over 98,000 public schools are getting ready to open soon and those schools will open their doors to ALL of these kids. The doors will be open to those kids from in the commercials and they will welcome young people who are hungry, who have learning challenges, who don't speak English, who are being abused, and who don't have a roof over their heads.
When I entered the teaching profession over 25 years ago, I didn't spend much time concerned with the politics of education. I assumed that teachers, administrators, policy makers, and legislators all wanted the same thing. I assumed that our ultimate goal was to provide every young person with the best possible education. I still want to believe that is the case, but I am troubled by the divisiveness, politicization, and monetization that have entered the field of education.
As I watch my teaching colleagues prepare for the school year I see them spending their time preparing to meet the diverse needs of the students who are going to be walking into their classrooms very soon. Teachers can't wait to get their class rosters so that they can begin to put names with the lesson plans they have been preparing. Anyone who tells you that a teacher's primary interest is anything other than creating an engaging classroom for their students hasn't spent time with real teachers. Seating charts, bulletin boards, and lesson plans are all about how to get the students who will walk into those classrooms excited to learn.
As I watch what our Secretary of Education has been up to this summer, I am not as sure what message is being sent to the students who start school soon. Betsy DeVos, who famously said that public schools were a "dead end," has been busy. Among her first significant acts as Secretary of Education was to scale back civil rights investigations. She has also unveiled a budget that would cut $11 billion dollars from the Department of Education, notably cutting $1.2 billion from funding for after school programs that support working families and serve 1.6 million children. Maybe most notably her budget also included $1 billion in funding for schemes to promote private school voucher programs and school choice policies that end up putting money in the pockets of those wish to turn a profit with our tax dollars intended for education.
Recently Ms. DeVos spoke to the American Legislative Exchange Council (ALEC) in Denver. If you don't know ALEC, you should. In very secretive meetings held by ALEC, corporate lobbyists and state legislators meet to create "model bills" that are intended to advance the interests of big corporations at public expense. Ms. DeVos clearly chose to speak at the ALEC conference because she shares their vision for our schools. Sadly, their vision includes crushing teachers unions and supporting vouchers, education savings accounts, and tax credit scholarships, which are all ways for ALEC's big donors to undermine public schools and help them avoid paying out of their own pockets for private or religious schooling for their children.
University of Oregon economist Gordon Lafer has written a book entitled, "One Percent Solution" that examines the work of ALEC and other corporate lobbies throughout the country. Lafer is quoted as saying, "ALEC's vision of the future is actually really bleak. That's why so much of their legislative focus is on limiting what people are entitled to, especially in education." While Ms. DeVos will say that she is in favor of more local control for schools, the reality is that the ALEC agenda she has embraced is actually busy shifting public money into the hands of those who run for-profit schools.
It is clear that ALEC has the back of Ms. DeVos and conservative legislators around the country. It is clear that Ms. DeVos has the back of those who want to make money off of the education of our young people. What is less clear is who has the back of the teachers who are working hard to support every kid who walks in their classroom? Most importantly, who has the backs of our students? Actually, I know the answer to that last one. Professional educators have the backs of those young people. Teachers are there to advocate for America's young people. The premise of ALEC is that there is a lack of connection between funding and student performance, but it just isn't true. More and more the research is telling us that funding our public schools is good for our economy, leads to better jobs for our graduates, and improves student achievement. ALEC and Ms. DeVos's claim to the contrary is based on ideology and not evidence.
There are those who don't like it when teachers advocate for our schools. There are those who don't believe it is our place to stand up for public education. It is said that we are trying to hold on to the status quo; it isn't true. We speak up because someone has to have the backs of our students. We aren't interested in making money for big businesses. We aren't interested in a political agenda. We just want to change the lives of each and every kid who walks in the door of our classroom.
Calling all HuffPost superfans!
Sign up for membership to become a founding member and help shape HuffPost's next chapter
BEFORE YOU GO