Part-time New Orleans resident and philanthropist Brad Pitt may be making a movie about the BP oil spill according to the New York Daily News Gatecrashers blog. No word on who he would be playing -- Jimmy Buffett, Kevin Costner or a character yet to be named.
Since Pitt is set to star in an adaptation of New Orleans author Michael Lewis' Moneyball at Sony, and he has the rights to Lewis' book on the financial meltdown, The Big Short: Inside the Doomsday Machine, *speculation alert* it's possible Lewis would be the author of choice for a movie about the BP Deepwater Horizon oil leak. Lewis has a strong track record -- he wrote The Blind Side: Evolution of a Game which was adapted for new New Orleans resident Sandra Bullock's hit, The Blind Side.
Lewis said of meeting Bullock's then-husband during the shoot, "I met her husband and instantly thought he was bad news." Anyone who can call advance shenanigans on Jesse James, and write Liars Poker, could be the guy to cover the Gulf disaster.
With every surreal day that passes, the more it seems it would take the author of The Doomsday Machine to properly capture what we're going through. Lewis made the James statement at his Tennessee Williams Festival panel, and he also described the arrogance of big banking leading up to the bailouts. So he may have a dark enough sensibility to document this big oil clusterfuck, however it ends.
Lewis told Cit A.M. of Goldman Sachs, "Their relationships with customers on every front are poisoned, and they can't function as an investment consultant if they have this problem of honesty." With that as background, it would be interesting to hear his take on BP's honesty challenges. The internet is full of rumors (The Daily Green does a good job of debunking some of them.)
Here's another one to debunk -- it is not raining oil in Louisiana. To the 300,000 people who watched this guy's video, I just went outside and checked again. Not a drop of oily precipitation.
But when it comes to Pitt, the movie buzz may not just be a rumor. Since his Benjamin Button movie ends as the Katrina levee failure begins, this project would seem within the realm of possibility as New Orleans is one of his passions. Pitt and Angelina Jolie helped found Make it Right in New Orleans' 9th Ward. A new New York restaurant is now named 9th Ward. It's a small world. It's a world still in need of a hero for the ending of Oil Spill: The Film.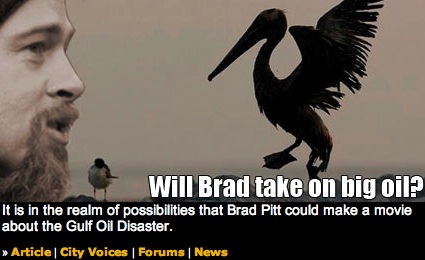 REAL LIFE. REAL NEWS. REAL VOICES.
Help us tell more of the stories that matter from voices that too often remain unheard.