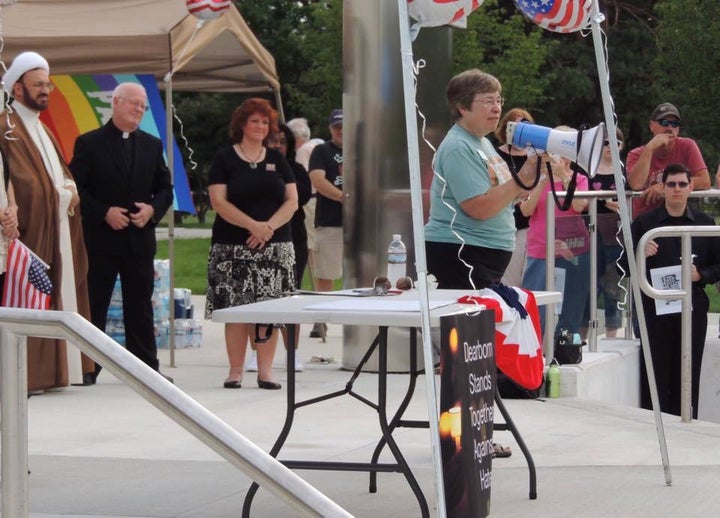 Fading sunlight glistened through a rainbow flag as a Muslim imam straightened his lily-white turban. A few hundred people gathered nearby as one of the Christian pastors got ready to speak, rifling through her prayer book. The city's congresswoman arrived and began the speaking engagement by calling for unity, healing and a time for understanding between people.
On Sunday in Dearborn, a throng of everyday citizens gathered after a social media invitation appeared, asking for people to speak out against the hate in Charlottesville, Va.
One of the organizers, Mary Kubicek, said, "We literally came up with this while watching Game of Thrones. We were upset about everything happening and just wanted to do something positive."
Faith leaders, civic leaders and everyday citizens answered the call. The American flag was ubiquitous at the event held just outside of the Henry Ford Centennial Library in a memorial park for our veterans.
Almost a thousand miles away, the scene was very different. Black, white and brown people were battling on the streets. Men and women armed with Confederate flags and Nazi flags were aligned on one side, beating and intimidating anyone who got too close.
Armed fascist militants in gear reminiscent of the Iraq war carried assault rifles through the streets of Charlottesville. Their camouflage uniforms had Confederate and Nazi flag patches to indicate who they were there to fight for. Peaceful protesters, speaking out against hate, were beaten, abused and even mowed down by a vehicle with little to no police protection.
Are we living in the same America?
The disease of white supremacy is a chronic illness for the United States. We've suffered under its yoke since before our independence. What once served the interests of British colonists has evolved, time and again, to serve the interests of a ruling class in the United States.
While it's easy to despair at the moment, believing that this is all new, we must remember we live in the same country where tens of thousands of black persons were lynched for minor offenses or slights. Now, they merely rot in jail.
Yet, when one looks at the state of our country where fascism and Nazism is on the rise, it is easy to forget that there are pockets of hope.
No hope burns brighter than Dearborn, Michigan.
We are a city where Muslims, Christians and people of every color and creed live peacefully side by side. We have our share of problems, but by and large, we are an example for what the rest of America could be like with a bit of effort and an open mind.
In the aimless misery of moments like these, it's easy to forget that we, everyday citizens, can be a part of the solution. A candidate for city council in Dearborn, Leslie Herrick, spoke at the event and laid the road map for a better America.
"Those of you who are here know that what we have here in Dearborn is special. We all have a story: our families all came from somewhere else," Herrick said. "We can be examples to the rest of the country. We can each be an ambassador. When we talk to our friends and relatives in other parts of the state, in other parts of the country: tell our story!"
Dearborn's story is a story worth telling. Dearborn was once the most racist bastion of the North. Our former mayor, Orville Hubbard, was a buffoon whose racist comments were published far and wide. He enjoyed the negative publicity and many of the citizens either agreed with him or simply looked the other way because the streets were swept on time.
Yet on Sunday, our current mayor, Jack O'Reilly, was speaking in front of a diverse crowd denouncing the hatred and bigotry we see elsewhere in the country.
Dearborn is a testament to America's ability to reinvent itself. Where once our police were enforcers of racist segregation, today, they're praised across the country as an example of how to do community policing right. Where once we were an embattled city closing itself off to our neighbors in Detroit, today we are a place of peace and healing where our citizens pride themselves on our welcoming attitude.
And while we've long been the victim of false rumors about "Sharia Law" and other such nonsense, the truth is, white supremacists and fascists have a real reason to fear Dearborn. We represent the counter argument to their villainous screed: Dearborn is proof that people of different races, faiths and cultures can get along without losing our way. In fact, one might even say that we're stronger together.
There's a reason why the right wing will keep writing bad things about Dearborn and why we have to continue speaking out for ourselves and the hope we offer for America. If Charlottesville is the disease, Dearborn is the cure.
Author's Note: I currently am working on Leslie Herrick's city council campaign, however I was not paid or rewarded in any way for writing this article. Leslie Herrick was not even made aware of this article prior to publication.
Popular in the Community