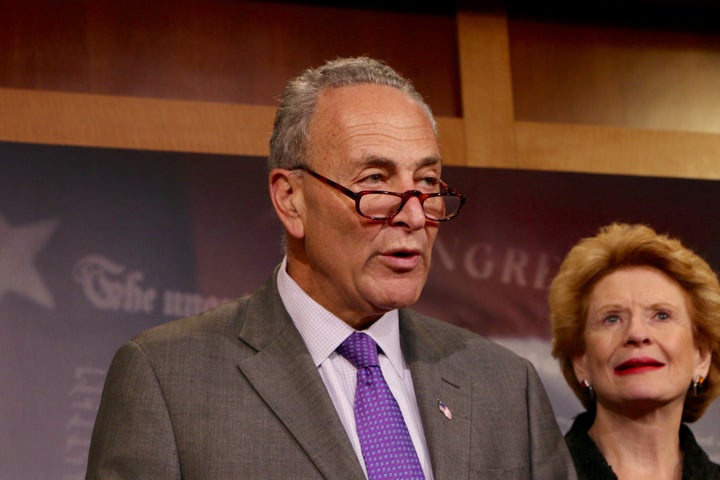 WASHINGTON — When the Supreme Court threw out a key portion of the Voting Rights Act two years ago, it told Congress to fix it. Congress hasn't, failing to take up even bipartisan proposals.
So one Democratic leader, Sen. Chuck Schumer (N.Y.), is planning to try a new tack Wednesday, rolling out three pieces of legislation a day before the Voting Rights Act's 50th anniversary that would make it easier for any American to vote.
One bill would allow all people who are eligible to vote to register online in every state, with provisions that link postal service address changes to voter registration for people who move. Another would set up seven days of early voting in all states, as well as allow anyone to mail in absentee ballots without having to provide a reason. A third bill would allow same-day voting for anyone who was moving within the state where they are already registered.
"On the eve of the 50th Anniversary of the Voting Rights Act, we should be celebrating the progress we have made. Unfortunately, the right to vote in this country is still under attack," said Schumer in a statement provided to HuffPost.
"In an effort to limit the pool of potential voters, nefarious forces have sought to make it more difficult to get registered to vote, prevent or decrease early voting, and increase bureaucratic hurdles to limit participation at the ballot box," Schumer added, referring to a growing push by Republican-led legislatures to make voting more difficult by passing identification laws and shrinking pre-election voting opportunities.
"Those efforts are backwards, wrong, and they must be stopped cold," said Schumer, the top Democrat on the Senate Rules Committee, which oversees laws governing election administration.
Schumer said he hopes to attract bipartisan support for his legislation, and some Republicans, such as Rep. James Sensenbrenner (R-Wis.) have backed measures to mend the portions of the Voting Rights Act that was struck down by the high court.
In a 5-4 ruling, the court threw out the portion of the act that required areas with a history of voter suppression to get clearance for new voting laws. The court said it had been too long since Congress wrote the criteria determining which states and locations fell under the law, and instructed lawmakers to update the requirements.
But two versions of bills have never gotten hearings, let alone a vote, from Republican leaders.
Schumer's measures wouldn't plug that Supreme Court hole, but they could make it less important by giving voters easier ways to vote than going to polling places on a specific Tuesday.
"In a polarized Democracy, individuals of all political stripes ought to be able to agree that we should make it as easy as possible for voters to participate in the process," Schumer said.
Michael McAuliff covers Congress and politics for The Huffington Post. Talk to him on Facebook.
Popular in the Community