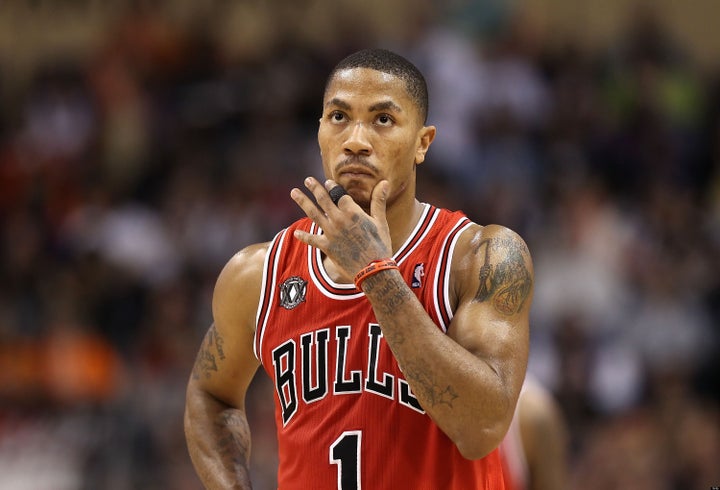 Should Derrick Rose be the NBA's Most Valuable Player this year?
Not surprisingly, the local media in Chicago thinks Rose is a candidate. And Rick Reilly of ESPN.com agrees. In the Reilly article, we learn that Rose also thinks he should be MVP. There is even a website -- derrickrosemvp.com -- dedicated to this notion.
At the risk of making Rose's fans angry, though, I am going to suggest otherwise.
Let me begin my outrageous suggestion with a simple observation. Last year, no one -- even Derrick Rose -- thought he should be MVP. So clearly something has changed since last year to change people's perceptions.
To understand what has changed, let's talk briefly about what appears to drive voting for the NBA's MVP award. A few years ago Aju Fenn and I presented a paper exploring the factors that primarily determine the media's votes for the league MVP. The two factors that appeared to matter the most: Points Scored and Team Wins
In general, the league MVP tends to be a leading scorer on a winner. Given this criteria, it's not surprising that Rose was not considered in 2009-10. The Bulls only won 41 games last year. And Rose only averaged 20.8 points per game.
This season the Bulls -- after just 54 games -- have already won 38 games (the 5th best mark in the NBA). Rose is also 8th in the NBA in scoring with an average of 24.9 points per game. Given how scoring dominates perceptions of player's performances, it's not surprising that people think that Rose is clearly the reason why the Bulls have improved.
When we consider more than just scoring, though, it's clear that Rose is getting some help in Chicago. The box score statistics tabulated by the NBA can be used to measure how many wins a player produces (Wins Produced and WP48 - or Wins Produced per 48 minutes -- is explained here). And last year, here are the players who primarily produced wins for the Chicago Bulls: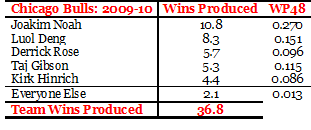 Although the Bulls won 41 games, the team was actually outscored by their opponent's in the regular season. Consequently, the team's Wins Produced was closer to 37 wins. And as the above table indicates, these wins were primarily produced by five players: Joakim Noah, Luol Deng, Derrick Rose, Taj Gibson, and Kirk Hinrich. Everyone else on the roster (the team employed 13 more players) only produced 2.1 additional wins (NBA teams tend to get most of their wins from a minority of their roster).
In the off-season the Bulls added several players, including Carlos Boozer and Ronnie Brewer (yes, Ronnie Brewer was an important addition). And Derrick Rose, who is only 22 years old, got better (this is not unusual, young players often improve). Although Rose is offering more, the key to the Bulls success appears to be the new players added. As the following table indicates, the Bulls - after 54 games - have produced 37.5 wins (as noted, the team has won 38 games).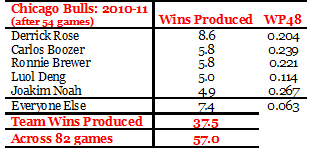 Rose is leading the team in Wins Produced. But he is definitely getting some help. Boozer, Brewer, Deng, and Noah have combined to produce 21.5 wins. And Everyone Else on the roster (the nine players not among the top five in Wins Produced) has chipped in 7.4 wins.
To put this in perspective, had Rose been as productive in 2009-10 as he is this year, the Bulls would have won only six or seven more games last season. And with Rose playing on a team that failed to reach 50 wins, few people - outside of Rose's diehard fans -- would have suggested Rose should be MVP in 2010.
Okay, Rose is getting some help this year. But he has improved. And he does lead the team in overall productivity (but not in WP48, or Wins Produced per 48 minutes). Shouldn't he still be part of the MVP discussion in 2011?
One could note that Rose is not the most productive player in the game (in terms of Win Produced). LeBron James and Dwight Howard -- just to name two players on contending teams -- are each offering more. And point guards like Chris Paul, Steve Nash, and Rajon Rondo are also more productive.
However, I don't want to focus on the productivity of other players. What I want to focus upon is the number of shots Rose takes and how I think this drives people's perceptions of his performance.
Rose is currently taking 20.2 field goal attempts per game. Only two players in the league -- Monta Ellis and Kobe Bryant -- have attempted more field goals this season. And for the season he has taken nearly 300 more shots from the field than Luol Deng, the player who ranks second on the Bulls in shot attempts.
Of course, Rose is the team's point guard so he has a great deal of influence on who gets to shoot. But let's imagine that Rose decided to take just six fewer shots a game.
Rose currently has an effective field goal percentage of 0.488. Kyle Korver, Carlos Boozer, Kurt Thomas, Keith Bogans, Joakim Noah, and Luol Deng are all more efficient from the field than Rose. So if Rose let just let one of these teammates take three of his shots each half, it seems unlikely the Bulls would be worse off.
After all, many of these players have taken more shots per game (at similar levels of shooting efficiency) for other teams in the past. So it seems likely that Rose passing the ball a bit more often wouldn't cause the number of games won by the Bulls to decline.
But Rose's scoring per game would clearly decline. If Rose took six fewer field goal attempts per game, his scoring per game (given his current level of shooting efficiency) would decline from 24.9 to 19.0.
In this scenario, the Bulls would probably still be just as successful on the court. But since Boozer scores more than 19.0 points per game, Rose would no longer be the leading scorer on the team. And if Rose is not the leading scorer on this team, would Rose still be an MVP candidate?
It is still possible he might. Steve Nash won two MVP awards without leading his team in scoring. And if Rose passed more often, he might finish with as many assists as Nash (Rose would need to average two or three more assist per game to match Nash's performance during his MVP season). But although voters have rewarded a passer in the past, more often than not it is scoring that attracts the attention of the media.
So if Rose wants to win this award -- and yes, he said he did -- then he would be wise to keep focusing on his shot attempts and his scoring. The media, though, would be wise to ask themselves the following question: Should Rose's decision to give himself more shots at the expense of his teammates be rewarded?
Popular in the Community