Not everything that looks good has quality substance or beauty that resonates long term. Yes, we are talking about desserts here. In this article, I show you delicious desserts I have tried that are not just a pretty face; not only are they are visually appealing but they will not break your heart or your wallet. Each dessert listed is less than $10 and you can definitely share if you choose to. This article will leave you smitten and wanting to give these desserts a try!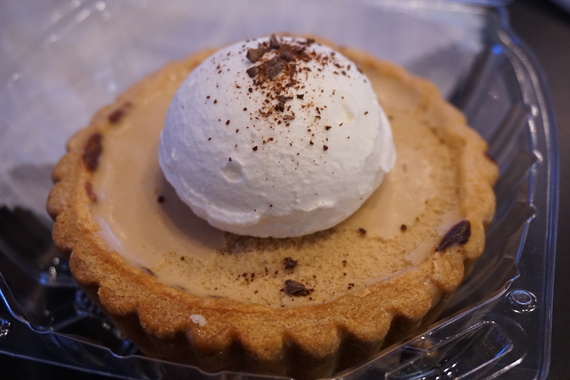 1) Atticus (multiple locations) - Earl Grey Lavender Pie
This cute little shop serves cute little pies! The Early Grey Lavender Pie is one of my favorites. This dessert has a mousse-like texture; it is smooth and the flavor is rich, but not too overpowering. The pie is lined with chocolate ganache at the bottom, and topped with whipped cream and Callebaut chocolate pieces. This dessert can definitely be shared if you bring a friend and they try a different flavored pie!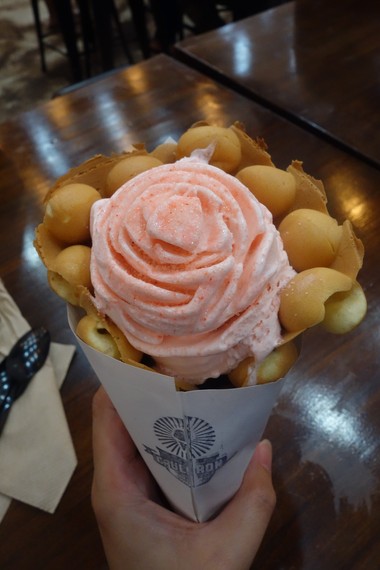 2) Cauldron Ice Cream (Santa Ana, CA) - H2O Rose Ice Cream in a Puffle Cone
You just got handed a rose! The H2O Rose Ice Cream in a Puffle Cone, to be exact. This beauty is made of a rosy tasting ice cream via liquid nitrogen, shaped into a rose, and topped with rose sugar. I get it in a puffle cone, which is a kind of egg waffle that is popular in Hong Kong. The puffle cone is made fresh, and adds to the beauty of the dessert! Since the ice cream is made with liquid nitrogen, the ice cream is very light and refreshing, and with the heat of the puffle cone, you can get two temperatures in one bite, like a waffle a la mode!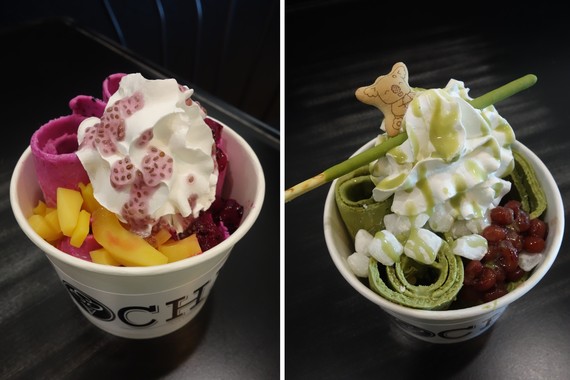 3) Chelo Creamery (City of Industry, CA) - Cactus Bloom and Good-Zooky Chelo Rolls
This place has some pretty amazing ice cream and desserts, but the Ice Cream Rolls are the thing to try here if you want something truly unique. The ice cream goes from a liquid to a solid as the employee mixes and molds the ice cream flat on a cold surface, then uses a pastry scraper or spatula to push the ice cream into rolls. The finished product is beautiful and delicious! The flavors pictured are some diverse options; Cactus Bloom is a dragon fruit flavored ice cream and the Good-Zooky is a matcha green tea flavored ice cream. I love both so much that if I try to go by myself I would have a hard time deciding what to get! The line for these ice cream rolls can get long, for good reason too, so I recommend lining up before opening time to get a chance to experience this!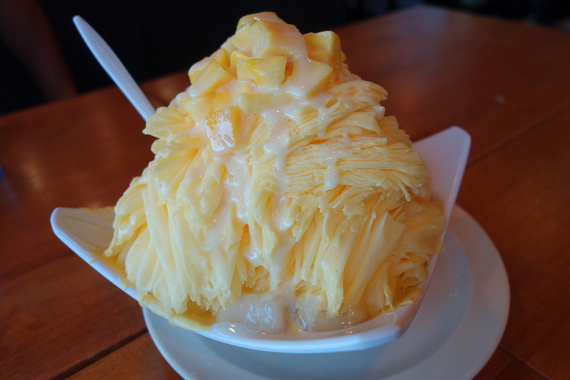 4) Class 302 (multiple locations) - Golden Mango Mochi Shaved Ice
This Taiwanese dessert is a sweet and refreshing treat! The dessert pictured is made with mango snow, where a block of frozen mango milk is shaved into thin sheets that have the texture consistent with snow, hence the name. Condensed milk is then drizzled over the pile of snow, and topped with mango, mochi, and milk pudding. Yum! This is by far one of my favorite places to get this dessert, since you can choose from other combinations or create your own treat.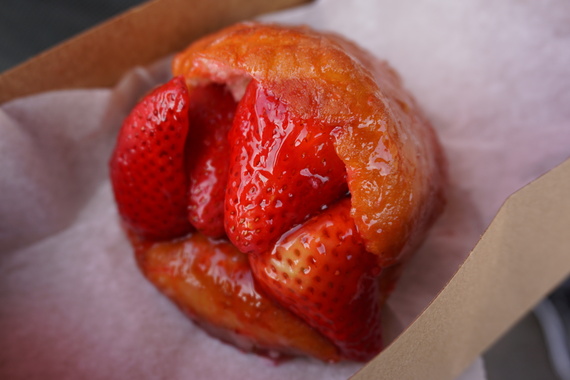 5) Donut Man (Glendora, CA) - Strawberry Donut
Here is another strawberry-themed dessert! This time, this is a donut that is packed with gigantic strawberries and strawberries only! The donut they use is glazed, and the strawberries are lightly sweetened with syrup. The Strawberry Donut is a popular item to get in this donut shop, so as soon as they are in season, I recommend buying it right away. Even if you do not happen to be there during strawberry season, they have a bunch of other seasonal fruits and other fun donuts, and they too are open 24/7.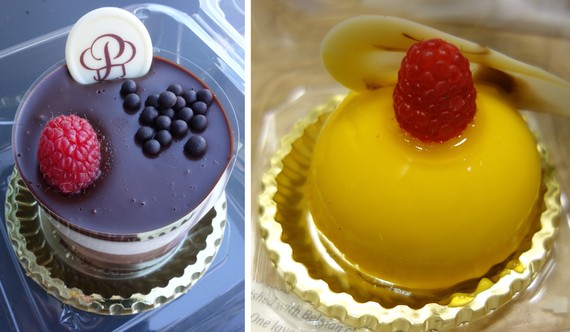 6) Porto's (multiple locations) - Triple Chocolate Mousse and Mango Mousse
This is another place where I am always indecisive about whether to get something sweet and something fruity. These beauties are my favorites from Porto's Bakery when I feel like adventuring beyond their already-amazing sweet and savory pastries. These too-pretty-to-eat mousse cakes are a great portion for individuals or for sharing. The flavors are very rich and delicious, so whether you prefer chocolate or fruit, I believe there is a dessert for you at Porto's. The lovely details on these desserts make them a great capture on camera!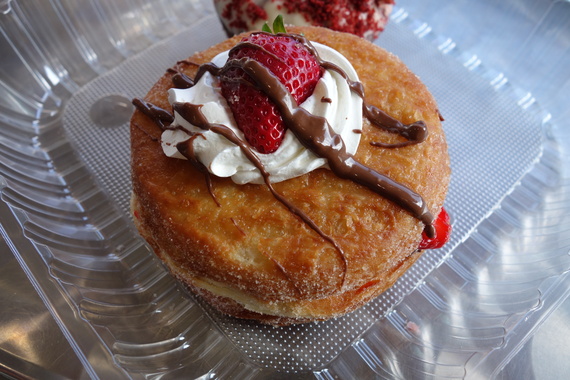 7) SK Donuts (Los Angeles, CA) - Strawberry and Nutella Cronut
Do your eyes deceive you? Nope, you are right, that is a cronut (croissant donut)! At SK Donuts, they are called Skronuts. Pictured here is one of my all-time favorites, the Strawberry and Nutella Skronut. The flavor pairing of the strawberries with Nutella and the flaky texture of the croissant donut are an excellent combination of deliciousness. This donut shop has other amazing donuts and Skronuts, so I recommend a stop to this place; for your convenience, it is also open 24/7!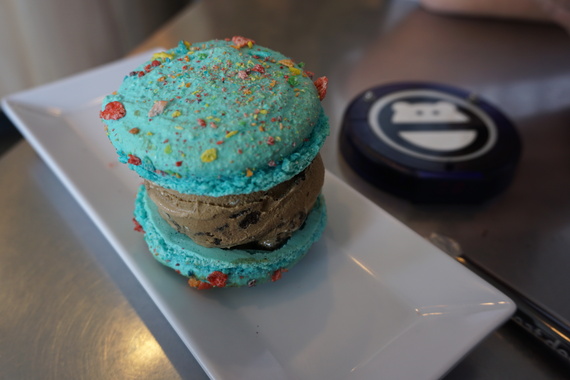 8) Snow Monster (multiple locations) - Fruity Pebble Macaron Ice Cream Sandwich with Colombian Coffee/Oreo Ice Cream
This has been one of the better places I have been to for macaron ice cream sandwich. Each sandwich is freshly made, so the macaron is very soft with each bite. They have so many flavors to choose from but I can guarantee that whatever combination you choose, it will be a sweet and fun one! One really awesome tidbit about this place: the spoon changes color depending on the temperature. Try it and see for yourself!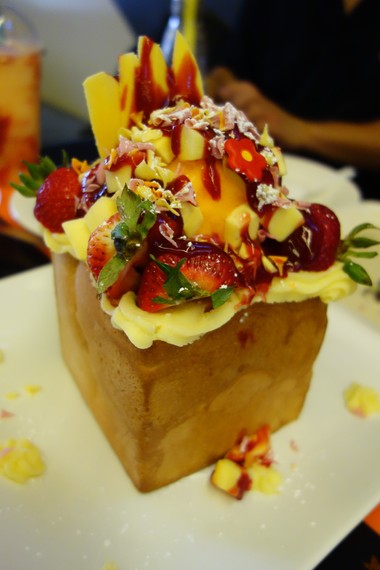 9) Tebo Tebo Tea Lounge or Tebo Tebo Tea Express (multiple locations) - Full Bloom Toast Box
Not many places I have been to can make a great toast box. Tebo Tebo Lounge hollows out the bread nicely, and leaves bread pieces inside that are crispy and does not feel heavy. The Full Bloom Toast Box pictured is made with honey toast, and is topped with custard cream, mango ice cream, and fresh fruit, and fried bread pieces and mango ice cream in the center. This is a great dessert for four people, so bring a semi-empty stomach!