Sunday morning, my phone rang. It was an unknown number. Must be one of my overseas friends, I thought. It was my brother. He had to make one of the most difficult calls I could ever imagine.
I couldn't believe his words. After the initial shock and silence, I burst into tears. It couldn't be true.
Dad just had a heart attack and passed away. Beat, my dad was only 58. I saw him a few months earlier and he was as charismatic, strong-minded and stubborn as always. All of a sudden he was gone?
It was February 2008. His funeral was on my birthday. He never wanted a funeral, but I guess that's what society is 'supposed to do.'
I threw him a party in Australia with my closest friends eating Swiss chocolate, drinking beer (his favorite beverage) and celebrating Beat. I even found a Swiss yodeler and accordion player to join us. It was beautiful.
What followed were some of the hardest, saddest and most confusing months for my family.
I felt empty. I felt like 'nothing really mattered'. I didn't feel like talking to anyone. I became even more of a daredevil, surfing bigger waves, not worrying about life or death.
A question that has impacted my life ever since kept popping up in my mind; 'If I died right now, would I be happy with my life?'
The answer was so clear. For the first time in my life I felt purpose-less.
I wasn't really sure why. Maybe it was because I moved to the other side of the world and missed my family and friends. Nope, I've done that before, although this time it felt less temporary.
Maybe it was because I was working in advertising and didn't really feel like I'm using my skills to make a positive impact in the world. More likely.
For most of my life I've always felt like I was doing exactly what I needed to do whether it was moving lawns and scrubbing fountains at a winery when I was a kid so I could buy horse riding lessons, working on a windsurf station in Egypt so I could travel and become a better windsurfer, writing papers at the Swiss embassy in South Africa so I could find out whether I wanted to become an ambassador (no!), studying marketing and political science in Geneva so I could make my dad proud (speak French all day long and avoid German), travelling to some of the craziest places on earth just because it's fun, teaching languages, bartending or waitressing to save money for my next plane ticket. It all had a purpose.
Getting a job in advertising and climbing the career ladder suddenly didn't have a purpose for me. I was just being a good girl (good is very subjective I know!).
I kicked that career ladder so hard it felt good.
But I realized I can have a much bigger impact using my skills to help small business owners create marketing that doesn't suck which helps them grow their businesses so they can have a better life. Basic Bananas was born.
There were uncountable moments of doubt (they were short-lived, I'm stubborn just like my dad), no money, fear, confusion, hope, excitement, failures. It was hard.
I didn't even tell my Swiss family and friends that I left my promising career for a while because I was scared they would convince me this was a bad idea. I still remember sitting at the kitchen table at a friend's apartment in Switzerland with some of my closest friends when I told them. They lovingly said 'you are nuts, I could never live like you do, you are crazy.' Nuts is good, for some people.
I knew in my heart I can make a difference for small business owners and so I worked my butt off, really hard. It was one of the most difficult things I've ever done in my life (I don't have kids!).
Fast forward eight years, Basic Bananas is Australia's largest provider of marketing education to small business owners.
A lot of people ask me, what's the secret to success in business? It's very simple. Provide amazing value, have integrity and create kick-ass marketing to get noticed.
Seeing entrepreneurs do well and make a difference is one of the most amazing privileges in the whole wide world for me. It makes me happy.
Sometimes my mum still asks me 'what do you think dad would think', especially when I'm embarking on yet another crazy adventure.
'I think he is proud.' I say smirking.
'If I was to die right now, would I be happy?' I still ask myself that question all the time. Yes.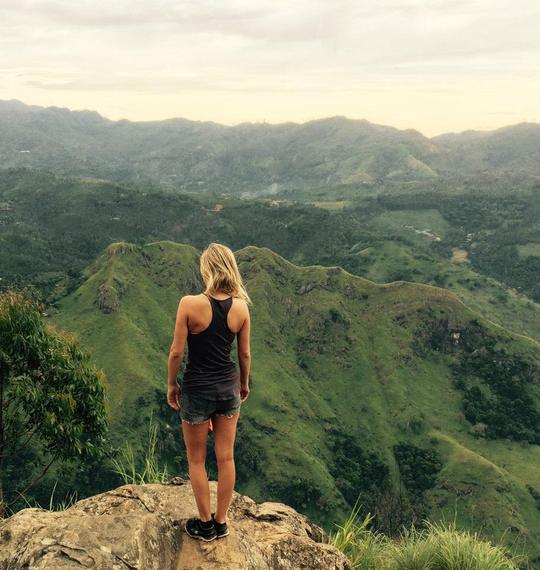 Calling all HuffPost superfans!
Sign up for membership to become a founding member and help shape HuffPost's next chapter