Each and every one of us has questions to consider with the start of this new year: How do we move past the difficulties we experienced during the year behind us? What do we hope to accomplish moving forward? How do we admit that we are not perfect, that we have have made mistakes and (here's the hard part) ― forget them and move on!
If you listen closely to the prayers spoken during the Rosh Hashanah and Yom Kippur services, we understand that they tell us to challenge ourselves and reflect on both past and present, looking ahead to the future.
Every person has an inner struggle and battle to be the best version of themselves that they believe is possible, challenging themselves to exceed beyond expectations and satisfy others. However, is it possible to be perfect? Perfection rests on the individual; challenging yourself to such a high bar puts immense pressure on us, rather than just focusing on being the best version of ourselves.
Being perfect assumes we have infinite time on our hands, when in fact our time is limited. We spend so much time every day trying to be perfect; we brush our hair and teeth to make sure we're well-groomed, pick our best outfits to impress both new and old people, and we spend time worrying about everything we did or said that day, hoping people didn't perceive it the wrong way. We focus on the little things rather than the bigger picture, but the truth of the matter is that time controls us, so rather than waste our precious time, we should make use of our time being the best we can be and seeing the bigger picture. This is where Salvador Dali, a surrealist artist who is renown for his perception of time in his paintings of clocks, emphasizes this issue when he states, "Have no fear of perfection ― you'll never reach it."
As Dali rightly point out, there is no such thing as perfection, and searching for that form of perfection can haunt us and prevent us from moving forward. We spend precious time trying to be this ideal and perfect version of ourselves, rather than taking the time and being "us." Thus, if perfection is nothing more than an illusion, something that is unattainable, then why do we continue to beat ourselves up for it when we fall short? This is where we need to stop and draw the lines.
Thus, would it not be better instead to take the time to funnel our energy into just being a better version of ourselves? Isn't THAT what the new year is about?
So, the question remains, if we're not perfect, then who are we? The answer is simple. You are YOU. We are each unique and different in our own way. By putting the pressure of perfection aside and focusing on who we are and who we want to be we become the best versions of ourselves and the sooner we can realize that, the sooner we can change our perception.
The good news is that every one of us is capable of this, and with the new year, every one of us is entitled to change they way we think about ourselves.
My wish in this new year is that we can begin this year with a clean slate, in which each of us forgives ourselves and our past mistakes, so that we each can become a better (not perfect) version of "YOU."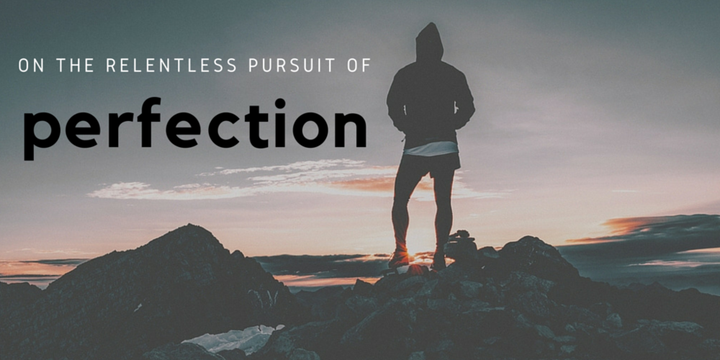 Related