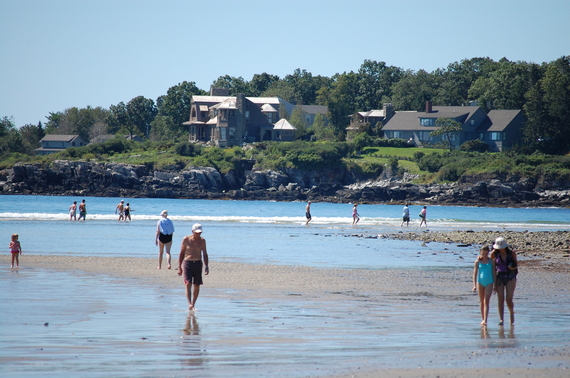 I'm not necessarily a people-watcher.
I'm more introspective and prefer my head in a book over watching "real" people.
I love watching people at the beach because they exude pure joy, a release. I can tell they are behaving differently at the edge of the shore than they do in their lives back home -- in their busy lives of work and stresses and shoulds.
This past summer, I smiled at a man my age running the beach. I could tell he wasn't a runner, but the air swirling from the ocean made him just feel like doing it. So he was!
I watched a woman my age struggle into a wet suit (must have been a tourist to need it in the summer in Maine) and body surf... for nearly an hour. She and her husband jumped in the waves and held hands, like kids.
People of all ages paddle boarded -- standing, kneeling, expertly, or for the first time.
There was a sweet little girl wearing a MAINE sweatshirt and sporting a dirty-blond bob with bangs meandering along with her family, lost in her own thoughts, squishing her tiny toes down into the sand from time to time.
Kids threw baseballs with their dads, Frisbees, bocci balls. There was sand castle and moat building, digging, and lots of brightly colored plastic pails and sand toys strewn everywhere.
Two teenaged boys, brothers maybe, "played" in the waves forever. They wore goggles and deep dived, jumped on each other, swam laps.
A mom wore a navy blue "Gilligan" hat as she searched for sea glass with her little boy who wore a neon orange long sleeve swim shirt. I wondered if that shirt was for the cold water or the sun. I really didn't know; they've come on the market since my own kids have grown up.
Couples walked the length of the beach and I can bet they never walk their neighborhoods. The view of Prouts Neck from Scarborough Beach is one of my favorite sights; I think many feel the same way as me.
Hair is touseled, there is no makeup, they wear what works not necessarily the latest styles, they bare their skin no matter their size. Bathing suit straps fall down unknowingly, tattoos are abundant as are straw hats, hands clasp portable and paper coffee cups, and thankfully, books!
The seagulls tiptoe on alert awaiting Amato's bags or Lays potato chips.
The vitamin D from the sun is surely waking people of all ages up, calming them down. The beach is such a marvelous place, a release. It reminds us of all that is good in our world.
I love the beach... and watching people there. And I am reminded...
If it feels good... then, do THAT.
HuffPost's GPS for the Soul app is based on two truths about human beings. First: We all have a centered place of wisdom, harmony and balance within us. Second: We're all going to veer away from that place, again and again and again. What we need is a great course-correcting mechanism -- a GPS for the Soul -- to help us find our way back to that centered place, from which everything is possible.
Because no one knows better than you what helps you de-stress and tap into that place of peace inside yourself, it's important for you to create your very own GPS guide -- a personalized collection of whatever helps you course-correct. Email us at GPS@huffingtonpost.com and we'll set you up with your very own HuffPost blogger account to share your guide on the site. If you're already a blogger, we encourage you to upload your personal guide today. We can't wait to see what you have to share.
Popular in the Community