Repeat after me: gnocchi (n'YOH key). Gnocchi are by definition, little lumps or dumplings served in a sauce and presented as a first course. Besides being called everything from Nah-key to No-key, making them seems intimidating to many.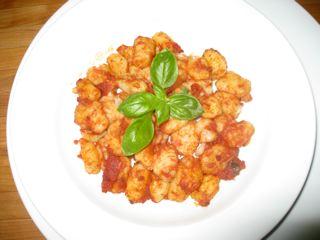 The most popular of the gnocchi kingdom are potato gnocchi served with tomato sauce, and this is a favorite with southern Italian cooks. I remember my mother and grandmothers making gnocchi di patate (potato gnocchi) for every holiday and many Sunday dinners. They could take a mound of riced potatoes, turn them into dough and roll small pieces off the tines of a fork with lightening speed.
In northern Italy gnocchi are made with milk breadcrumbs and almonds. In Rome they are traditionally made with semolina cooked in milk. In Sicily they are made with potatoes, in Umbria they are made with potatoes and prunes. In parts of the Veneto they are made with squash and crushed amaretti cookies.They were known in the 13th century in Tuscany as evidenced by this recipe:
"If you want gnocchi, take some cheese and mash it, then take some flour and mix with egg yolks like if you make dough. Place on the fire a pot of water and when starts boiling place the mixture on a board and slide them in the pot with a spoon. And when they are cooked place them on the plates and top them with a lot of grated cheese."
Thursday is traditionally gnocchi day in Italy. If you're visiting Italy on a Thursday but don't want to stand out as a tourist in local restaurants, order gnocchi, because all the locals do! When in Italy...
In addition there are many sagre (festivals) celebrating gnocchi. One September as I was traveling through the Cortona area, I noticed a huge sign announcing a (sagra degli gnocchi) a communal gnocchi festival. I stopped to find it and found hundreds of people lined up and being served from huge pots full of gnocchi. I got in line too, ordered up un bel piatto degli gnocchi and took a seat at the long communal table. Between the delicious dumplings, the wine, music and local color, it was a stop worth making.
If you want to try making your own gnocchi you can find many recipes on my web site www.ciaoitalia.com. I am partial to potato gnocchi, and offer up a few tips on making them:
First, use mature potatoes. That means a dry potato that does not have a lot of moisture. Moisture is the enemy of potato gnocchi because too moist a potato means adding more flour and that would lead to "lead sinkers" as we call them. So, use older Russet or Yukon Gold potatoes.
Second, bake or microwave the potatoes rather than boiling them. Boiling them will add unnecessary moisture.
Third, do not use a food processor to mash them as this breaks down the starch and you will have a taffy looking mess. Instead use a ricer or a hand masher.
Fourth, use less flour. Adding too much flour is the worst thing you can do when making gnocchi. You need just enough for the dough to hold together.
Fifth, before you make all the gnocchi, make just a few and drop them into a pot of boiling water. If they hold together, you are good to go; do not add any more flour. If they are falling apart and disintegrating in the water, add flour a little at a time to the dough and test again.
Once you get the hang of it and you love them as much as I do, there will be no guessing as to what to have for dinner on a Thursday night!

Potato Gnocchi
Serves 8

4 large baking potatoes
1 large egg, lightly beaten with a fork
1/4 teaspoon salt
About 2 cups unbleached all purpose flour
3 cups tomato homemade sauce
1/2 cup Grated Parmigiano Reggiano or Pecorino Romano cheese

Microwave or bake the potatoes until fork tender. Let cool until easy to handle, then peel them, cut them into small pieces and place them in a large bowl. Hand mash or rice the potatoes.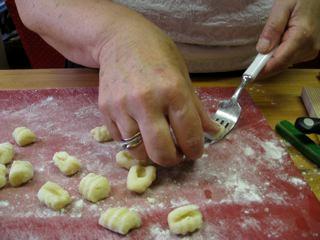 Place the potatoes on a work surface and make a hole in the center. Add the egg and salt . Sprinkle 1/2 cup of the flour over the potatoes and use your hands to mix everything together. Add another 1/2 cup of flour and knead the mixture into a smooth ball of dough. If the dough seems too wet, keep adding flour a little at a time. Knowing when to stop adding flour is the key to making good gnocchi.

Break off a small piece of the dough about the size of an orange and, with floured hands, roll the chunk into a rope about 14 inches long and the width of your middle finger. Cut the rope into 1/2 inch inch pieces and roll each piece with your thumb down and off the tines of a floured fork: This creates little ridges to trap the sauce. As you form the gnocchi, place them in a single layer on a floured cloth or baking sheet. Repeat with the remaining dough.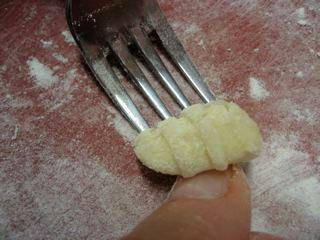 In a large pot of boiling water, cook the gnocchi, a dozen at a time, until they rise to the surface. Meanwhile, in a medium size sauté pan, heat 2 cups of the tomato sauce. Transfer the cooked and well drained gnocchi with a slotted spoon to the pan. Toss the gnocchi gently over low heat until they are even coated and hot. Transfer the gnocchi to a serving platter and sprinkle them with the cheese. Pass remaining sauce on the side.

Note: Uncooked gnocchi freeze well: Arrange them in a single layer on baking sheets, cover with foil, freeze until firm, and then transfer to plastic bags and freeze until needed. Boil them without thawing.
My mother places frozen gnocchi directly into a baking dish, adds sauce, and bakes them, eliminating the boiling step: Bake at 350ºF for 30 to 35 minutes.

Related