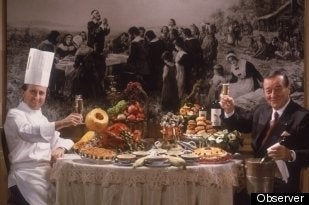 Because I really didn't know and I like the metaphor, I looked it up and there are twelve Pearly Gates into heaven. And since just about everyone I've ever taken to eat in Raku says it's "heavenly" (except the guys who say some variation of "great"), I thought I'd tell you about it, and about going there with my friend Melinda.
I first went to the restaurant a few months ago on assignment for Luxury Las Vegas, the beautiful locals magazine that should really be read by everyone who lives and visits here, as it is always chock-full of good stuff about the city.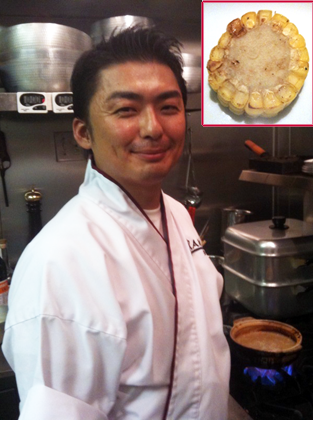 Anyway, we -- Beth Schwartz the editor, Jim Decker the photographer and I, the writer -- fell in love with it and have gone since. (At that first visit, Beth and I were particularly struck by the green tea salt and the seven kinds of homemade soy sauce, each for use with a different food.) I've celebrated a few special occasions there and have brought several people. All say they want to go back.
Now, this is not the only terrific restaurant in the city. If we didn't know Las Vegas had arrived as a restaurant center anyway, we'd know because this season of Top Chef is being done here. We'd also know by the proliferation of restaurants owned by star chefs and the fact that these celebrity chefs are often seen dining locally in restaurants where other people run the kitchen. A while ago, I saw Top Chef co-host Tom Colicchio dining at Raku. (Emeril Lagasse is opening another restaurant tomorrow that I'll tell you about. It's especially interesting because it's part of a sports book).
Okay, Raku is a terrific restaurant but, as noted, there are lots of those here. What makes this so special? First, the price points are eminently reasonable. Second, the size -- which will expand from minuscule (seating 31 people) to small (seating maybe a couple of dozen more) makes the service very personal. Third, you'll eat Japanese food like you probably never have before. There is no sushi at Raku. But there's homemade tofu and specialties you can only get in Japan. Chef Mitsou Endo opened Raku in 2008 after serving as head chef at restaurants in New York and Las Vegas. Together with his manager, the very gracious Rie Koleff, Chef Endo has created an environment where everyone is welcome and everyone knows the food will be superb.
But, again, there are lots of great restaurants here with lots of great food. So why write about Raku? I'll tell you why.
Last night's dinner at Raku with my friend Melinda was unlike any other dinner I've ever experienced. It was truly memorable and that wasn't solely because of the restaurant but greatly because of Melinda's reaction to it.
First, let me tell you about Melinda. She's beautiful, smart and funny. A New Orleans native, she's got the southern charm thing down pat. She's lived in many places -- including Japan -- and is sophisticated. Her job with a hotel in Las Vegas puts her in contact with people from all over the world. And, of course, we've been out to dinner many times.
So, we're sitting there. I'd asked that they bring us a sampling -- small tastes of what they offer. We began with Popeye salad -- spinach with bacon, onions, mushrooms and scrumptious dressing. Then, in no particular order, we were served chicken wrapped in bacon, chicken wrapped in its own skin, beef with wasabi, enoki, deep-fried tofu topped with caviar (delicious and I do not ordinarily care for tofu in any form) asparagus two ways that were each luscious and watermelon sorbet for dessert that is more like the Italian ices we used to get in New York and tastes like perfectly ripe watermelon. We also had that amazing veggie shown in the inset of the photo of Chef Endo above.
That is, clearly, corn. At first glimpse it looks like a slice of corn on the cob. But, look closely. Chef Endo has somehow managed to remove the cob in an operation that he keeps secret, but I'd imagine is like coring a pineapple. He then fills the corn with mashed potatoes and the delightful dish pictured here is what you get. That is, if not singular, then highly unusual. And delicious. Eating at Raku, if you didn't know it before, you learn that the Japanese often use bacon and paté in their cooking. Always something really new to discover.
Our discovery of the evening was matsutake mushrooms. These are the Japanese version of truffles only they (1) taste better and (2) have an amazing scent like a floral bouquet. Although they grow in other parts of the world, these are a real delicacy in Japan and can sell there for up to $2,000 a kilogram (2.2 pounds). Rie brought a taste to our table and it was a transformative moment. I'll no longer make the blanket statement, "I really don't like mushrooms."
Now, back to Melinda. If you've gotten an idea of how much I enjoyed the meal last night and I've been there before, you can only imagine the response (and she said I could use her name in this article) on Melinda's part. Well, maybe you can't. So I'll tell you.
There I sat, eating, chatting, savoring the food and my first taste (thanks to Melinda) of sparkling sake. We were quiet for a moment when, all of a sudden, I realized that across the table my ladylike friend (well, an earthy lady) was making the kind of noises one imagines you'd hear through the wall in a no-tell motel.
"Oh, my God!!!" "That's so good!!!" "Ummm!!!" "Ohhh!!!"
I've never heard anything like that in a restaurant and I guess I just paused and stared. I don't think other patrons heard her, but it was something. Melinda realized why I was staring and emitted a slight gasp. Putting her hand over her mouth she laughed and said -- not at all embarrassed -- "Was I doing that? You know, people tell me I make noises like that when I really like food. But I haven't done that in a long, long time."
She didn't stop. And I didn't care. You see it's been a little while since something I've done -- in this case merely suggesting a restaurant -- elicited that reaction from anyone.
So, when you're in Las Vegas, you really should make a reservation (which is necessary) and try Raku.