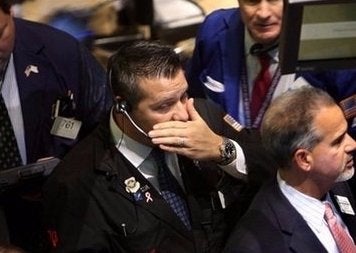 Palm trees, sun melting on the horizon, booze in the blender. This is just another day at the "office" for Jimmy Buffett and his tens of thousands of fans, known as Parottheads.
No economic downturn can intrude in this world.
"There's a recession on, but we're still rocking in the free world," he recently told a crowd in Mountain View, California, according to the San Jose Mercury News.
He also made a special stop at the nearby Google headquarters, where he ate in the cafeteria with Googlers and received a Google phone.
Buffett, the king of easy living, is set to do well in this recession. He's the first to tell you he sells escapism, allowing his audiences to forget their job insecurity, slumping home values, the market, and instead parachute into paradise for a little while.
I caught up with Buffett last week at Bette Midler's annual Hulaween Ball. Donning a smoking jacket and pencil-thin mustache as the lady-lovin' Continental made famous by Christopher Walken on Saturday Night Live, Buffett mused on the economy. In down times like these, with companies laying people off, it's important for people to find and focus on their niche, he said.
His island empire may be laid back but it's no fool's gold. In 2006, Buffett ranked number seven on Rolling Stone's list of Richest Rock Stars, beating out Dave Matthews Band, Celine Dion, and mogul rapper 50 Cent.
Buffett raked in $41 million from his amphitheater tour in 2006, and around $15 million from his ten Margaritaville restaurants. He also has a deal with Sirius Satellite Radio, owns his own record label, Mailboat Records, which brings in $5 per record compared to the usual $1 to $2.50, and just closed a $270 million deal with Donald Trump to turn Trump Marina Hotel Casino in Atlantic City into another Margaritaville destination, increasing the cache for his License to Chill.
For those just laid off from their high pressure jobs, may now's the time to follow him around from concert to concert for a little while, being transported by his 1977 smash hit, Margaritaville. Buffett himself would be the first to prescribe that medicine.
As he told USA Today last June, "Bad times have always been made better if you can laugh at yourself or laugh at the ridiculousness of the situation."
Take that with a grain of margarita salt.
Calling all HuffPost superfans!
Sign up for membership to become a founding member and help shape HuffPost's next chapter