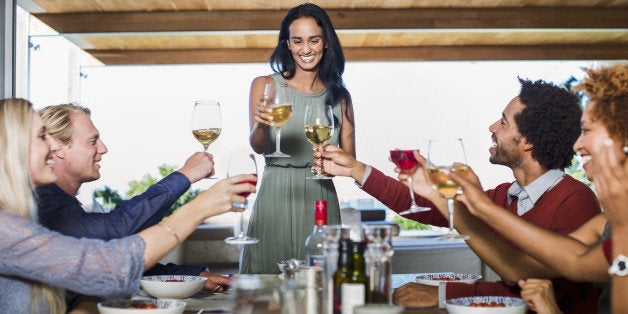 We presume that success is waiting for us. If only we were luckier, we'd have it arrive, like a lover, attracted to us on some enchanted evening across a crowded room. We want our value to be visible, seen and claimed. Or, if we were introduced to the powerful one who magically would do it for us. But career success is slightly different, but not so far away from luck. It's just that it is we ourselves who have to make that luck happen, not only build the fire, but fan it.
I've been studying careering, the skills that successful people develop over their lives. I can describe that detailed process to you. But your eyes would glaze over from all the detail. And boring you is not what I mean to do at all. So, let me use a metaphor as a jumpstart.
Imagine that life really is a party. Any kind of party -- a small birthday or a large convention. And for any party, there are two kinds of roles to play: guests and hosts.
Consider the role of guests first, since there are so many more of us. As guests, we come ready for an experience, souls and arms waiting for an embrace. We breathe: "DO ME. I'm willing. Feed me. Talk to me. Introduce me to interesting, important people who will love me and save me when I'm stuck. Fix me. Fix me up. "
Of course we don't say these things out loud, but we think some version of them all too often. Sometimes even the near admission of our need is enough to stop us from even arriving. Other times, we go but straggle on the sidelines, watching, posing with a drink in our hand, looking very elegant and detached, waiting for someone else to do the work. We guests are waiting.
Hosts, on the other hand, do not wait despite any anxiety they have. Hosts are busy. They create the party, invite the guests, plan every detail from the theme down to the food. They think about what to do with their guests, how to introduce them to each other: "Maggie, meet Kyle who is in the same field as you." "George, meet Madeline who might just be interested in your story for her blog." "Lisa come talk to Jeff who's just starting a new business and needs to hear about your experience." "Claudia, say hello to James who is just as addicted to the same kind of politics as you." Hosts consider their guests as their responsibility and anticipate their needs and leads and separate them or regroup them when they sense it is time. They develop skills in graciousness, helpfulness, fun, keeping everyone's interests in mind. More like a juggler or dancer or interviewer, hosts are just not like a waiting guest.
Who do you think has a better time? Almost everyone remembers a party they hosted. Few remember the parties they minimally attended. The host is engaged, making it happen, talking to everyone. The guest is only waiting. Who are you? What would it take you to transform yourself from a guest to a host?
The party is everywhere: not just an invited event. The party is in your office, your grocery store, a movie theater or museum. It is sitting next to you on a plane, or across the aisle in a restaurant. What it takes to ignite the party, like turning the key to the car's ignition, is to be willing to start something. It rarely begins as a provocative or profound discussion. And unlike large conventions, it rarely requires you to actually have the label of host or guest on your name tag. You just imagine it's there.
How do you do act as a host? Get out of yourself. I went to a movie one Saturday night alone. Not the brightest event in itself. In trying to park my car in something that looked like a space, I saw that the couple in the car ahead of me was backing up. I backed up too to let them in, but it appeared that they wanted the space behind me. So I pulled up again, as if dipping and curtsying. When we got out of our cars, we laughed about our dance together, and talked our way down the block to the theater where we separated to see different films. Not wanting to lose touch, we engaged cards and actually called each other within the week, becoming friends and referring clients.
At a real party following a benefit concert, musicians were gathering in a donor's house. As I sat down on a sofa, a woman on the raised platform above me spilled her wine on my head down onto my new silk blouse. She ran over, shamed, near tears, at her clumsiness. "You've baptized me, now come be my friend," I managed to say, extending my hand. We began a vivid conversation as I dried off. When a friend who witnessed the upending asked me later how I could save such a bad situation, I answered that once I had put myself in her shoes, I had a chance to slip from my first response as a guest, sitting, waiting, to become the host.
You can write your own nametag in your life. Do you want it to read Guest or Host?