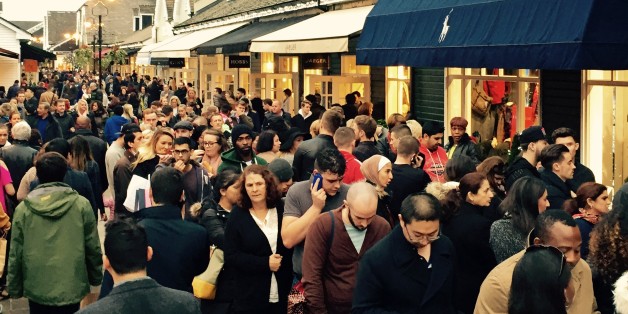 Forty-seven years ago, Robert Kennedy cautioned that "too much and for too long, we seemed to have surrendered personal excellence and community values in the mere accumulation of material things." But this Thanksgiving, while most of us will enjoy a day off and a home-cooked meal with our families, even a four day weekend away from work and time to get a start on holiday shopping, millions of Americans will be hard at work in major retail outlets instead of home celebrating. They're losing their holiday just so we can go shopping on Thanksgiving Day instead of the next morning, and that sacrifice should count for something.
Realistically, there will be no blue laws to keep these businesses closed on Thanksgiving, but the Legislature should mitigate consumerism's impact on this nationally-recognized family holiday by providing extra compensation to workers who are making this sacrifice so billion-dollar companies can start their Black Friday sales early. This is my goal in authoring Assembly Bill 67, the Double Pay on The Holiday Act.
In fairness, some workers volunteer to work on holidays. But more and more major retailers are choosing profits over people on Thanksgiving. Dozens of major retailers will be open on Thanksgiving this year, including many that will be open all day. As more retail establishments open on the holidays for longer hours, the demand for workers on those days also increases. The result has been case after case of workers reporting being threatened with firing if they did not choose work over their holiday.
While there are laws to compensate for the overtime, there is nothing protecting workers on holiday shifts. Current California law allows employers to mandate working scheduled overtime and holidays, which leaves workers without much recourse if a manager decides to take their Thanksgiving.
Plus, whether they choose to work or are forced by rigid schedules and managers, employees often also face more challenging commutes. Public transportation operating on reduced holiday schedules adds hours to a roundtrip to work, or forces employees to use taxis to arrive on time. Even at stores paying time and a half for workers on Thanksgiving Day, the extra time and costs can quickly overtake the additional pay.
Working on holidays isn't new. As a kid, I always knew that there was a good chance my mom might be called into work on the holidays. But she was an emergency room nurse. She provided a critical service like firefighters, police officers, and servicemen and women do.
My mom also earned double or triple pay for giving up her holiday. But today, mothers and fathers are regularly being ripped from their families on Thanksgiving simply in pursuit of optional corporate profit at large retail establishments. Too often, they're not earning extra compensation either.
Ultimately, it's up to these major retailers to figure out what works for their bottom line. But those who give up their holiday to work for us deserve extra pay to compensate. That's the point of AB 67. Our bill will require that major retailers - those with hundreds of employees and multiple locations across the state, not mom-and-pop small businesses - who make a profit-driven choice to open on Thanksgiving pay workers a premium by requiring "Double Pay on the Holiday."
If it's important enough for these large retailers to take advantage of everyone else getting a holiday, it's important to respect that their workers should earn special consideration when they miss out.
We aren't going to try actually legislating holiday family-time. But the least we can do is provide double pay on Thanksgiving to make sure we fairly value the sacrifice borne by so many workers.
Assemblywoman Lorena Gonzalez represents California's 80th Assembly District, which includes portions of the cities of San Diego, Chula Vista and National City. She serves as Chair of the Assembly Select Committee on Women in the Workplace and is a single mom. For more information, visit http://asmdc.org/members/a80/.
Calling all HuffPost superfans!
Sign up for membership to become a founding member and help shape HuffPost's next chapter