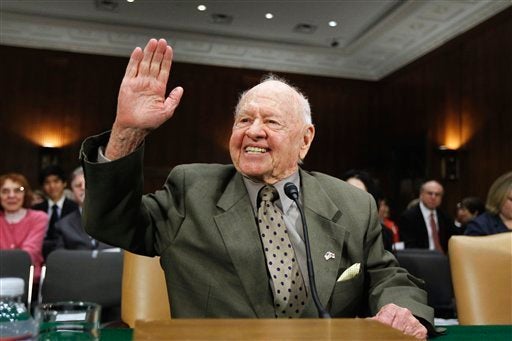 This week I had the profound honor to testify before the Senate Committee on Aging on the subject of elder abuse. The man who preceded me, with great dignity and courage, was the American film icon Mickey Rooney, who has recently described the elder abuse and financial exploitation he experienced at the hands of his stepson.

The hearing was called to coincide with a GAO report describing our nation's pitiful and poorly integrated approach to, and meager awareness of, elder abuse. My colleague M.T. Connolly, who's a Senior Scholar at the Woodrow Wilson International Center for Scholars and the Director of Life Long Justice, a project of Appleseed, said that one form of elder abuse often leads to the next, setting off a cascade of not only untold suffering, but also expense. One example she used to illustrate the high cost of elder abuse is a study I did in 2002 showing that victims of elder abuse are four times more likely than non-elder-abuse victims to be placed in nursing homes -- usually paid for by Medicaid and Medicare. No one has even tried to calculate the cost of elder abuse yet, but there's every reason to believe that it costs us many billions of dollars a year. So in these times of budget austerity, we can't afford not to do something about elder abuse. M.T. also pointed out that we've pigeonholed elder abuse as an aging issue -- but it's not. It's a huge issue for all of us who care about the older people in our lives. And it's an issue for anyone hoping to enjoy well-being in old age.

And I presented important new results in a new study just completed in partnership with The New York City Department for the Aging and a wonderful organization called Life Span of Greater Rochester. We interviewed over 4,000 (yes, I said thousand) older people in the community about their personal experiences with elder abuse. Astoundingly, 7.2 percent -- about one in 13 -- said that they have experienced some form of mistreatment in the past year. The most common type? It was financial exploitation -- about one in 25 older people -- followed by physical abuse -- self reported by about one in 50 older people. If that's not worrisome enough, I think the most compelling finding from the study is the fact that for every case we indentify, we miss about 23.

And although this was a hearing about elder abuse that occurs in the community, I reminded the committee that people who live in nursing homes remain at risk. Nursing homes are increasingly underfunded, understaffed, and now are accepting the sickest patients they have ever seen -- quite a combustible mix. I also testified about the newest form of nursing home abuse that has come to light -- not staff abuse of residents (which I contend is probably rarer than it was a few decades ago), but rather resident to resident abuse, in which often younger, behaviorally impaired residents share the facility with much older, frailer roommates. Many of the situations have resulted in serious injuries and even deaths among vulnerable nursing home residents.

Look, I'm not used to being grilled by senators (thankfully), but some of the questions were absolutely erudite, something that I'd expect more from my academic colleagues. Senator Ron Wyden wondered if the model of the "Medical Home" might be applicable to domestic violence victims of all ages. Senator Richard Blumenthal asked about the role education might be in preventing elder abuse. A spot on question; I told him that when I applied for my New York State Medical License, they made me take a child abuse recognition course (even though I am a geriatrician, never see kids, and am a family violence expert), yet no one thought about a similar training for elder abuse.

I'm deeply appreciative that the senate committee on aging would ask for a GAO report on elder abuse -- I've devoted my career to protecting the rights and dignity of older people. Hats off to Senator Kohl and my own senator Kirsten Gillibrand (and her staff members Anne Howe and Karina Cabrera) for having the courage to look at this societal scourge squarely in the face. And while I'm handing out kudos, I didn't need to be reminded that Mickey Rooney is a brave American hero, but this week I was. One of his cogent messages was: if this can happen to me, it can happen to anyone. Like Mr. Rooney, please bravely share with me and other HuffPost readers your personal (or family) experiences with elder abuse. As senator Blumenthal said, "We're all victims at one point or another in our lives. There's nothing to be ashamed of!"
Related