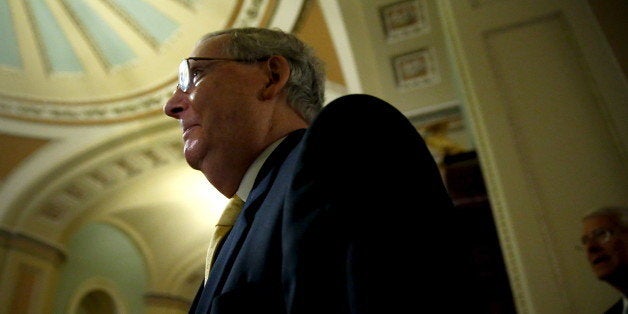 A spokesman for U.S. Sen. Mitch McConnell said Monday that the majority leader of the Senate has not been in his office for more than a month because of a health issue.
Oleaginous M. Flack, McConnell's press secretary, said that McConnell's absence has prevented him from accomplishing any Senate business.
Flack's announcement raised questions among McConnell's Senate colleagues.
"The majority leader hasn't accomplished anything in the last month?" asked Thad Milquetoast, D-FL, the minority leader in the Senate. "What Senate business did he accomplish in the months and years before that?"
One Republican senator, who requested anonymity, said he observed little difference in the Senate whether McConnell was there or not there.
"Even when he's here, he's not really here," the senator said, "and he's never all here."
Flack said that the 74-year-old senator was admitted into a hospital near his home in Moronville, Kentucky, where doctors diagnosed a rare health ailment.
Dr. Shirley Bunk, medical director at Jim Crow Memorial Hospital in nearby Louisville, confirmed that McConnell's medical issue was related to his heart, "or, more specifically, his lack of heart," she said.
"We have not been able to identify if Senator McConnell has a functioning heart or not," she said.
Bunk was asked if it was rare for a person to function without a discernible heart.
"Under most circumstances, yes," she said. "But, remember, Mr. McConnell is a United States senator and he's a conservative Republican."
Bunk said doctors did not yet know the cause of McConnell's health issue.
"We don't know whether McConnell was born without a heart or if it simply atrophied because of a lack of use," Bunk said.
McConnell, who was first elected to the Senate in 1984, became leader after the Republicans won majority during the midterm elections in November 2014. McConnell began serving as Senate majority leader in January 2015.
Milton J. Imperious, a professor of political science at Southeastern Northern University, in West, West Virginia, said that since McConnell has been the majority leader, it has been far more productive when it has been in recess than when it has been in session.
"When the Republican-controlled Senate does nothing it does relatively little harm," he said. "When it does something, it either does something incredibly stupid or it challenges the very fundamentals of our democracy."
McConnell once said that he would do everything he could to see that President Barack Obama served only one term. Obama was re-elected president in 2016.
In addition, Imperious said, when U.S. Supreme Court Justice Antonin Scalia died in February 2015, McConnell, in an unprecedented decision, refused to allow confirmation hearings for Obama's nominee to the Supreme Court.
Flack was asked if McConnell, who represents the former slave state of Kentucky and has a history of telling racist jokes, blocked Obama's Supreme Court nomination on racial grounds.
Flack denied that McConnell was a racist. He then said that McConnell was looking forward to working closely with President-Elect Donald Trump.
When asked why, Flack responded: "Because Mr. Trump is white."
Popular in the Community