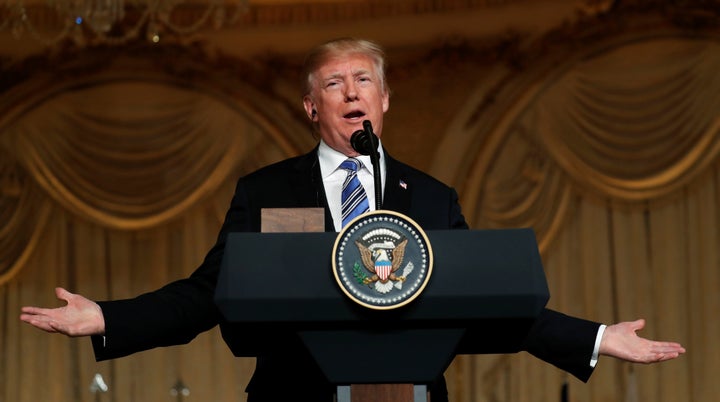 TOP STORIES
(Get this roundup directly in your inbox each weekday ― sign up for The Morning Email here.)
Big news this morning: Tomorrow will be my last edition as the full-time editor of The Morning Email! I'm so excited that I'll be reportingfull time on health policy here at HuffPost.
I'm very thankful to have been part of your morning routine over the last few years and excited to announce Paul Vale's takeover. It's been a pleasure. Now onto the good stuff.
TRUMP: I'LL WALK OUT OF NORTH KOREA TALKS IF THEY'RE 'NOT FRUITFUL' The president also said he was negotiating with North Korea for the return of three American prisoners, on top of denuclearization. Meanwhile, South Korea is reportedly working to formally end the Korean War. [Reuters] [Tweet | Share on Facebook]
INSIDE THE NEW YORK ATTORNEY GENERAL'S PUSH TO SIDESTEP POTENTIAL TRUMP PARDONS "We are disturbed by reports that @POTUS is considering pardons of individuals who may have committed serious federal crimes—acts that may also violate NY law. We must ensure that if any president issues such pardons, we can use NY's laws to bring such individuals to justice." [HuffPost]
THE LIGHTS WENT OUT IN PUERTO RICO The island was plunged into darkness after losing power entirely yesterday, in what's being called the second-largest blackout in history. [HuffPost]
THE WOMAN PARTIALLY SUCKED OUT OF THE SOUTHWEST PLANE DIED OF BLUNT IMPACT TRAUMA To her head, neck and torso, according to the Philadelphia medical examiner. Investigators believe the engine cover may have played a role in the catastrophe. And take a look at "20 minutes of chaos and terror" inside Southwest flight 1380. [HuffPost]
FEDERAL JUDGE HOLDS KRIS KOBACH IN CONTEMPT "She said the Kansas secretary of state had failed to properly inform people they were eligible to vote." [HuffPost]
THE END OF THE CASTRO ERA Cuba's Vice President Miguel Diaz-Canel is expected to succeed Raul Castro, who is reportedly stepping down this week. [HuffPost]
WHAT'S BREWING
THE OPIOID CRISIS IS FUELING A SURGE IN HIV INFECTIONS And experts worry this is only the beginning. [HuffPost]
HOW PHOTOGRAPHERS CAPTURE THE IMAGES OF THE ME TOO MOVEMENT "There's something potentially unsettling about a woman's account of objectification being accompanied by her photograph. It's treacherous ground, almost as if the reader is asking, 'What was she wearing?'" [HuffPost]
HUFFPOST PERSONAL: 'I THOUGHT LOSING 70 POUNDS WOULD BRING ME JOY' "I was wrong." [HuffPost]
WE WOULD SAY YOU WOULD NOT BELIEVE HOW MUCH MONEY MOVIEPASS IS LOSING But honestly, the business model seemed untenable from the start. [Vulture]
BREAK OUT THE WINE AND POPCORN, GLADIATORS In honor of the season finale of "Scandal," Matthew Zoller Seitz captures the zany wonder of the show that made Shonda Rhimes "an institution." It's almost as good of a piece as this one where a reporter lived off of Olivia Pope's diet for a week. Almost. [Vulture] 
THIS IS STRAIGHT-UP JUST 28 PHOTOS OF CUTE BRITISH ROYAL BABIES THROUGH THE YEARS You're welcome. [HuffPost]
BEFORE YOU GO
REAL LIFE. REAL NEWS. REAL VOICES.
Help us tell more of the stories that matter from voices that too often remain unheard.