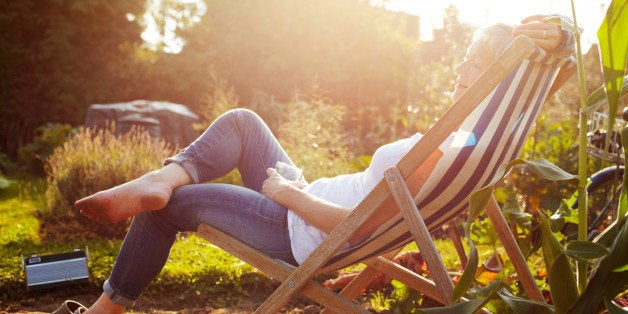 The Huffington Post recently posted a column reporting Boomer regrets. The column, Sad Data Reveals Baby Boomers' Biggest Regret Is Not Traveling Enough revealed results of a survey taken by British Airways. The source of the survey alone caused me to be a little suspicious of the outcome. Certainly the airlines want to encourage Boomers, with disposable income, to travel more. But the content did stimulate my thinking to ponder the value of filling our inspirement years acting on lifelong desires.
When my twin daughters were in the second grade, they were asked to draw a picture completing this sentence: "My Mom loves to..." Imagine my surprise when my daughter brought home the completed picture with this sentence: "My Mom loves to work." The accompanying image showed me (wearing my glasses, of course) driving off to work.
Talk about the sound of one hand clapping!
As a single mother, I did work a lot. And my seven-year-old daughter's prescient characterization of her mother is unchanged. Even in inspirement, I have found a part-time job. Work has always been a big part of my identity where I can use fulfilling activities as outlets for my energy. Currently, I'm generating extra income for our two-retiree household by teaching and scratching my creative itch developing curriculum. It's not a bad arrangement.
A valuable mentor once taught me: 'If you want to know what people value, look at how they dedicate their time.' And it seems like this is the point in our lives, when there is more time behind us than in front of us, to truly obligate energy and resources fulfilling our lifelong dreams.
Certainly, financial capacity has a lot to do with reality. I'm not going to be climbing Mount Everest any time soon. I don't have the desire or financial capacity to do so. But as I encounter other youthful retirees, I see acting on their life priorities leads to a variety of possibilities. Here are some of them:

1. Voracious reading. Kindles have replaced our dusty bookshelves. Even if finances are limited, most public libraries have lending systems for Ebooks. If you still like to hold a book, you can check them out from your local library, plus the used book sections at the Goodwill and Salvation Army thrift stores are great places to spend hours browsing.Note: A local, retired bookseller has a great blog where her retired bloggers review books. I find her website, Bookin' With Sunny a better resource for reading recommendations than the Bestseller lists found in big publications.
2. Travel. Okay, let's be honest, travel takes money and not all retirees have disposable income. However, there are travel talks at adult learning centers, senior centers and libraries. Also, spending an afternoon watching travel videos on Youtube or Public Television helps scratch the itch to get away, if even for a few hours. Since moving from San Francisco, I occasionally take the Megabus (cheap!) there to see friends or just feel the vibe of the City. We are fortunate to visit our families several times each year, plus we try to plan one bigger trip when we can afford it. (Next year we will have to decide between a trip and a new roof. I already know the outcome.)
3. Time with the Grandkids. I know some grandparents who live for this. I also know working adult parents who couldn't manage without the grandparents to help watch the children. Even though we do not live in the same cities are our grandchildren, we tried to be available to them before they started school. Once the school routines become the priority, juggling visits, overnights and activities becomes tricky. Our grandson is eleven now and has his own cellphone. We love to text each other; email is the electronic communication choice with our granddaughter. Tread lightly with social media. Not all teens and 'tweens want to friend their grandparents on Facebook.
4. Volunteer. Do you love animals? There is a pet shelter that needs you. Are you a retired educator? There is a nonprofit where you could tutor children after school. Are you a retired business professional? There is a nonprofit Board that would maximize your skills. Do you love classical music? Volunteer to be a greeter at concerts (usually includes a concert ticket). Do you like riding bikes? We just discovered a local nonprofit yesterday that specializes in fixing up and selling donated bikes. Politics? Well, this is your year!
5. Lifelong Learning. I saved this category until last because it offers a chance to emphasize cultivating your curiosity. Most major universities have free, special interest classes for Seniors. Keeping your brain active by attending classes and meeting like-minded people has value beyond measure. Lifelong Learning can also stimulate your creativity. Paint. Write. Act. Sing. Perform. Dance. Exercise. It's all there for you.
And it is this last category where I am devoting my time this year. I started a book in 2013, then life interfered. At the start of 2016, I asked myself, 'If not now....when?' This year, I am picking up where I left off, and my goal for 2016 is to finish the book. In the Fall, I will take a month away from home and finalize this work which I want to be part of my legacy.
Ask yourself the question. Act on your answer and prioritize fulfilling your desires.
Related