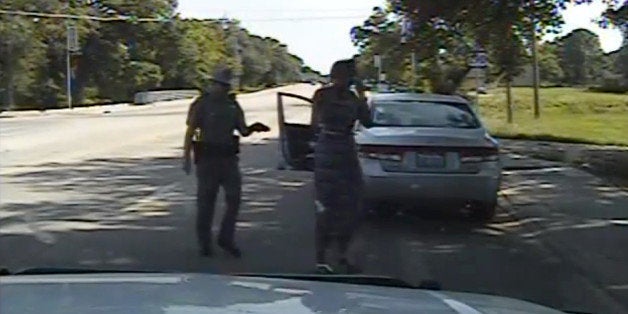 Between the videos of Walter L. Scott, Eric Garner, John Crawford, and now Sandra Bland, American society has been forced to accept that racial injustice is still prevalent in this day and age. While the deaths of Garner and Crawford were on tape, and the killing of Trayvon Martin and Michael Brown were rife with questions that only video evidence could answer, there's something horrifying about the recent police dash-cam video of Sandra Bland.
The dash-cam video of Ms. Bland's confrontation with a Texas State Trooper shows the demise of an American woman who posed absolutely no threat to anyone. Unfortunately, data shows that had she been a white woman, Ms. Bland would have had a greater chance of being alive today. For example, one alarming statistic from the Sentencing Project states that "black women were more than three times as likely as white women to be incarcerated in prison or jail."
Furthermore, after watching the dash-cam video, it's apparent that the mere expression of indignation was Ms. Bland's only offense. As I wrote several months back in a blog post on HuffPost Black Voices titled "Eric Garner's Only Crime Was Indignation," Sandra Bland also paid dearly for the simple act of expressing discontent. While heated verbal exchanges with an officer can lead to a white person's arrest and detainment, there exists several unique elements to the repercussions faced by African-Americans in regards to interactions with law enforcement. From Rodney King to Cleveland police officers in 2012 firing 137 rounds into the car of an unarmed black couple, African-Americans experience a different reality when it comes to America's criminal justice system. In addition, government data shows that had Ms. Bland been white, she would have had greater odds of not only being left alone, but also of surviving the interaction with law enforcement without being arrested.
First, there's no reason why a woman should be forcibly removed from her car simply for smoking a cigarette; even if the officer demanded that she put out the light. The Texas Commercial Motor Vehicle Handbook states (pages 2-23) "do not smoke or carry a lighted cigarette, cigar, or pipe within 25 feet of any vehicle, which contains: Class 1 (Explosives) Class 3 (Flammable Liquids) Class 4 (Flammable Solids) Class 4.2 (Spontaneously Combustible)." The Handbook states nothing about the illegality of smoking in the car without children, and absolutely nothing about an officer having the right to arrest someone for refusing to put out a cigarette. Nonetheless, it's still likely that the issue of why she didn't "cooperate" with the officer will be fuel for ideologues like Sean Hannity to justify Ms. Bland's arrest.
While conservatives can't fathom the possibility that a double-standard exists, government statistics clearly illustrate that black citizens in the United States face racial bias within the justice system. According to a Bureau of Justice Statistics press release titled Study Finds Some Racial Differences In Perception of Police Behavior During Contact with Public, government data shows that black drivers face a greater likelihood of being stopped and a greater chance of experience a negative interaction with police:
Black drivers (13 percent) were more likely than white (10 percent) and Hispanic (10 percent) drivers to be pulled over by police in a traffic stop...

White drivers involved in traffic stops were searched at lower rates than black and Hispanic drivers...

A greater percentage of black (7 percent) and Hispanic (6 percent) drivers were ticketed than white drivers (5 percent).
While the percentages show a marginal increase in black drivers being stopped, searched, and ticketed than white or Hispanic drivers, the Bureau of Justice Statistics nonetheless confirms a bias towards one group of Americans. It's difficult for Sean Hannity to say that there's no racism in America when blacks are pulled over, fined and searched at higher rates than anyone else; being 14.2% of the population.
A closer look at data compiled throughout the U.S. also illustrates that racism is systemic within American justice; not just a phenomenon experienced by African-Americans in Texas. A report titled Analyzing Stops, Citations, and Searches in Washington and Beyond from Seattle University School of Law states "racial disproportionality in the criminal justice system is a fact" and explains the differences between how blacks and whites experience our criminal justice system:
Racial disproportionality in the criminal justice system is a fact.

But the fact of racial disproportionality is the beginning and not the end of the conversation...

Study results and precedents such as these, then, generally support the contention that police bias in enforcement for legitimate but very minor traffic violations may also account for some of what studies capture as racialized driver behavior (e.g., claims that blacks or other persons of color are more serious offenders or more frequent offenders for certain types of offenses)

...blacks are less likely to be contacted via radar patrols and are more likely to be targeted due to lane and HOV violations.

For low-discretion searches during the three respective time periods, blacks were 2.6, 2.2, and 2.0 times more likely to be subject to a low-discretion search than whites...

This heightened probability of a search cannot be justified by "hit rates" when the likelihood of finding contraband is either the same or lower for racial minorities than it is for whites.
Research shows that blacks face a greater chance of interacting with police for "very minor traffic violations" than whites, primarily because they are under greater suspicion for certain offenses. In addition, blacks are twice as likely to be searched as whites (even though they possess the same likelihood of owning contraband), illustrating that as the report states, "Racial disproportionality in the criminal justice system is a fact."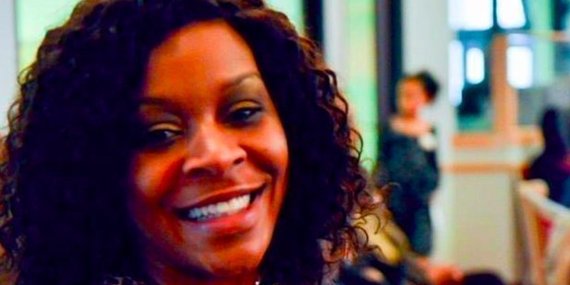 Sandra Bland rightfully and eloquently complained to the officer that she was being ticketed merely for not signaling a lane change. As the research has indicated, blacks face a higher chance of being pulled over for such minor infractions. In Ms. Bland's case, she can be heard in the dash-cam video explaining that she thought the officer was trying to pass her (and decided to simply move over and allow the officer to drive ahead), which ironically is exactly what you're taught to do in driving school. Nonetheless, the interaction ended with her being beaten, shouting that she has epilepsy, while the officer responds, "Good."
Prison sentences of black men were nearly 20% longer than those of white men for similar crimes in recent years, an analysis by the U.S. Sentencing Commission found...

In the two years after the Booker ruling, sentences of blacks were on average 15.2% longer than the sentences of similarly situated whites, according to the Sentencing Commission report. Between December 2007 and September 2011, the most recent period covered in the report, sentences of black males were 19.5% longer than those for whites. The analysis also found that black males were 25% less likely than whites in the same period to receive a sentence below the guidelines' range.
The fact is that black men face 20 percent longer prison sentences than white men "for similar crimes." In addition, when in custody, both black men and women face a greater likelihood of being "disproportionately represented" in prison. AmericanProgress.org states that, "As the number of women incarcerated has increased by 800 percent over the last three decades, women of color have been disproportionately represented."
It makes sense that Sandra Bland's death is being treated like a murder investigation, especially since she was pulled over for a minor traffic violation, never posed a threat to anyone, and spent her final moments in a jail cell. In 2015, Black Lives Matter, especially since statistics show their lives are affected by a systemic form of racism that other groups don't experience in the U.S. After watching the dash-cam video, the injustice experienced by an American woman who should be alive today is one of the worst things I've ever seen in my life, and I can't help but think of Eric Garner, John Crawford, Walter L. Scott and Kindra Darnell Chapman. Sadly, if Sandra Bland were a white woman, statistics and data show that she'd have a greater chance of being alive today.
Popular in the Community