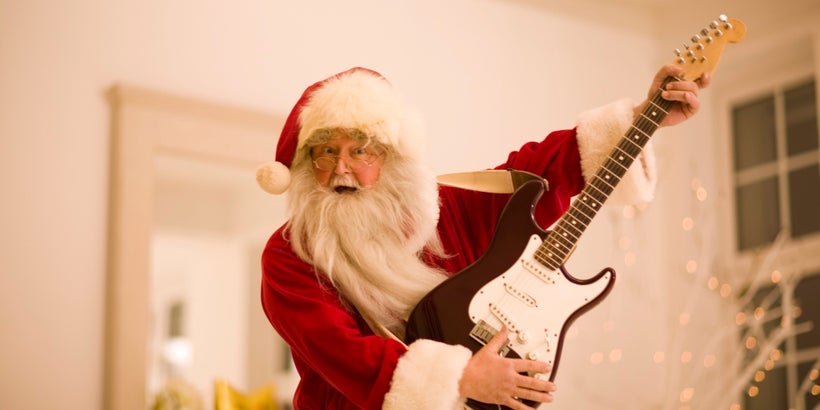 It's been a remarkably favorable Christmas for Songwriters. We've been pushing that rock up the hill for so long (well—since the digital economy took over), that sometimes it seems as if it may roll right back down over us at any moment. Even when we're making progress, it feel like one step up, two steps back.
For instance last year, just as we were getting closer to possibly updating a 70 yr. old consent decree that keeps us from operating within a modern music licensing system, the DoJ (on behalf of the Tech industry), slapped us with another obstacle: "100% licensing"—which means that a music user (say Google) would only need to license a work from one writer of a song (even if there were four), as opposed to licensing from all songwriters involved. That one writer would be responsible for accounting to all the others. Yeesh. Can you imagine? I'm (regrettably) late in paying my gardener every month. How am I supposed to remember to write timely checks to all my colleagues?
Thankfully, BMI swooped in and sued the Department of Justice for it's interpretation of the Consent Decrees. The court sided with BMI. Yay. But then the DoJ appealed. Bummer. SONA (the not-so-little-anymore grassroots advocacy group that could) filed our own suit (the first organized response by songwriters), maintaining that the DoJ overstepped its authority and that its ruling violated the property rights of creators.
I'm telling you people, we were an inch away from 100% licensing becoming the new normal.
Aside Alert…I can never wrap my head around the idea that we're suing the Department of Justice! You'd think the Department of JUSTICE would stand for...JUSTICE.
The very next day there was yet another gift under my tree. The long-awaited Music Modernization Act, which would create a collective to manage our mechanical licensing system, was finally proposed. The MMA would also allow us to reveal to the court the rate a master recording demands in order to estimate fair market value for the publishing side of the pie. Right now it's very lopsided. Hard to believe we're not currently allowed by law to show this comparison.
Fair market Value. Willing Buyer Willing Seller. That is all we ask for. No other industry is denied the right to demand what their product is worth.
This legislation has a way to go before it becomes law. But my point is, things are looking Up!
Oh and also? Representative Jerold Nadler, long-time ally of creators (seen below at a SONA fundraiser), was elected ranking member of the House Judiciary Committee. It's a good thing because word had it, his opponent Zoe Lofgren, was no friend to intellectual property owners in that she is very chummy with Google—a voracious user of (our) music, and a main actor in lobbying against the interests of creators for their own (Google's) financial prosperity. Representative Nadler will potentially have substantial influence on copyright law and intellectual property rights.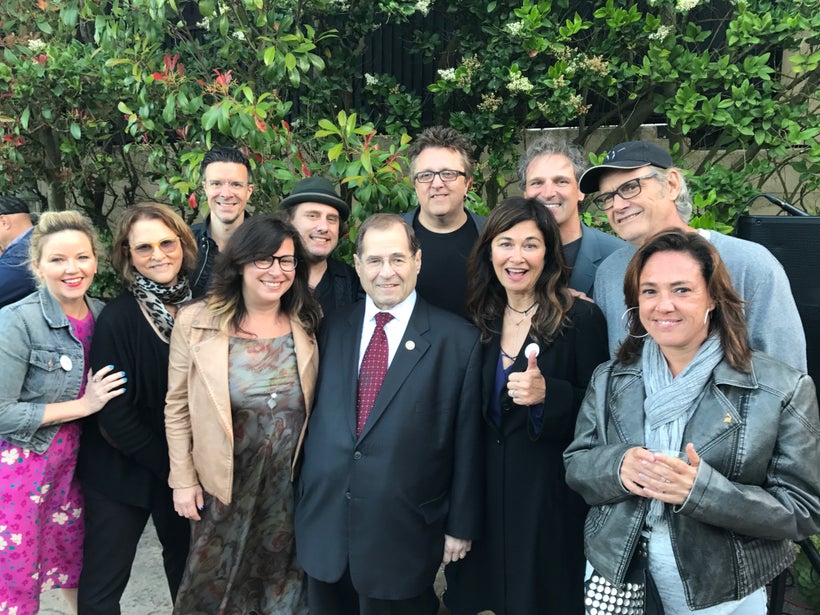 They say good things happen in threes. But there actually could be FOUR.
Soon (like any day now), the result of the March CRB hearings (which determine streaming performance rates), will be revealed. According to SONA's math, if we get 1/8 of what the NMPA and the NSAI asked for (15 cents per 100 streams—a raise from the 0.000076¢ per stream we currently 'enjoy'), it will be a dramatic improvement.
So in case you were wondering…all the letters you're writing, phone calls you're making, petitions you're signing and District Advocacy Days you're participating in…are making a difference.
As for SONA, when we were just a sparkle in our own eyes, we thought we'd form our 501c6 and fly onto the scene in red capes. Fortunately, we had the sobering advice and mentorship of Attorney Dina La Polt who sat Michelle Lewis, Kay Hanley and I down at Urth Cafe in July of 2015, bought us all coffee and said, "Bitches!" (She actually said that.) Calm down. Be patient. You're going to have to learn to Negotiate. Compromise. You're not going to change the world over night. But it's possible you can shift it.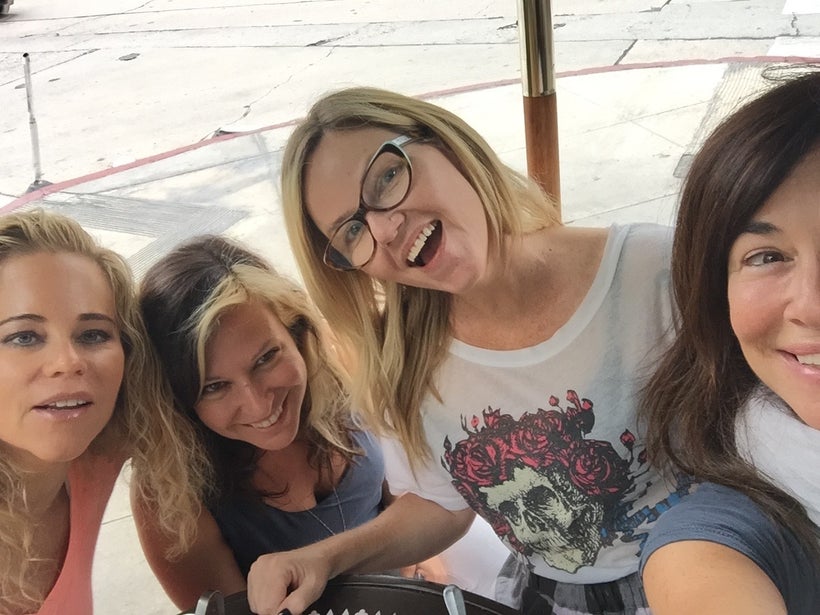 She was right. Two years later SONA is 300+ strong. We've been written up in the New York Times, Variety, The Hollywood Reporter and Rolling Stone and quoted in the Billboard articles I've linked. We may not be included in writing actual legislation (yet), but our endorsement is sought after and if we express disapproval it matters. We're extremely proud of the work we've done and will continue to do.
Why all these gifts now? Well, maybe all the players are finally coming around—it was only a matter of time? Pendulums swing? Or as my hubby surmises, maybe the pre-presidential election social media shenanigans reduced the political clout of Tech companies, giving law makers more cover to go against them if they choose to. Hmmm. Or, maybe it's that Republican regimes are looser when it comes to regulation.
Whatever the reason…timing, politics, Santa, or the persistence of our creative community (probably all of the above), perhaps from now on instead of one step up two steps back it will be one step back two steps up.
We've got our hiking boots on. Let's keep pushing that rock up the hill.
May the good news continue.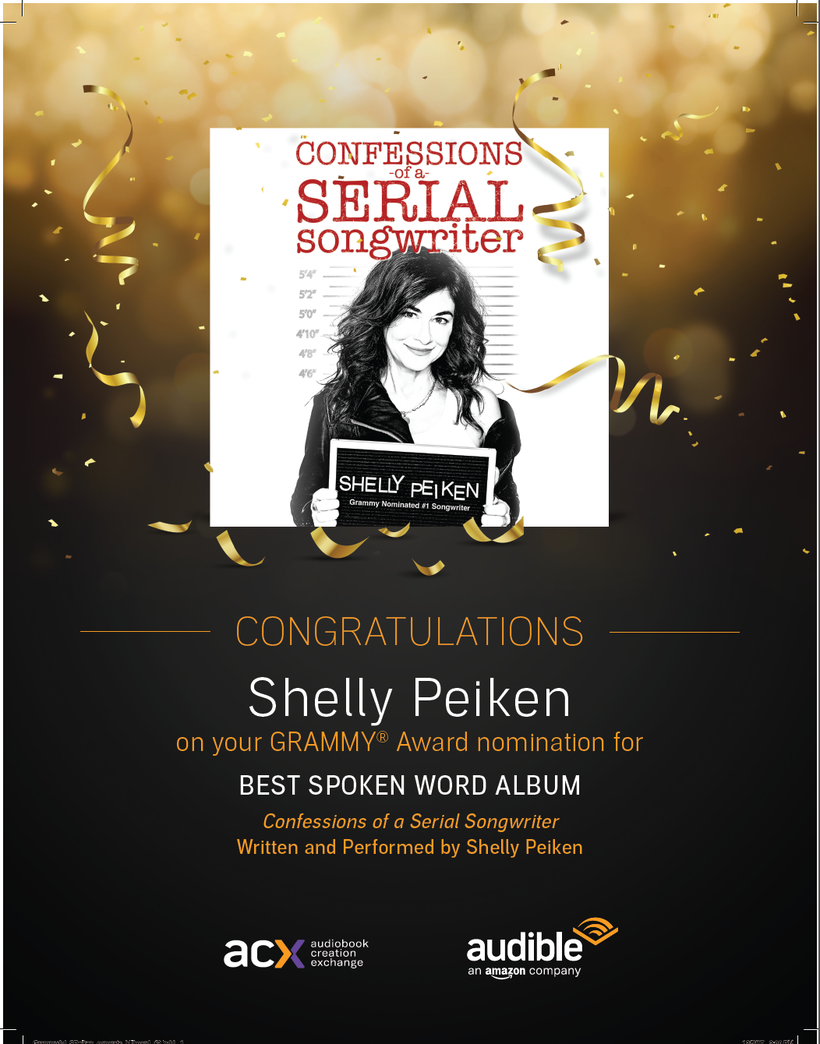 Calling all HuffPost superfans!
Sign up for membership to become a founding member and help shape HuffPost's next chapter
This post was published on the now-closed HuffPost Contributor platform. Contributors control their own work and posted freely to our site. If you need to flag this entry as abusive,
send us an email
.