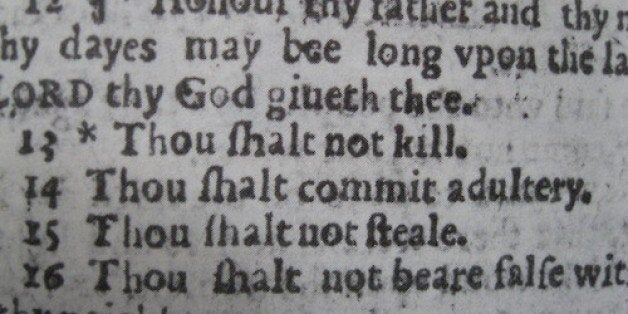 It's fascinating how literary conventions evolve. Language truly is the basic building block for culture, and how we communicate matters almost just as much as what we say. The blogging enterprise has certainly changed the convention of print, to the point where new phrases and grammar rules are being invented and thriving. Being a faith blogger, I thought it'd be appropriate to imagine what the Bible would've been like if it had been written during the blogging era. Just a little bit of irreverent fun to balance out all the Important Issues. (Case in point, before blogging, were we allowed to randomly capitalize letters for emphasis?)
Bloggers love Open Letters. If the Bible used Open Letters, it might look like this:
-- God's Open Letter to Abraham: "Leave your country, your people, and your father's household and go to the land I will show you. I will make you into a great nation and I will bless you..."
-- An Open Letter to my Lover, by Solomon: "Your two breasts are like two fawns, like twin fawns of a gazelle that browse among the lilies."
-- The Prophets with their passive aggressive "If you do not worship our God, prepare to meet your doom" Open Letters. Okay, maybe more aggressive than passive.
-- And the most prolific Open Letter author award goes to -- drumroll -- Paul the Apostle! who is responsible for the vast majority of the letters of the New Testament.
Bloggers and readers alike love list posts -- fun to read and fun to write. It makes for super easy scanning, which is really what most of us do these days. Here's some ideas for our biblical authors:
-- Five Things not to Say to Friends in Pain - by Job
-- 7 Ways the Kingdom of God is Like - by Jesus
-- Four Ways Your Brothers can Screw You Over - by Joseph
-- One Thing to Never Do Whilst Traveling - by Lot (trigger warning: being turned into salt pillar)
-- 16 Descriptors of Love - guaranteed to go viral at weddings
Hey Matthew, Mark, Luke and John, here's your prompt: "Life, death, and resurrection of Jesus" -- write up your own version and let's LINK UP!
The Bible would definitely have guest posts. John, "today I'm honored to be writing over at Revelation. Would love for all my followers here at John to hop on over and read some of my thoughts there."
There would also be lots of linking back to old (testament) content. Jesus, "you have heard it was said, an eye for an eye (insert link), but I say unto you..."
-- Into poetry? Psalms, Proverbs, Song of Songs
-- Like "how-to" posts? Leviticus, Numbers, and some of Paul's epistles
-- A fan of biographies and stories? Gospels
-- Edgy personality, hippie, activist type? Try Prophets
-- Enjoy using graphic, sci-fi-ish images to make a point? Revelation, definitely.
Moses: "Will be live-tweeting 10 commandments from mtn. Follow #MtSinai"
David: "Whoa. Goliath bigger than I thought. #Where'sMySling"
Lazarus: "Was dead. Now alive. #perspective"
Jesus: "Go and make displs, baptize in name of F, S, HS. #GreatCommission"
Paul: "In prison with @Silas. No fear, just singing. #PTL."
In this age of fast sound-bytes and easily digestible information chunks, will we be able to process the enduring content of the Bible in a meaningful way?
Calling all HuffPost superfans!
Sign up for membership to become a founding member and help shape HuffPost's next chapter