Charlottesville, Virginia was overtaken by violence and chaos this weekend after thousands of white supremacists and armed militia groups faced off with counter-protesters on Saturday.
Three people died ― a 32-year-old paralegal and two state troopers. More than 30 others were injured during the day, some critically, police said.
We've seen violent protests like this time and time again. At the heart of much of the recent unrest is race and identity, and Saturday's attack left many people shaken and wondering how to help marginalized groups.
The best place to start helping is by acting ― whether you donate, call, volunteer, disseminate factual information on social media on what's going on in Charlottesville ― every small motion counts. Countless individuals all over the country have been sharing methods of helping Charlottesville online and we've gathered a bunch of them here for you:
1) Donate and volunteer.
For starters, give to C-ville Victim Relief fund organized by Unity Cville, a group of Charlottesville community members "raising funds to help support the victims." Everything raised will be given to the city of Charlottesville. There's also a GoFundMe set up specifically to help Deandre Harris, the 20-year-old black activist who was assaulted by white supremacists with poles in Charlottesville. The funds will go toward covering his medical bills. Donate here.
Other organizations to donate to include:
Brody Jewish Center at the University of Virginia
UVA's Hillel offers community and education ― including Shabbat dinners, interfaith dialogues and volunteer opportunities ― to Jewish students and their allies at the university. Donate here.
Charlottesville Health Center ― Planned Parenthood
Black Lives Matter Charlottesville
Charlottesville Pride Community Network
Charlottesville Pride is an LGBTQ advocacy and outreach organization dedicated to creating "a vibrant, visible, and inclusive LGBTQ community presence in Charlottesville" and the surrounding area. Donate here.
Showing Up For Racial Justice Charlottesville
SURJ is dedicated to ending white supremacy. According to the organization's GoFundMe page, these specific donations will go toward "supporting communities of color with supplies for this summer, honorariums for trainings and workshops run by people of color, paying artists for their work that is used at trainings and workshops, day-of supplies like water and food, printing and media costs, responding to the needs and requests of people of color in this community, and securing training space and day-of childcare." Donate here.
The Women's Initiative offers mental health services to women in Charlottesville, specifically focused on counseling, social support and education. Donate here.
The Legal Aid Justice Center has 40 offices across the state of Virginia ― including one in Charlottesville. They aim to "battle poverty and injustice by solving critical legal problems for individuals and communities." Donate here.
Islamic Society of Central Virginia
The ISCV serves the Muslim community in Charlottesville and Abermarle. Donate here.
More places to donate to and volunteer at can be found in author and comedian Sara Benincasa's very comprehensive list, specifically Charlottesville-based nonprofits. You can view her suggestions via the tweet thread below or in her Medium blogpost.
A few of those spots include: the NAACP Albemarle-Charlottesville Branch 7057, the Black Student Alliance at UVA, Piedmont Housing Alliance (assists diverse individuals find affordable housing), and The Haven (provides care/housing for the homeless).
Additionally, the Stop Hate Project is actively working to combat the hate incidents that take place across the United States on a daily basis. According to their site, they work to "strengthen the capacity of community leaders, law enforcement, and organizations around the country to combat hate by connecting these groups with established legal and social services resources."
In order to keep prejudice from being passed down to future generations, it is imperative that we keep racism, homophobia, and other forms of discrimination, part of the national conversation. Several organizations are actively documenting acts of hate, and you can help them by flagging bigoted behavior.
You can also talk to your family, your friends, a stranger ― if they're unclear as to how this violence is bad or what it means long term, help make it clear.
3) Help small businesses in Charlottesville.
The Charlottesville 29 is a group dedicated to 29 restaurants within the area that seek to be "ideal" eateries. In light of the protests in the area, these restaurants are losing customers, which hurts the businesses. The group posted on Facebook that they'd be greatly helped by purchasing gift cards:
Additionally, many stores ― not just restaurants ― in Charlottesville closed in protest of the "demonstrations of hate." When these shops reopen, shopping at them is a great way of showing your support to the city and local businesses.
4) Talk to your representatives and local police department.
5) Attend a vigil or protest.
Before You Go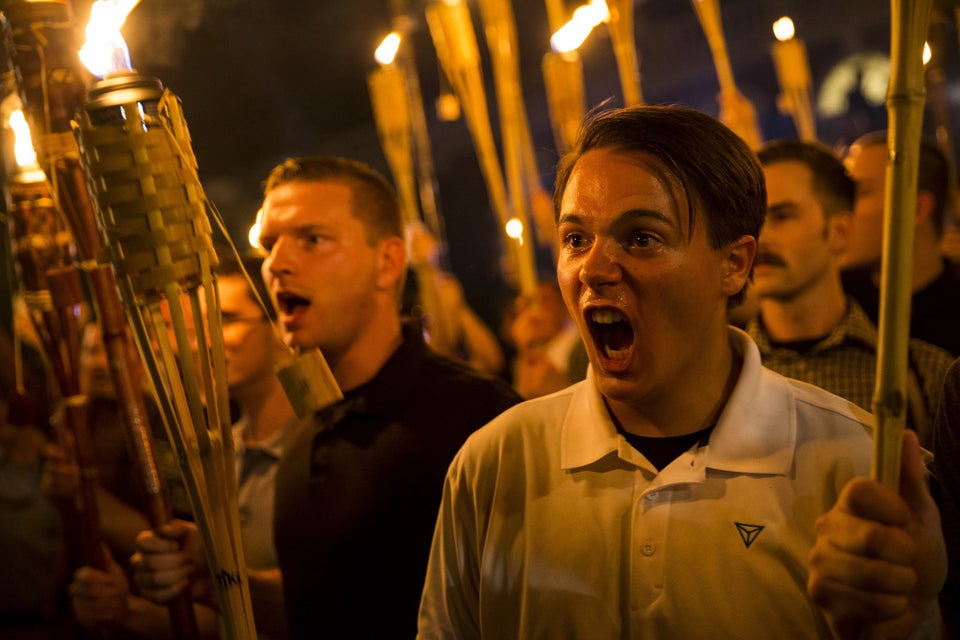 Clashes In Charlottesville
Popular in the Community