It was July 2015, about six months before the Federal Trade Commission released their guidelines on native advertising, when I received this email below from a publisher I love-a publisher that I let into my world and gave them my digital virginity, my email address. I was very upset after reading it. When publishers try to hide native content like parents hide vegetables in meatballs for their kids, it is insulting, but more than that it is dangerous.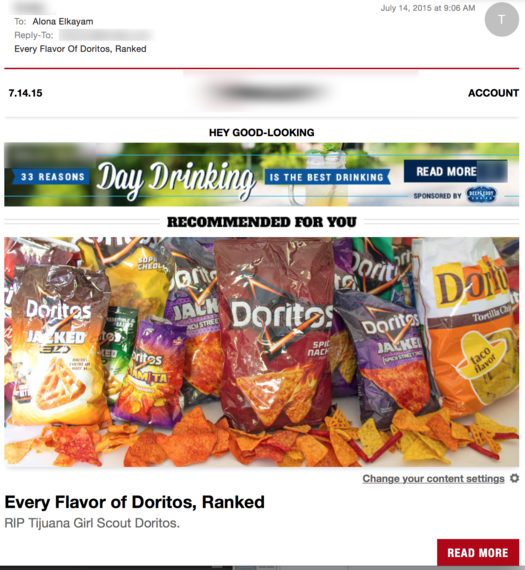 It is dangerous because we are what we read. We have painstakingly curated our feeds and given permissions in a scrooge-like manner to those publishers who wish to enter our coveted email boxes all in the name of protecting our precious eyes and minds from media pollution.
For those of you who aren't familiar with native advertising, it is content (articles, posts, slideshows, infographics, gifs...etc) created in partnership with brands, like Doritos, that seamlessly fit into a publisher's environment like BuzzFeed, The Atlantic, or Twitter. They look and feel like the parent environment, but they have been created to unobtrusively and quietly market products or services on behalf of a brand. Have a look at the John Oliver's (biased) explanation and point of view of native advertising here. Keep in mind, since that segment was created in August of 2014, the advertising industry has moved towards transparency according to the new FTC guidelines released in December 2015 which states publishers must "label, clearly and prominently, native advertising, unless it is so clearly commercial in nature that they are unlikely to mislead consumers even without specific disclosure from true editorial with labels like "advertisement," "paid advertisement," or "sponsored advertising content."
As a creative director and a creator of native advertising and also a consumer of media, the guidelines sounded fair. Publishers can serve readers less takeovers and pop-ups that plague my user experience and instead deliver me valuable content-paid or not-from, presumably relevant brands. That is the deal. The guidelines did not seem to trouble publishers who know that transparency is important. Ad Age's Jeremy Barr quotes executives from Mashable and Huffington Post in a December 29, 2015 article that were rather affectionate towards the guidelines.
What troubled me was Interactive Bureau's, VP of Public Policy, Brad Weltman's statement that "the new labeling requirements are "overly prescriptive, especially absent any compelling evidence to justify some terms over others." (In case you were wondering, the Interactive Bureau or the IAB, is a body "that represents a body of advertisers and brands that sell, optimize or create digital advertising. They "account for 86 percent of online advertising in the United States.") I really don't see how being less prescriptive could be beneficial to the readers or the publishers.
I understand that the publishers are having trouble making money online because no one wants to pay for online content, so I'd rather see clearly demarcated paid editorial than banners. Creating native advertising can be seen an opportunity to partner with smart publishers and create exciting content to serve their existing loyal audience. It gives me, a content creator, more context. It's like being introduced to someone you want to get to know by a friend. With the new labeling, publishers are saying clearly, "this is my friend, they are cool and you should hear what they have to say-if you want." But, that doesn't necessarily mean a user will click on the sponsored ad, though it may offer more transparency. A study from Contently in September of 2015 shows that "48% of readers felt deceived after realizing an ad was sponsored by an advertiser." The most significant finding in this report was that "consumers who read native ads that they identified as high quality reported a significantly higher level of trust for the sponsoring brand." So, what this comes down to is the quality of the content. If the content is dope, the reader will trust the brand. Look, the most viewed and celebrated content comes from an environment that audiences clearly know is paid-The Super Bowl.
Another significant factor is the relevancy of the brand partnership to the publications. So for example, The Atlantic's sponsored content from the Church of Scientology, was sloppy at best and made me trust their judgment. Whereas, The New Republic has the most stringent guidelines when it comes to partnerships and editorial quality where even sponsored content has to contain a social message.
Here is the dope sponsored article from The New Republic + Caspar they partnered with Caspar.

Advertisers, you don't have to hide your vegetables from the readers. You don't have to cloak your content as publishers' because like Public Enemy's Hank Schocklee says (thank you Greg Tate), "the only question that matters is whether or not it's dope." And as I like to say, if the content is dope, that's all that matters.
Calling all HuffPost superfans!
Sign up for membership to become a founding member and help shape HuffPost's next chapter