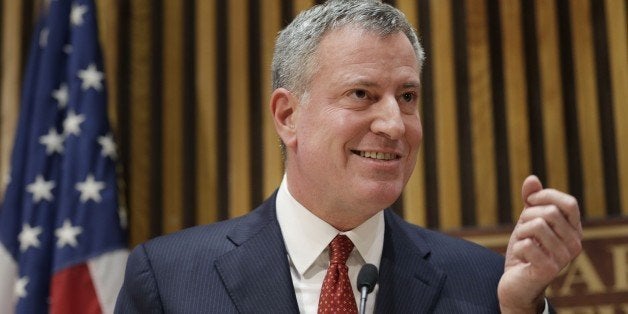 For two weeks, beginning on Dec. 22, the NYPD has made far fewer arrests and issued drastically fewer summonses than during the same period last year.
Most of the drops in arrests were for non-violent crimes.
Many outlets have suggested the drop may be a result of a work slowdown -- an act of defiance -- in protest over the leadership of New York City Mayor Bill de Blasio.
At a press conference on Monday, Police Commissioner Bill Bratton said it was too early to tell if the drop in arrests -- down 66 percent in the first week and 50 percent in the second -- constituted a work slowdown. He offered other explanations including fewer crimes reported, officers being in mourning for two fellow cops gunned down the previous week and a lack of cops on the streets because of increased manpower needed to monitor protests over police misconduct.
But whatever the cause, the drop in arrests could suggest, as Reuters put it, that "many officers are ignoring all but the most urgent crimes."
Of course, it's troubling to think that police can start or stop writing a ticket to express their rage. What other public servants have that sort of tool at their fingertips?
But if the police are doing this, there are some benefits. Part of the reason the police are distrusted in many neighborhoods is because they are little too quick to issue a summons over a small infraction.
To be clear, I am not calling for New York to be turned into a city where people are peeing on the streets at every corner while cops turn a blind eye to muggings and other violent crimes.
But it would be nice to live in a city where the poor aren't forced to do jail time after they get caught sleeping on a park bench and then can't afford the trespassing ticket, as is documented in Matt Taibbi's book The Divide.
New York would be better if a child wasn't forced to spend three years in one of the most violent jails in the country, without being convicted of anything, because of a clogged court system filled with people accused of minor crimes.
Fewer arrests for minor crimes logically means fewer people behind bars for minor crimes. Poorer would-be defendants benefit the most; three-quarters of those sitting in New York jails are only there because they can't afford bail.
Bratton co-wrote a lengthy defense of the broken windows theory this week and, at the press conference, he made clear that if a slowdown was in fact taking place it would be dealt with "accordingly."
So you can bet, whatever the cause of the reduction in arrests and summonses, their numbers will begin to increase soon, if they haven't already.
But what we've seen in the past two weeks is a glimpse of a brighter future for New York. Major crimes, by Bratton's own admission, did not go up during the alleged slowdown. The city didn't erupt into chaos and, hopefully many poor New Yorkers were able to avoid being hassled by police for being in their own apartment building, or being arrested for jumping a subway turnstile, or ticketed for drinking on their stoop.
Support HuffPost
The Stakes Have Never Been Higher
Related
Popular in the Community