The sun had just gone down on Los Angeles' skid row. Shadows lurk in doorways and rows of cardboard tents line up against the walls of vacant buildings. A woman shuffles down the street bent over a shopping cart, one leg dragging behind her. I'm sitting in my car outside the Union Rescue Mission waiting to be let in but the garage is locked.
My brain tries to convince me 'that I have no business there and I should get the hell out while I still can.' But I know 'that' voice really well and thankfully I don't listen to it anymore. I have a reason to be there and it's a damn good one indeed. I'm meeting my son, Rikki Mendias, the founder of Hav A Sole, a non-profit organization that gives out shoes to those in need.
Tonight we are supporting Tonya, a 14-year-old who lived at this same Mission some years back. Rikki met her when he was delivering shoes to Bancroft Junior High. She explained to him that she was doing a toy drive because she wanted to give back and Rikki volunteers to help.
When the grated gate finally rolls up, I pull in and park my car. Immediately, my son and the volunteers who are there to give a hand meet me. Thanks to Carrie Buse and Mattel, Polaris Teen Center, Cathi Carlton Casting, and other friends, we have collected a whole truck full of toys. To top it off we have several bags of shoes donated by local Nike outlets and Galpin Studio Rentals even let us use one of their trucks.
Quickly, we unload the truck and move everything upstairs. We organize the toys, books and shoes in to different piles. I glance up and see Dash and his pretty girlfriend, Thai walk in and I can't help but smile to myself. Dash Penland, is Rikki's best friend and has been there since the beginning of Hav A Sole. At thirty years old, Dash is quite handsome, with an athletic build and an intricate web work of tattoos clear up to his neck. In contrast, the black baseball cap he has on says LOVE. I immediately stop what I'm doing and greet him with a big hug.
The toy giveaway takes place in the chapel and about 25 families are sitting there waiting for us to set up. Once we're ready, the mission director ushers the families, one at a time, through the line.
Each volunteer works lovingly to help the children find an age-appropriate gift. I'm touched when a mom says, "God Bless you," after her four year old son finds a new shiny red car.
I'm hit with the realization that this may be all this boy gets for Christmas. It makes me remember when I first separated from my husband and Rikki and I lived in a shelter as well. At the time I couldn't afford to buy him a pair of much needed shoes and a woman took him out and bought him two brand new pairs. A lump forms at the back of my throat but there's work to do so I swallow it back down.
The whole event went smoothly and was a huge success. All the kids got great toys and shoes. As we are about to start cleaning up, a single mom, with teenage boys and two younger girls arrive late. They head straight over to the shoes but there were slim pickings by then.
"What size do you wear?" Rikki asks, but we don't have their size. Rikki promises he will come back another day with shoes for them both.
Elijah, his brother Malik and the entire family was still gracious even though they didn't get anything and wished us all a Merry Christmas.
As they were leaving Rikki turned to Dash, and said, "You won't give up your shoes?" challenging Dash right there.
"Who won't?" Dash said, raising an eyebrow.
Rikki ran into the hallway and tells Elijah to come back, we have a pair for you to try on.
"If the shoe fits you can have them," Dash explains. "If not we'll come back with a different pair.
"Are you serious?" Elijah said, beaming.
Dash slips off his black and white Air Jordan Concord's and pushes them over to Elijah.
Elijah slips his foot in and says, "Oh, they fit!"
Dash bends over and checks the toes and says, "Yeah, they do fit. Then they're yours."
Elijah smiles ear to ear and embraces Dash while I stand back with Thai and watch the beautiful moment. We are both deeply touched as Dash stands there in his plain white socks. Tears fill my eyes.
This poignant story could end right there but it doesn't, there's more. Rikki, reaches out to one of Hav A Sole's big supporters, Howie Kendrick, of the Dodgers, asking if it would be okay to give Dash a pair of the shoes he's donated in the past.
"I'll do one better," Howie says. "I have a brand new pair and I'll ship them to you right away."
The shoes arrive the day after Christmas and Rikki brings them over to surprise Dash. And, as they are sitting in his living room, Dash, who is ironically wearing an LA Dodgers hat, gets a big surprise as Rikki reaches into a black trash bag filled with shoes.
"The real reason I'm here today is to gift you with these new pair of Jordan's sent from Howie," Rikki said. "You showed tremendous compassion by giving up your shoes and look they only took a week to come back."
Caught completely off guard Dash laughs when Rikki hands him the shoes. As he looks down at the at the new Jordan's he is genuinely touched and says, "That's so dope. Wow. That's love."
While I'm already a big fan of Hav A Sole, I'm a bigger fan of these two young men who teach me every day, it doesn't have to be Christmas to give.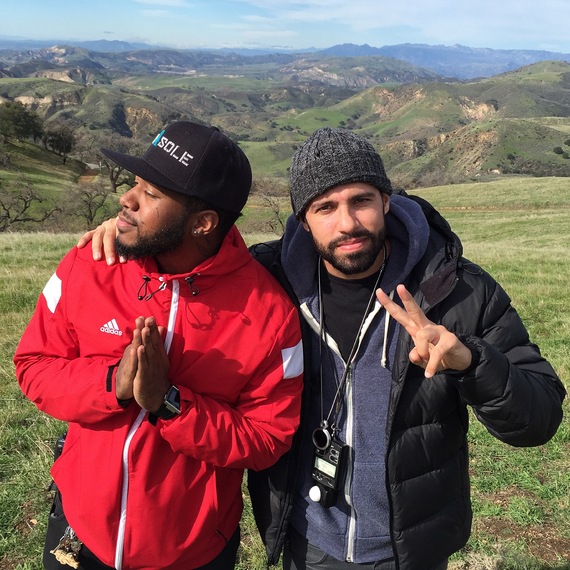 Popular in the Community