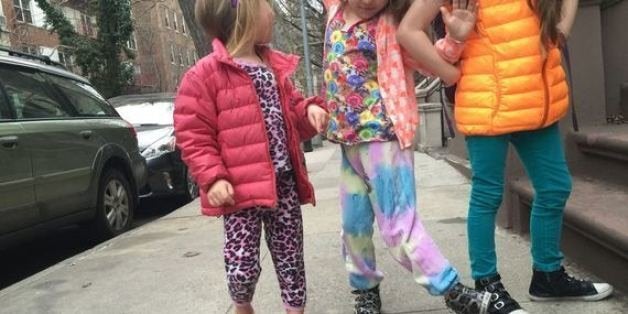 If the world were perfect, if everything went according to plan, I would have a 9-year-old tomorrow. It isn't. It didn't. I won't.
May 8th, 2006 was my first due date. I remember my OB doing the math in her examination room, telling me this. I remember realizing that I would become a mom right around Mother's Day. I remember thinking this would be perfect. I remember giddily plugging this date into BabyCenter.com and signing up for weekly development updates. Each week, I looked forward to learning how big my baby was.
At seven weeks, we heard the heartbeat, rhythmic and strong. At 11 weeks, I waited on the table to hear it again. I fixated on the screen and saw a grainy blob, but nothing moved. My doctor's face was still and sad. "I don't see a heartbeat," she said.
And so the world wasn't perfect after all. There was deep pain. An ocean of tears. There was anger and confusion. There was fear. There was a 27-year-old me who suddenly didn't know. There was my 30-year-old husband who was strong, so strong, who held me for months and went on my computer to cancel those cruel email updates, but I heard him sob as he told his parents the news.
Time passed, because that's what it does. Several long months later, I was pregnant again. I was so scared this time. Each week that passed was a gift. My due date was in winter. January 18th. By Christmas, I was huge and happy. The nursery was buttercup yellow. Any day. On New Year's Eve, we went grocery shopping for the dinner we'd prepare for family we were hosting. In line, I felt uncomfortable, different. I knew and I didn't know. By the time we were home, I felt maybe my water had broken. We went to the hospital and I was examined and contracting, but not yet in pain. Go home and rest, the doctors said.
At home, we settled on the couch and ate steak and fries. We watched the ball drop, kissed at midnight. I was up all night with contractions, my eyes glued to the digital clock. A New Year's Baby, I thought.
She was born early that afternoon, pink and screaming, a good size. I held her to me and started to nurse. I fell madly in love. Dad was the first to arrive to visit, surprising me in the delivery room.
Later, when he held my daughter and studied her little face, I didn't think to study his. It didn't occur to me to memorize that moment, that this would be my only child he'd hold.
When my second daughter was born, Dad had been gone for just three months. I gave her his name as her middle name and I thought of him as I rocked her for the first time, tears filling my eyes. He knew about her, he knew that she'd be a girl, that I'd give her his name, but it seemed unfathomable that he wouldn't meet her. The thought killed me.
And then daughter number three came along two years after that. She was born in early March, Dad's birthday month. She was the biggest of my babies and when her big sisters came to visit her for the first time, when we were all crammed in that small hospital room, I missed him still and thought of him, but the pain was more subtle, the love deeper. That's what loss can do.
If the world were perfect, if everything went according to plan, my life would be different than it is. I would have a different family. I would still have a father.
Instead, I have this life. This one. These beautiful girls who've made me, a husband who's held me through tough times, Mom and my four sisters and my broader family. Instead, I have these memories of Dad at his wild and woolly philosopher best, this keen appreciation that there are no guarantees, that life is something to never take for granted, that each moment is a mini-miracle, that time might be the best treasure of all.
On Sunday, we will spend the day with our three little girls -- now 4, 6 and 8 -- and my mother and my in-laws. We will be lazy in the sunshine and eat good food and talk and laugh and do lots of nothing, which is also everything.
No, the world is not perfect. Sometimes I even find myself grateful for this. Because I can see now that these losses I've faced have changed me for the better and have left the most blazing love in their trail.
Has loss deepened your love or made you more appreciative of your life?
To read more of Aidan's writing, visit her blog.