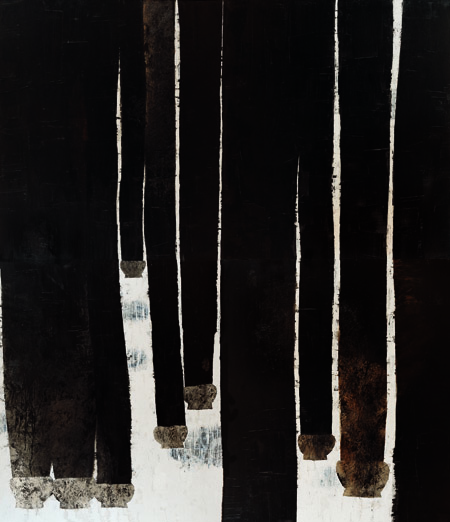 五千歲歲歲 5000 Years, 2003
Oil on canvas (four panels)
11'6" x 9'10" (350 x 300 cm)
Wang Huaiqing, Chinese, born 1944
Courtesy Wang Huaiqing
After the success of their recent link up with the Musée Picasso, nobody would have blamed the people at Seattle Art Museum if they had rested on their laurels a little bit. But instead they are currently (and through April 10) offering something really rather extraordinary at their Asian Art Museum. SAM director Derrick Cartwright is so excited about Wang Huaiqing: A Painter's Painter in Contemporary China that he described this show (rather than the Picasso) as marking the beginnings of his dreams for SAM's future.
Some of Mr. Cartwright's excitement stems from Wang Huaiqing's very particular position in recent Chinese art. The emergence over the past couple of decades of an entire subcontinent's worth of new, enormously accomplished, and apparently highly collectible artists has thrown up all sorts of different work. But the majority of the Chinese artists who are squabbled over by blue chip dealers and by museums eager to feature them in prestigious one-person shows have one thing in common: The political and economic history between Mao's infamous cultural revolution and present-day China's overeager capitalism provides a recurrent touchstone in their art's imagery. In fact this shared material is so common that it provides a handy starting point for a comprehension pretty much any contemporary Chinese art.
Significantly enough though, you will find this imagery entirely absent from Mr. Wang's mature work, despite the fact that his artistic career spans exactly this period. Of course his life was touched by this history. He even made rather striking revolutionary posters during the 1960s. "My generation has witnessed half a century of changes in China," he told me when we met, "so in my work there are many layers of feeling, personal experience, and ideology." In fact his art has much in common with China's centuries' old traditional culture, and this is at the heart of its fascination.
One of the show's real highlights is a painting called "5000 Years". Almost 12 feet tall, and enormously simple in its imagery, it is one of the most powerful pictures you're ever going to see anywhere, despite the fact that its content is not immediately obvious. In fact it depicts a series of wooden architectural pillars. Their context within a building is ignored, for Mr Wang is less concerned with their immediate reality than with what they might stand for. These pillars, he would have us believe, represent the souls of great Chinese visionaries of the past. Just as a building cannot stand without support, he reminds us, so a culture depends upon the intellectual and spiritual contributions of our forebears. "I use traditional Chinese elements in my work, but obviously I'm not making a painting from life. It's not naturalistic," he explains.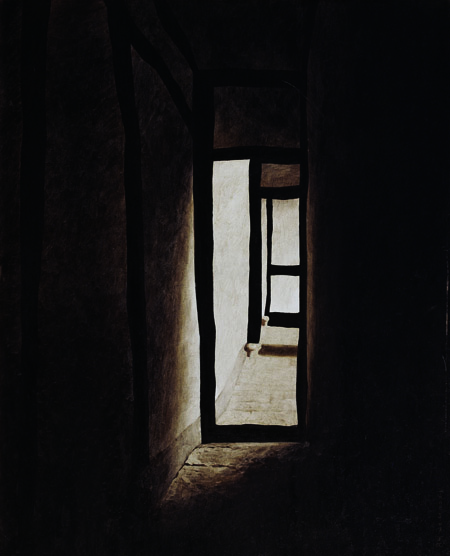 故園 Forgotten Garden, 1986-89
Oil on canvas
63" x 55" (160 x 140 cm)
Wang Huaiqing, Chinese, born 1944
Courtesy Wang Huaiqing
"In the Forgotten Garden," he goes on, identifying another of the best pieces in the exhibit, "you can see right away that it represents a typical traditional Chinese home, but it's not only that -- more importantly it also represents the state of mind of the Chinese people in the early 1980s, or how their minds might have operated. The thinking space that people lived in was so narrow and limited."
There is then something profoundly traditional about Wang Huaiqing's art, and his imagery -- often taken from Chinese architecture or design -- is used in the service of a particularly resonant symbolism. "I paint representations of Chinese furniture to reflect a particular mentality," he told me, "In 'The Head of the Household', for example, you have a very dignified depiction of a chair, but then in 'Homeless Furniture' you have things that are piled up to be discarded." Then, summing up, he adds, "No one would imagine that 'Homeless Furniture' is a piece that's only about furniture. It's about traditional things that are lost, and about heroism. I use furniture as an agent to represent something more. If there wasn't any meaning in art, then we wouldn't really need it." The meaning in Wang Huaiqing's art is nothing less than the entire history of Chinese culture. I cannot think of another artist east or west who is attempting anything quite so ambitious right now. That alone makes this Seattle show too important to miss.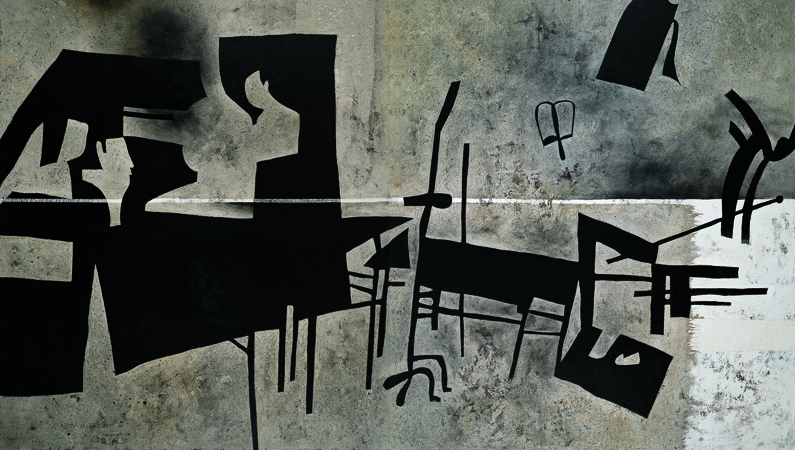 夜宴圖之一 Han Xizai's Night Revel Series - 1, 1996
Oil on canvas
6'5" x 11'4" (196 x 346 cm)
Wang Huaiqing, Chinese, born 1944
Courtesy Wang Huaiqing

Popular in the Community