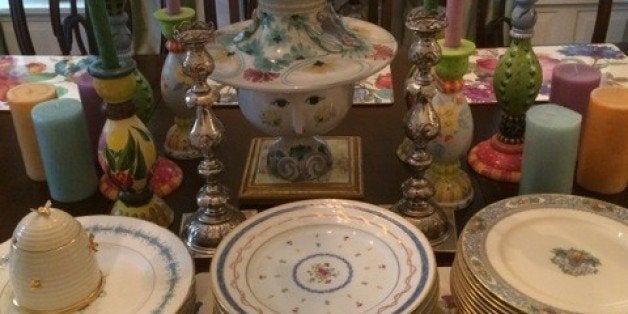 My mother was a terrible cook, but she set a beautiful table. Every year at least a week before the Jewish holidays -- which, as she used to say, fell either too early or too late, but were never on time -- she'd get out her most favorite dishes. I became her apprentice once I was old enough to help her carry them. I started small with the salad plates and worked my way up to the dinner ones. We used her Coalport china with the light blue flowers and gold trim to set the big dining room table along with the Georg Jensen silver place settings and the Waterford crystal stemware. If you looked closely, you could see that a couple of the wine glasses were actually glass, as she had broken some of the crystal over the years and never replaced them with the real stuff.
The drop leaf table was set in the living room with my grandmother's extra Lenox Autumn china, which she collected over the years and which smelled like her perfumed powder. Sometimes when there was a really big crowd, we set the card table in the living room with more of the Autumn Lenox or the cream-colored ribbed Lenox with more gold trim. In my little girl's mind's eye, the trim was the exact shade of the gold on Wonder Woman's bracelets. I liked to fold the monogrammed napkins into the bamboo napkin rings, which I likened to oversized, round pretzels.
I knew the tables were nearly complete when the porcelain place card holders came out, and we put the name cards in them. My mother saved the name cards from year to year as we had a big list of regulars -- grandparents, aunts and uncles and cousins. There were always a few additions as the years went on mostly from my generation -- a girlfriend or boyfriend, college roommates or friends who had no place to go.
"We can't leave them alone," my mother used to say. "Invite them."
I was clearly instructed not to move around the place cards after they were set. There was a method to my mother's thinking. She made sure that no one would be left out of a conversation and that everyone felt comfortable.
The buffet tables were my favorite to set. We placed on them the hand-sewn runners made with lots of love and care by my grandmother's close friend. On top of the runners we put the silver candlesticks that, as the story went, were brought over from the old country by my mother's grandmother. And so too went the Lenox honeybee jar, which we filled with honey and then served with apples, making sure that all the guests had at least a tiny taste to insure a sweet new year.
My mother's big dining room table has found a new home in my grown-up house and so, too, have all those dishes. When we cleaned out my grandparent's apartment years ago, my mother saved the dishes. And just a couple year after that, when I cleaned out my mother's dining room closets and cabinets, I couldn't not save all of those dishes. I never imagined I'd have them so soon, but then again, I wouldn't want anyone else to have them.
And so I use them. My husband smiled, half-laughing to himself this year, as our 8-year-old daughter and I took the dishes out much too early like my mother and I used to do in preparation for the holidays. Once and only once did he ask me if it would be easier to use paper plates for our big Break the Fast dinner for nearly 50 guests. I almost dropped the dishes onto the floor right below me before I could respond. I think I actually heard my grandmother and mother rolling over.
"I have the dishes and so I'm going to use them. That's what they are here for," I explained to him. He never brought it up again.
Our daughter is an even better table-setting apprentice than I ever was. There must be something in the genes, or maybe in the dishes. Her uncluttered mind recalls items I could have easily forgotten. She knows about the silver candlesticks, the honeybee and other favorite pieces. We have the lady vase that my parents brought home years ago on the plane in my mother's lap from Denmark. My daughter tells me, "don't forget about the lady. We have to fill her up with flowers." The lady seems like another family member, and she does look really pretty when fresh flowers are coming out of her head and her ears.
We have new additions to the dish collection, like my Haviland Limoges wedding china with the berry colored and blue flowers complete with the Wonder Woman-esque gold trim. My daughter favors those plates. I think it's the pink flowers that do it for her. We also have a crystal bowl too heavy for my daughter to carry from my in-laws that, as their story goes, was brought over generations ago from the old country. Perhaps the bowl has been reunited with my great-grandmother's silver candlesticks?
I think my table is just as pretty as my mother's, but perhaps a bit more casual. I don't use the monogrammed napkins (who has time to iron them?!) and my serving platters are of the more modern and colorful versions à la Mackenzie Childs and Tracy Porter. Our dress code for the holidays is also more casual. The men at my mother's table always wore jackets and ties. I feel accomplished when my son wears khaki pants and a button-down shirt for the holidays in lieu of his usual Adidas track pants and football jerseys.
Our guest list is of course not the same as my mother's. There is a whole generation of family members no longer with us, and I think about them as I set my table with my daughter. I look out to the empty chairs they once sat in. I remind myself though how our holidays have grown with marriages, in-laws and the next generation of children and lots of new friends. They fill the chairs and eat off of the same dishes that past generations of my family once did.
Those dishes have seen a lot. Sometimes when I walk by an antique shop and take note of the pretty china in the window I imagine family gatherings of those dishes past and wonder where those people are now. Maybe my dishes will end up in an antique shop window like that one day? I hope not, but if they do, I bet they'd have a lot to tell the other dishes. If only... they could talk.
Related
Popular in the Community