Nearly 50 years have elapsed since Mart Crowley's groundbreaking play, The Boys in the Band, had its premiere at Theatre Four on April 14, 1968. The following year, when the Stonewall Riots erupted, the gay liberation movement began to gain momentum. One of the most significant side effects of that movement was the birth of the gay press.
Instead of looking to The New York Times to publish "All the news that's fit to print," the gay community veered off in a new direction. The new motto became "If you don't like the news you're reading, make your own!"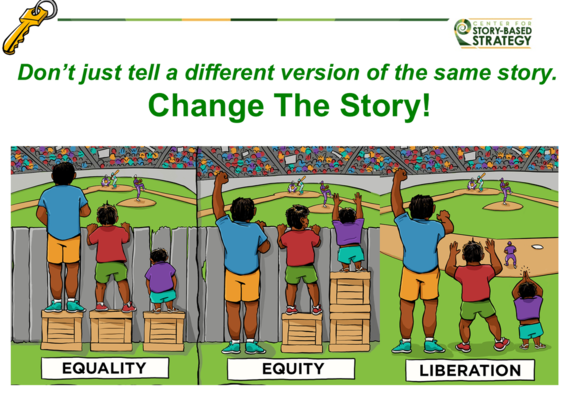 As Theatre Rhinoceros (which was founded during the spring of 1977) approaches its 40th anniversary, gay theatre finds itself in a curious position. While other minorities are protesting cultural appropriation, gay culture is becoming more mainstream than ever. While the number of female playwrights and roles being written for women is sorely criticized, LGBT playwrights are continually finding new opportunities to bring LGBT characters to the stage.
The Bay area's diversity has made it possible for Theatre Rhinoceros and the 35-year-old New Conservatory Theatre Center (founded in 1981 by Ed Decker) to survive the HIV/AIDS crisis. The Doollee.com website, which references 5,886 plays about gay theatre, notes that:
"A listing on this page does not mean that the playwright, producer or publisher are/were identified as gay, merely that the plays have a gay interest. This could be in the characterization, theme, or part or all of the subject matter. The plays shown are an attempt to replicate and expand on the Theatre section of www.shergoodforest.com, whose site has sadly closed. Doollee is indebted to initial information from this site but takes full responsibility for this listing, which will be moderated by Raymond Port. Click on a play title below for information on its author, its history, and a brief synopsis. Alternatively, click on a playwright's name for information on all the plays they have written that we currently list."
Founded in 2012, the Left Coast Theatre Company (which bills itself as "San Francisco's Home for Original LGBT Theatre") evolved from a writing group for gay men named GuyWriters Playwrights. In four short years, the company has:
Produced 54 short plays with LGBT themes and content.
Showcased the output of 28 LGBT playwrights.
Worked with 24 LGBT directors.
This spring's collection of short plays takes its inspiration from Noel Coward's 1966 trilogy entitled Suite in Three Keys (which originally featured three short plays that took place in the same hotel suite in Switzerland). Neil Simon used a similar gimmick for 1968's Plaza Suite and 1976's California Suite.
In San Francisco, Here I Come! each play takes place in the living room of a San Francisco apartment where one wall is filled with the names of gay men who have lived there over the past seven decades. During that time, the wall has become such an iconic piece of art that the apartment lease now prevents any tenant from painting over it.

Poster art for San Francisco, Here I Come!
Written by Chris Maltby and directed by Neil Higgins, Femme Fatale takes place in 1949. The play begins with the kind of music one might expect to hear in a noir film as two men enter, dressed in suits. One man is obviously helping the other (who might be too drunk to walk).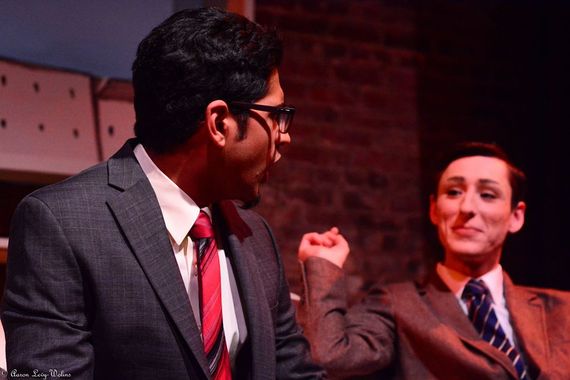 Frank (Heren Patel) and Cary (Ryan Engstrom) end up in Frank's
apartment in Femme Fatale (Photo by: Aaron Levy-Wolins)
Cary (Ryan Engstrom) is a slightly-built, mildly feminine guy whose lip has been bruised by a homophobic bully. Jeff (Heren Patel) is a new arrival in San Francisco who is still coming to terms with his sexuality. A native of Cuyahoga Falls, Jeff spent three years in jail after accidentally killing a man with a well-placed punch. While in the Navy, his ship docked in San Francisco for a meaningful weekend that gave him a taste of what he'd been missing in life. Upon being discharged, Jeff realized there was no way he could go back to Ohio and decided that San Francisco might be a better place to seek his future.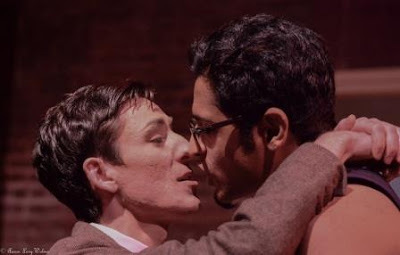 Cary (Ryan Engstrom) embraces Jeff (Heren Patel) in a tender
moment from Femme Fatale (Photo by: Aaron Levy-Wolins)
Not much gets by Cary, who tries to get Jeff to open up about why he came to the rescue (and what he's really looking for). After the two men have gotten to know each other on a more intimate basis, someone starts pounding on Jeff's apartment door, demanding to be let in. Detective Murdock (Scott C. Free) barges in and immediately starts bullying Jeff, who protests his innocence. When Cary emerges from the bedroom, he is not the least bit surprised to see his archenemy causing trouble and demanding protection money. Again.
After a tense confrontation, Murdock leaves the apartment and Cary wises Jeff up to the realities of gay life in San Francisco. But Murdock's belligerence has pushed the usually powerless Cary over the edge and he leaves the apartment to smooth over the situation with the cop. When Cary returns, he has surprising news for Jeff. Murdock apparently ran into a tire iron (several times) and will no longer be bothering them. There's a new man of the house. A true femme fatale.
Written by Terry Maloney Haley and directed by Sabrina De Mio, Stewart James focuses on two women who are working on a film being shot in San Francisco in 1958. Suzanne Vito portrays a middle-aged actress appearing in the film who is rehearsing a scene with a younger woman, who is the stunt double for Kim Novak. While Pauline (Courtney Russell) has filmed numerous takes simulating a jump from the Golden Gate Bridge, she has trouble memorizing her lines and is nervous about her future.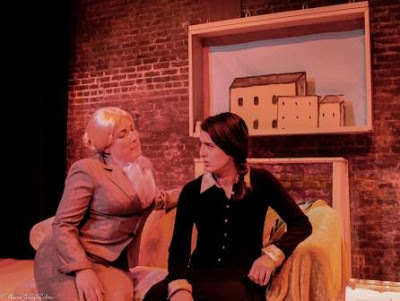 The actress (Suzanne Vito) tries to befriend Pauline
(Courtney Russell) in a scene from Stewart James
(Photo by: Aaron Levy-Wolins)
That's because Pauline is about to undergo a sex change operation to become Paul. While the older actress keeps trying to get Pauline to relax, the younger woman is on her guard. The actress finally admits that she knows Pauline's secret and wants to be her friend. To prove it, she's brought something from the costume department for Pauline to try on -- a man's suit -- which she's going to need after her surgery.
Written and directed by Richard S. Sargent, Coffee at Compton's pays tribute to the infamous cafeteria in San Francisco's Tenderloin district where drag queens fought back against the cops in 1966 (three years before the more famous Stonewall Riots in Greenwich Village). Ryan Engstrom portrays Aleisha, a streetwise drag hooker who has moved in with Frank (Heren Patel), her hot and hunky boyfriend who is also a cop on the beat.
The couple begins to quarrel as Aleisha awaits the arrival of Mama (AJ Davenport), a tough dyke who has recently insisted on walking her girls to and from work in order to make sure they stay safe. Frank keeps asking Aleisha not to get involved with any of the trouble that's been happening at Compton's Cafeteria, especially since some of his buddies on the force have been conducting the raids.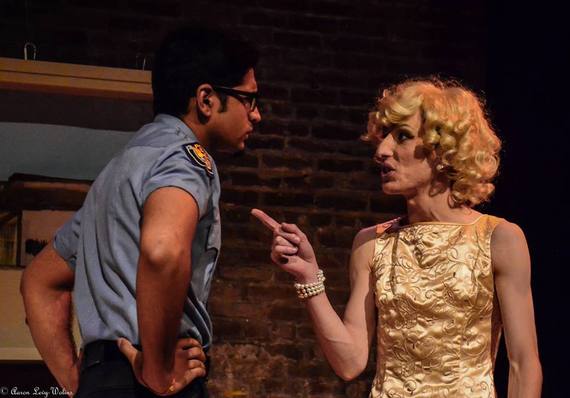 Frank (Heren Patel) and Aleisha (Ryan Engstrom) argue in a
scene from Coffee at Compton's (Photo by: Aaron Levy-Wolins)
While Frank is clearly conflicted about where his loyalty should lie, Aleisha informs him that he's going to have to make a decision about who means more to him -- his lover or his buddies. When Frank starts to get in Mama's face, he gets more than he ever anticipated in return.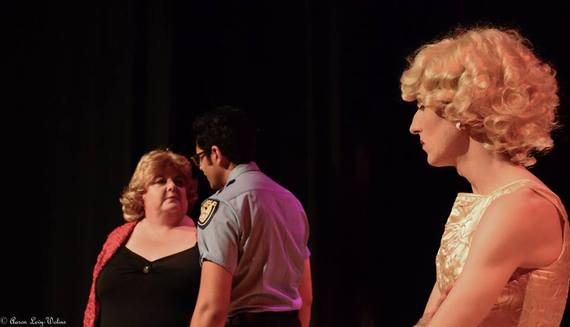 AJ Davenport, Heren Patel, and Ryan Engstrom in a scene
from Coffee at Compton's (Photo by: Aaron Levy-Wolins)
Rita Long's hilarious Apples & Orgies takes a classic situation and puts a new spin on it. It's 1992 and Lou (AJ Davenport) is a butch lesbian who rents out her playspace to leather parties on a frequent basis. On this one occasion, she has mistakenly double booked two parties. One is run by Daddy (Chris Maltby), the other by a lesbian named Sam (Courtney Russell).
Daddy is first to arrive at the apartment, with his eager but slightly dimwitted Boy (Michael Conner) in tow. When Sam shows up, with her friend Nina (Sabrina De Mio) dragging in a series of playroom props (an inflatable wading pool for water sports, a giant stuffed toy for the plushies, and an oversized fake penguin that sports a large dildo), the two butches become extremely territorial about who has dibs on Lou's playspace.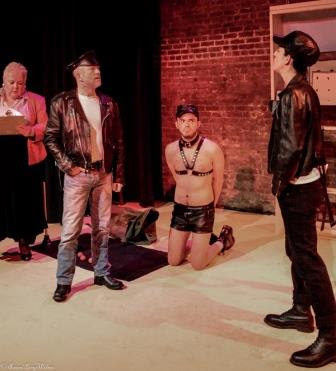 Lou (AJ Davenport), Daddy (Chris Maltby), Boy (Michael Conner)
and Sam (Courtney Russell) in a scene from Apples & Orgies
(Photo by: Aaron Levy-Wolins)
As it turns out, both use their masculinity to compensate for feelings of inadequacy and emotional wounds incurred earlier in life. Under Maltby's comical direction, they find their way to an emotional space where gay men and lesbians can share the room, the play pool, and the plushie toys without ruining Lou's parquet floor. Rita Long (who scored a hit last year with Dawn of the Dead Zone) hits another one out of the park with Apples & Orgies -- a very funny and insightful script.
Written by Rodney Rhoda Taylor and directed by Don Hardwick, PS I Love You strikes a much more somber tone. Set in the present, it finds Alex (Ryan Engstrom) still mourning Hank (Kai Brothers), his lover who was killed in an automobile accident. Alex's sister, Chris (Erica Andracchio), has driven to San Francisco to help him pack up the apartment and leave town. Clearly devoted to her brother, Chris wants him to move on with his life while living with his mother.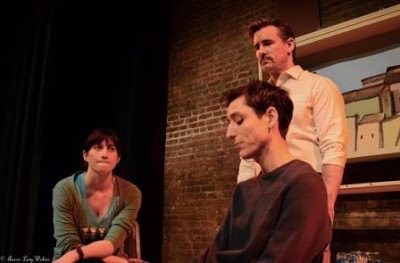 Chris (Erica Andracchio), Alex (Ryan Engstrom), and Hank
(Kai Brothers) in a scene from PS I Love You
(Photo by: Aaron Levy-Wolins)
Alex, however, has no desire to let go of Hank's memory. After sending Chris downstairs with another carton of belongings to put in their van, he finds one of Hank's old shirts and buries his nose in it, trying to smell a trace of his dead lover. Hank's ghost will have none of it, insisting that it's time for Alex to get on with his life and informing him that, despite his constant begging, Hank cannot follow him to Oregon. A frequent contributor to LCTC, Taylor's play is beautifully written and helps to remind audiences that not every gay man dies of AIDS.
Directed by Michael Sally, Charles Zito's one-act play focuses on a relationship in a very different kind of jeopardy. Will (Dene Larson) is a middle-aged gay man who is about to marry Derek (Michael Conner). It's 2016 and, thanks to the United States Supreme Court's ruling in Obergefell v. Hodges, same-sex marriage is now the law of the land. Both men are very much in love and considering the prospects of raising a family.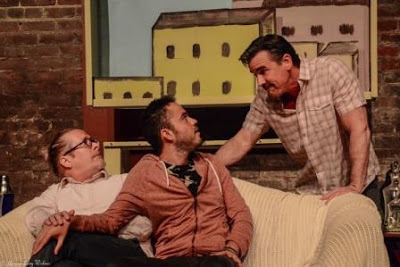 Will (Dene Larson), Derek (Michael Conner), and Seth (Kai Brothers)
in a scene from The Best Men (Photo by: Aaron Levy-Wolins)
Things get testy when Will's best friend, Seth (Kai Brothers), arrives from the East Coast for a visit and is much too concerned with his own priorities to let Will break the happy news to him. When Will finally manages to get a word in edgewise, he explains that he wants Seth to be the best man at his wedding. Seth (who has always considered their friendship inviolable) is not the least bit amused when he meets Derek and discovers that the young man is in his mid-twenties. As Oscar Wilde once wrote: "Friendship is far more tragic than love. It lasts longer."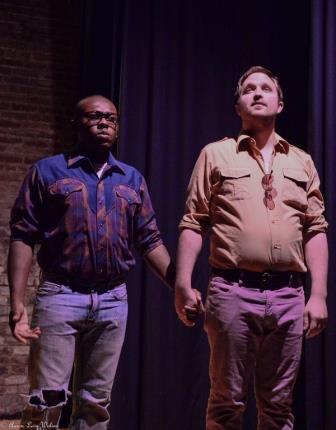 Mark (Paul Renolis) and Gregory (Aaron Tworek) in a
scene from The Best Men (Photo by: Aaron Levy-Wolins)
A running subplot in The Best Men involves Gregory (Aaron Tworek), a gay man who left Missouri in 1966 and became the first person to paint his name on the living room wall. Having arrived in San Francisco at the height of the hippie revolution, Gregory was eager to meet lots of gay men and, hopefully, find a partner. Although the names of several boyfriends ended up on the wall before he moved out in 1972, as Will and Seth continue to argue, the audience watches Gregory break up with Mark (Paul Renolis), one of men he dated who was not a perfect fit.
The last play on the program takes place in the near future (2018) and probably got the best audience response. Written by James A. Martin and directed by Richard Ryan, Disruptified stars Richard S. Sargent as Zach, a software engineer and entrepreneur who is convinced that the mobile app he has developed is just what the world has been waiting for.
If Zach's business plan for Liquid Legends succeeds, there will be a huge market for people who want to interact with dead celebrities. Elizabeth Taylor performing cartwheels in your living room? Done!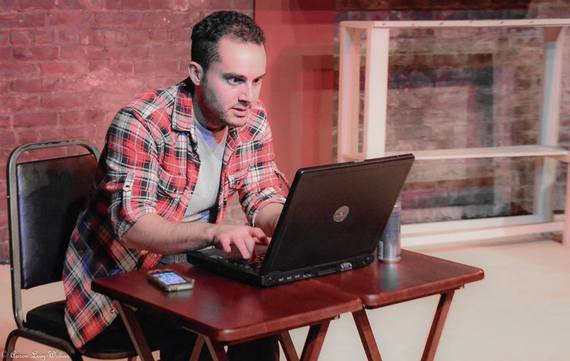 Richard S. Sargent is the ambitious Zach in Disruptified
(Photo by: Aaron Levy-Wolins)
The only problem is that every time Zach tries to get his software to deliver the actual Colonel Sanders to fry some chicken in his kitchen, nothing happens. As Zach becomes increasingly frustrated, his attempt to practice his presentation speech for venture capitalists keeps falling to pieces. And one thing's for sure: As a Millennial, Zach lacks patience and prefers that things go his way.
Suddenly, a mysterious stranger (Stefin Collins) materializes in the room and introduces himself as San Francisco's infamous Emperor Norton, the first and only Emperor of the United States. Zach has no idea who the fuck Emperor Norton is and is in no mood to be quickly brought up to date (whether he likes it or not). As the two men argue about the value of Liquid Legends, Zach confesses that, when he was a teenager, his parents kicked him out of their home as soon as he told them that he was gay. He spent several years being homeless until a kindly woman took him in and helped him to finish high school.
After that, Zach won a scholarship and graduated from college. Even if the woman didn't live to see him graduate, he wouldn't be here today without her loving support. It doesn't take long for Emperor Norton to come up with a much smarter application for Zach's software.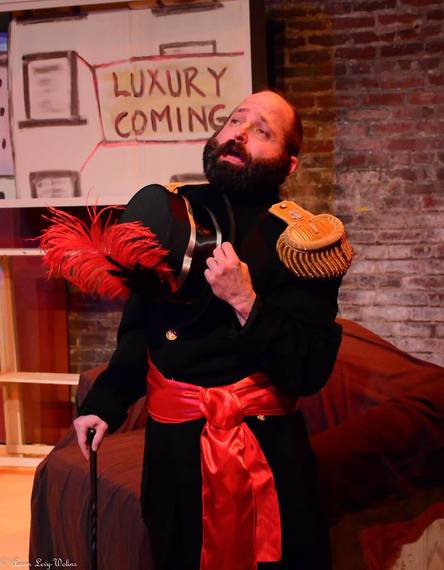 Stefin Collins as Emperor Norton in Disruptified
(Photo by: Aaron Levy-Wolins)
Now that Zach is rich and wants to "give back," instead of trying to deliver dead celebrities using virtual reality technology, Emperor Norton suggests that there is a much larger international market for his app. Why not target his invention to people who would welcome a chance to talk with dead friends, lovers, and relatives? In fact, Zach's app might enable him to contact the woman who saved his sorry ass and thank her for everything she did for him!
San Francisco, Here I Come! offers proof positive that Left Coast Theatre Company's efforts are bearing stronger, funnier, and better written theatrical fruit with each production.
REAL LIFE. REAL NEWS. REAL VOICES.
Help us tell more of the stories that matter from voices that too often remain unheard.