Setting: A loft in 537 Broadway, 2nd Floor, now home to the Emily Harvey Foundation.
On the morning of November 9, 1975, SoHo founder and creator of the Fluxus Art Movement George Maciunas met some men there who were interested in buying a loft in 537 Broadway. As it turned out, the meeting was a trap since the men were Mafia thugs sent by a New Jersey electrician whom Maciunas had refused to pay because his work was shoddy. Maciunas was beaten with iron pipes, destroying one eye, collapsing his lung, and breaking several ribs.
Three years later, after Maciunas was diagnosed with pancreatic and liver cancer, he married poet Billie Hutching in the same loft. The wedding on February 5, 1978, was the Fluxus event of the era. There was a Flux feast of erotic foods, including a penis-shaped pate brought by sculptor Louise Bourgeois. For the ceremony, Maciunas and Hutching both wore bridal gowns, while their bridesmaids Jon Hendricks and Larry Miller were dressed in drag and their best man, Allison Knowles, wore tails. Geoffrey Hendricks who wrote the script for the program, conducted the ceremony and officiated as the priest.
The Flux cabaret after the ceremony including Ben Patterson's Lick, where Olga Adorno was covered with whipped cream and the crowd licked it off and Maciunas and Hutching performed a piece called Black & White. The pair entered the space, he in black tails and she in a white satin gown with long white gloves and a wig. While a recording of Monteverdi's madrigal "Zefiro Torno" played, they proceeded to undress and put their clothes on a chair, Then, down to their underwear, they redressed in each other's clothing. According to Christian Xatrec this took place on the exact spot where Maciunas was beaten.
Six years later, in 1984, the Emily Harvey Gallery opened an exhibition space in the historic loft, presenting exhibitions that showcased Fluxus's quirky, innovative initiatives in poetry, music, dance, performance and the visual arts. After Harvey's death in 1993, her foundation took over the space as a center for experimental art.
Currently up for two weeks in the gallery (March 7-18) is a new exhibit curated by Alice Centamore, Danielle Johnson, Agustin Schang, and Christian Xatrec of the Emily Harvey Foundation (EHF). Among the surprises included in the show, according to the curators, are sound elements, such as Yoshi Wada's Alarming Trash Can and Peter van Riper's recording Flux-house Plumbing.
One highlight of the exhibit is Robert Watts's Fish (c. 1964-5), a chrome on plaster work on a metal platter. Admiring the work, Sara Seagull, executor of Watts' estate said that, "Watts loved chrome because it was so reflective and it was hard to photograph." Nearby, hangs George Maciunas U.S.A. Surpasses All The Genocide Records, 1967, a silkscreen on paper. The red stripes on the American flag in the piece include statistics chosen by Maciunas, such as "U.S.A. SURPASSES ALL GENOCIDE RECORDS!, JOSEPH STALIN MASSACRES 5% OF RUSSIANS, U.S.A. MASSACRES O.5% OF SOUTH VIETNAMESE & 75% OF AMERICAN INDIANS. FOR CALCULATIONS & REFERENCES WRITE TO: P.O.BOX 180, NEW YORK, N.Y. 10013." The language and politics: so typically George and so relevant in this Age of Trump!
Side by side are two Charlotte Moorman cellos, one made from cut wrapping paper (1988) and the other from Plexiglass (1987). Ben Patterson's Husband and Wife, 1987, made of a found plastic headboard, paper, metal frames and electric light fixtures, with birds nest finials, paint, plastic doll, silk and plastic flowers and fruit, and a wood snake and leopard anchors the exhibit. The work, just a headboard and not a bed, was first shown at the Emily Harvey Gallery in Patterson's solo exhibition Ordinary Life in 1988. Although previously known for his music and performance, the show, according to the EHF curators, "backed a new side of Patterson's artistic practice."
Ambitious programming accompanies this EHF exhibit including a preview screening of George, a film on George Maciunas by Jeff Perkins on Saturday, March 11, at 7:00 PM, and tours of the EHF Archive on Sunday March, 12 at 2:00 PM and 4:00 PM (RSVP: mailing.ehf@gmail.com).
Catch the show before March 18th: It's definitely worth seeing!
EHF Collection: Fluxus, Concept Art, Mail Art,
Emily Harvey Foundation, 537 Broadway, NY 10012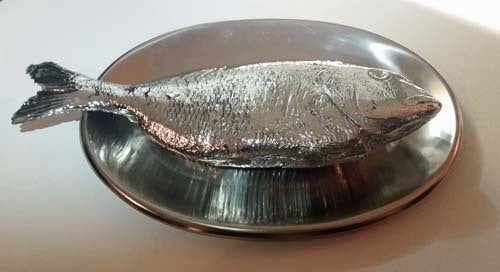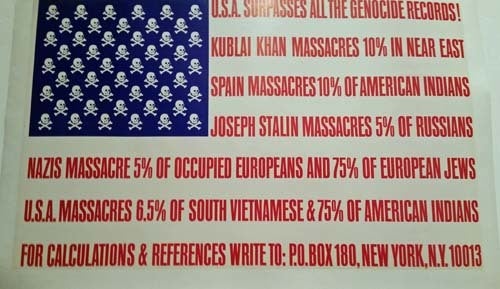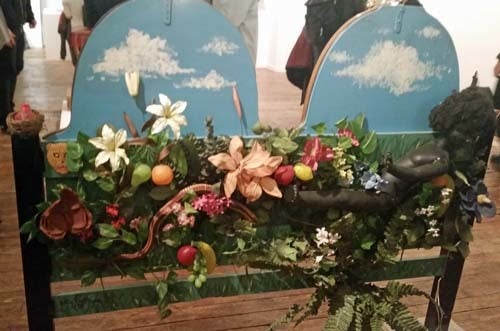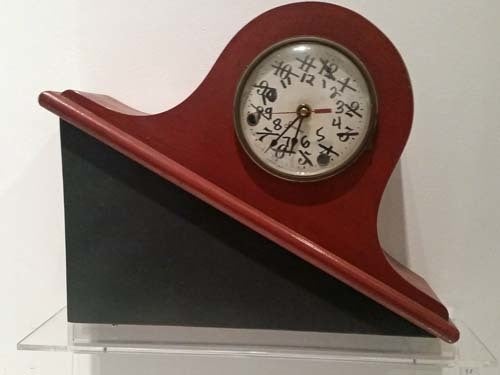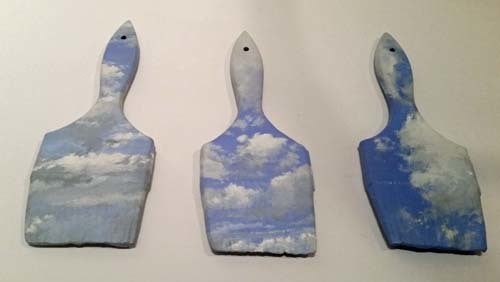 REAL LIFE. REAL NEWS. REAL VOICES.
Help us tell more of the stories that matter from voices that too often remain unheard.